How Companies Play a Role in Promoting Civic Responsibility and Voting: Q&A with Sofia Gross & Ashley Spillane
How Companies Play a Role in Promoting Civic Responsibility and Voting: Q&A with Sofia Gross & Ashley Spillane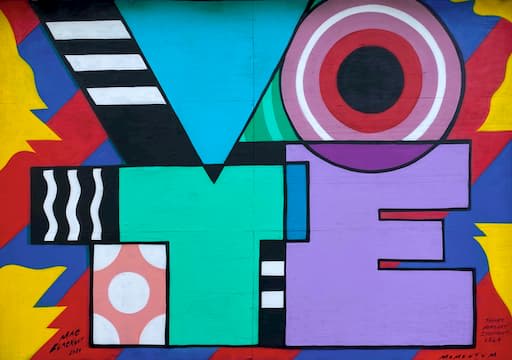 While we're rapidly nearing election day on November 3rd, we recognize this year is vastly different than the last. Tens of millions of individuals across the U.S. have already cast their ballots by mail or have voted early in-person and that number will continue to increase as election day approaches.
Families across America are struggling, and organizations are changing the way they are connecting with employees. They are taking this time to do a reset and reimagine ways to make a difference for their employees, consumers, and surrounding communities, especially in regards to helping them engage in their civic responsibilities.
In years past, they may not have been able to give their staff time off to vote or provide support for employees to be poll workers. Although this pandemic has given us very unfortunate circumstances, companies can lay the groundwork through employee benefits, stakeholder engagement, or education initiatives to foster long-term, positive change. It doesn't just start in the workplace though, education on our civic duty, politics, candidates running, and issues on the ballot is vital to the voting process.
We had the opportunity to get insight from Sofia Gross, Public Policy Manager at Snap Inc, and Ashley Spillane, Founder & President of Impactual LLC on how companies can benefit from and increase voter turnout.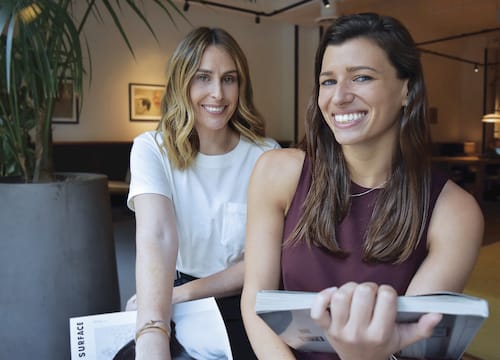 In their Harvard Kennedy School case study, "Civic Responsibility: The Power of Companies to Increase Voter Turnout," Sofia and Ashley examine the ways in which companies can play a role to engage their employees and consumers in elections. The study found that companies encouraging voter participation can be not only good for democracy, but also good for business. The business benefits described by case study participants included meeting consumer expectations for engagement in social and political issues, raising brand awareness with new audiences, and increasing employee satisfaction.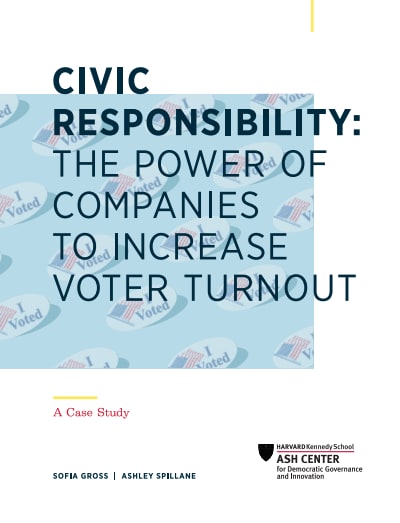 EVERFI: Why is it important for companies to play a role in voter registration/ voter engagement, and what are some notable employee engagement strategies you've seen in your work in this space? How have you seen companies successfully collaborate with their surrounding communities and all stakeholders?
Sofia Gross and Ashley Spillane: The United States consistently lags behind the majority of developed democratic nations in voter turnout, with between 40 and 60 percent of eligible voters sitting out every given election. Voters cite a lack of information about the process and key deadlines as a reason for not voting. Companies are well positioned to distribute this information to employees and consumers to help increase voter turnout.
3 Ways to Bring Virtual Volunteering to Your Corporate Culture
EVERFI: We've seen primary election dates, voter registration deadlines, and voting methods change because of the COVID-19 pandemic. How do you see COVID-19 affecting voter turnout and how can companies work to combat that?
Sofia and Ashley: COVID-19 has forced a lot of changes in the upcoming election to make sure people can cast their ballots safely and securely. That includes more opportunities to vote by mail and some states have extended early voting periods — but, in some states, poll worker shortages have resulted in fewer polling locations, causing lines. With all these changes, it's critical that companies share reliable sources of information about how people can vote when they can vote, and where they can go to do so. We love HowTo.Vote as a resource for voting information, as well as VoteEarlyDay.org as a place to find an early vote site or request your mail-in ballot.
EVERFI: How do companies ensure voter engagement efforts are inclusive and equitable to an entire community?
Sofia and Ashley: Young people and people of color vote at disproportionately low rates in the United States. We can't have a truly representative democracy until we increase voter turnout rates for everyone. Brands have such a huge opportunity to make sure this happens by sharing information and encouraging participation among their employees and consumers: they have built-in audiences, are trusted messengers, and can reach far beyond what traditional campaigns can.
EVERFI: How is Snap working to bring in first-time voters/ young voters? What can other organizations do to get more people registered to vote (Young voters, first-time voters)?
Sofia: Every brand should think about the unique audiences they have the ability to reach as it relates to all demographics. At Snap, we recognize the role we have to play in helping first-time voters have the resources they need to engage civically which is why we start as soon as they can when they turn 18. So far, we have helped over 1.2 million users register to vote this election cycle, 56% of those users will be voting for the first time this election cycle. Every organization should think through ways to provide resources and awareness natively to the demographic they are reaching.
EVERFI: Organizations like DemocracyWorks, Rock The Vote, Vote.org, and When We All Vote are critical in contributing to the get out the vote efforts. Why is it not enough to only have those vote-focused entities involved in this conversation? Why is private sector involvement a vital part of this equation as well?
Sofia and Ashley: Nonprofit organizations can provide valuable assistance to companies in the form of expertise, tools, or nonpartisan validation and companies can help provide the reach for these resources and tools. We both spend time advising companies about the unique ways in which they can maximize their civic impact while ensuring the brand benefits.
EVERFI: We've seen companies give employees the day off or a few hours off to practice their civic duty, or encourage them to volunteer at local polling stations, what are some proactive, long-term impactful strategies companies can do?
Sofia and Ashley: There are so many different things, depending on how big a company wants to go. At a minimum, we recommend marking the calendar each year to celebrate National Voter Registration Day, Vote Early Day, and Election Day — whether that's with a day off, an in-office activation, an email to employees, or a social media post. We also recommend becoming a member company of the Civic Alliance, so you can be in community with other companies doing civic responsibility programming, that way you can learn from the creative ways others are engaging employees and consumers.
EVERFI: What can organizations do immediately to help increase voter turnout?
Sofia and Ashley: If you're on the fence about whether or not you can make a difference or think everyone already knows about the upcoming election, share more information anyway. Share reliable sources of information like HowTo.Vote, GetToThePolls.com, TurboVote.org. Remind people when the voter registration deadlines in their states are, that they have options about how they want to vote. That if they're stuck in a line at a polling place, they can report it and get snacks delivered by Pizza to the Polls. That if they have any questions about voting — or they have issues when they go to vote, they can call/text 866-OUR-VOTE to get free help. You will always reach someone who needed that extra nudge or information to feel confident about showing up to the polls.
Our democracy works best when we all vote. Whether you are mailing in your ballot (or dropping it off in a dropbox) as soon as possible, voting early or on November 3rd — it's not too late to make your plan to vote.