How the NHL & NHLPA Teach Over 3 Million Students STEM
How the NHL & NHLPA Teach Over 3 Million Students STEM
Arenas have shuttered, rinks have melted, and Alex Ovechkin has traded skates for slippers. The National Hockey League suspended its 2019-2020 season on March 12. 
How will the National Hockey League engage young fans during the coronavirus crisis? One way is through education. 
The NHL & NHL Players' Association Future Goals program introduces elementary and middle school students to science, technology, engineering and math (STEM) through hockey-themed online learning experiences. This month, the NHL and Players' Association will provide free access to Future Goals Hockey Scholar™ courses for homebound students and parents. 
Scoring with STEM Education
This development will add to the impact story of Future Goals. Like Wayne Gretzky's 1,963 career assists or the New York Islanders' 19-straight playoff series wins, the program's stats speak for themselves:
Over 3 million students have participated in Future Goals since 2014.

Future Goals reached 6,342 unique schools during the 2018-19 school year.

98% of teachers describe their experience with Hockey Scholar™ as "Good" or "Very Good."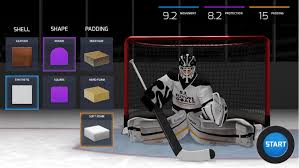 Recommended for Grades 4 through 7, Hockey Scholar™ courses cover foundational STEM concepts, scientific thinking, and data analysis. Divided into bite-sized educational modules, the courses provide teachers flexibility to integrate Future Goals lessons into their curriculum as classwork or homework.  
"I loved the fabulous graphics, the intensity of the content, and the awesome reactions of my students as they accomplished it," says one Michigan-based Future Goals teacher. "This was hands-down one of the best resources I have ever used and plan to do so again."
The learning experience has encouraged achievement inside and outside the classroom. During the 2018-2019 school year, students increased their scores between pre- and post-assessment tests by an average of 82%. After taking Hockey Scholar, 42% of students reported that they were more interested in taking STEM courses, and 41% of students reported that they were more interested in pursuing a career in STEM.
Learning to Win the Stanley Cup
The Stanley Cup is hockey's ultimate prize. It is also Future Goals' ultimate prize. With each Hockey Scholar learning module, Future Goals students get closer to a (virtual) Stanley Cup Championship.
The program allows students to represent their local franchises: St. Louis students take a Blues-themed version of the course, while Boston-based students rep the Bruins. All 31 NHL franchises are represented.  
Representing their favorite teams, students hit the virtual ice with an immersive learning experience. They learn how to calculate surface area by resurfacing a hockey rink. They measure angles by tracing the path of a puck. And they experiment with force, mass, and acceleration by skating a virtual hockey player.
Along the way, NHL players and team staff members appear in videos to show students how they use STEM in their day-to-day careers. Featured staff members include an equipment manager, a strength and conditioning coach, and an ice technician.

About 90 percent of students lack exposure to hockey prior to their participation in Future Goals. The NHL and NHLPA have seen how the program helps young people become fans. 
"That, I think, is the strength in this program — the ability to engage kids regardless of whether they play," NHL Group VP of Youth Hockey and Industry Growth Rob Knesaurek told Forbes. "What we're trying to do is get kids to engage with our sport on or off the ice."
Your Friendly Neighborhood Hockey Team
Over 250 students gathered at St. Louis's Union Station before the 2020 NHL All-Star Game in January. NHL All-Stars Max Pacioretty and Alex Pietrangelo led hockey drills in one room, while retired NHL goaltender Curtis Joseph and Olympic gold medalist Nicole Hensley provided a goalie equipment demonstration in another room. The students then completed a STEM and hockey-themed scavenger hunt.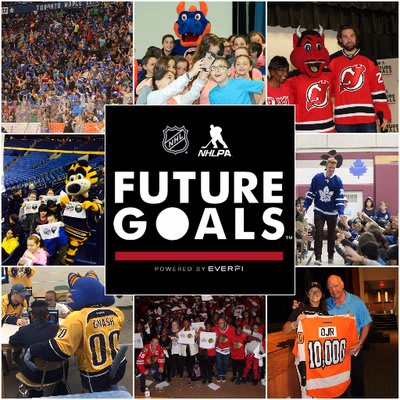 Over the last six years, Future Goals has produced over 700 events. These events bring the digital Hockey Scholar™ course to life while allowing students and teachers to engage directly with their local NHL clubs.  
EVERFI adapts Future Goals in each of the 31 NHL markets to meet franchises' community engagement goals. In some markets, that involves player visits to classrooms. In others, teams bring street hockey instructors into gym classes. Other teams invite students to open practices, games, and interactive "STEM Days" at NHL rinks. 
NHL teams and EVERFI have also coordinated virtual events that connect students with players over video chat. The program is well-poised to create new fans despite the challenges of COVID-19. 
"It's really cool to see the relationship between teams and the community, and you see something like this [event], and the kids are so excited to meet the players and be a part of the organization," Pacioretty said in St. Louis. "You feel like you're opening their eyes to the sport and what goes on in the sport."
Future Goals continues to evolve and adapt to changing times, but the NHL and NHLPA's focus on community remains constant. Hockey has a special way of bringing people together.
Maximize Your CSR Impact
To make implementing your CSR initiatives easier, we put together our Investing in Impact white paper. This definitive guide to CSR strategy shares best practices and trends that will help ensure your success in making an impact.