Employee Spotlight – Sneha Viswalingam
Employee Spotlight – Sneha Viswalingam
Meet Sneha Viswalingam!
Sneha is a Director of Quality Engineering at EVERFI.  Learn more about Sneha in her Q&A below.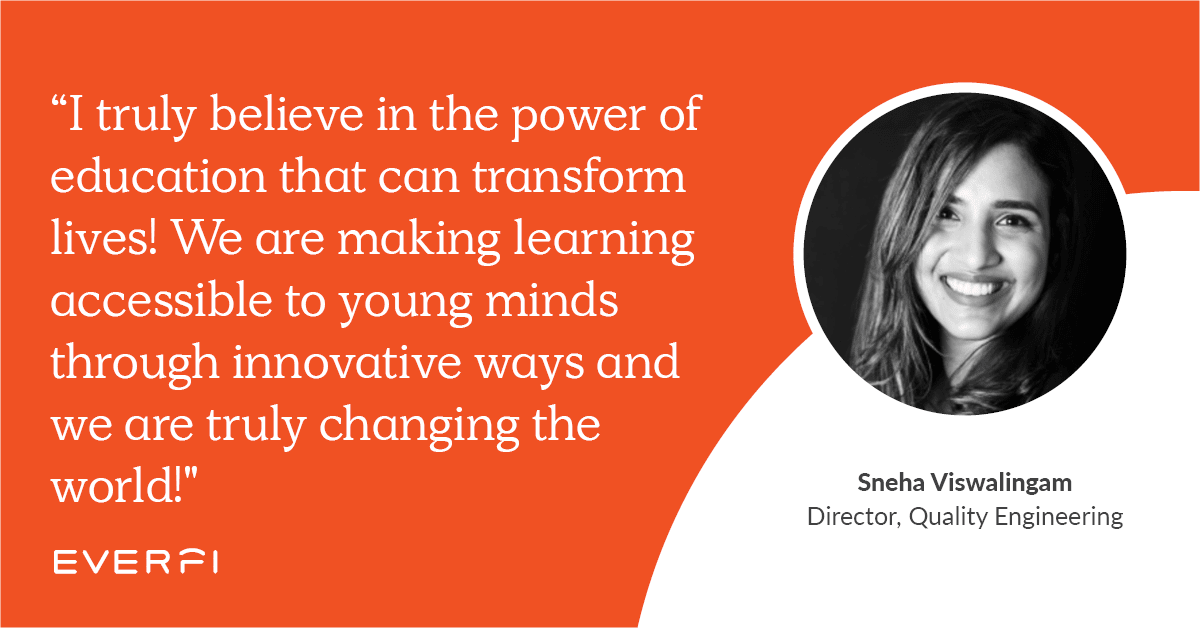 What is your favorite thing about working at EVERFI?
My favorite thing about EVERFI is its people. People here are super friendly and kind. Feels good to work in a truly inclusive company that has a Talent team that values its people, prioritizes mental health and encourages work-life balance. 
What gets you most excited to come to work every day? 
The Product and the People! I work with the best team ever and we work towards building a product that makes our world an equitable place to live in and that helps me show up energized to work every day!  
What about EVERFI's mission and or values gets you fired up to come to work? 
I truly believe in the power of education that can transform lives! We are making learning accessible to young minds through innovative ways and we are truly changing the world and making it a better place to live in through the power of education!
If you could travel anywhere in the world with all of the money in the world, where would you go?
If I could travel anywhere in the world right now during the pandemic, it would be to my home country, India to visit my family and friends and eat all the homemade delicacies. 
What is one thing you cannot resist?
Non-fiction books! I like to read all the words of wisdom written by people about their life lessons and experiences!
Where is your favorite place to be?
My home is an indoor tropical jungle with 50+ varieties of indoor plants and also my favorite place to be. 
Tell us something that might surprise us about you.
I don't drink coffee! I am a tea person and I love to collect and create custom tea blends! 
If you could choose anyone, who would you choose as your mentor?
If I could choose anyone, I  would like to choose Oprah Winfrey as my mentor.
What are 3 words you would use to describe EVERFI?
Innovative, Inclusive and Community Development
What is something you learned in the last week?
This is a known fact – But, I truly got to experience and reap the benefits of this last week  – Teamwork makes the dream work! 
I learned about this Nordic practice called Lillordag which means Little Saturday in which a weekday is treated like a reason to celebrate as you would on a Saturday – typically Wednesday. You don't have to wait till the weekend to decompress! Having a small celebration on Wednesday to look forward to helps break up the monotony. Do you see why we need Lillordag? To claim Wednesday as a night we order take out and do weekend thinks like watching a movie, catching up with friends and having conversations in cozy settings or anything we can happily commit to.
How do you balance your career and family (life)?
I like to balance my career and life by taking mindful breaks when needed to refresh and recharge and to focus on fitness and mental health everyday. We have a group at EVERFI that like to use Peloton and we encourage each other to get moving and focus on our health on a daily basis. EVERFI is a great place to be when it comes to work-life balance!  
What's your favorite indoor/outdoor activity?
Painting and traveling! I love to fill my home with folk paintings that I occasionally get to create inspired by the travels and cultures I come across! 
What is your greatest fear? 
My biggest fear is living a life without passion! Being passionate about my work and life keeps me going! I wake up each day feeling grateful about the life I created for myself and the positive impact I get to create through my work and efforts. That guides me and I hope I can always find a way to figure things out and keep that passion going! Passion is contagious and I hope to spread positivity by inspiring people to create and live the life of their dreams.