Chasing Opportunities to Better Myself | Scholarship Winner
This is part one of our Financial Literacy Month K-12 feature series. Celebrate with EVERFI this Financial Literacy Month!
Today we're featuring an excerpt from Malia, a high school student who recently earned her EVERFI – Financial Literacy for High School certification. Malia shares the importance of learning "adult concepts" for her future in real-estate, and the real world skills she's bringing to the table as an empowered young adult. Congratulations to Malia for being one of our scholarship recipients!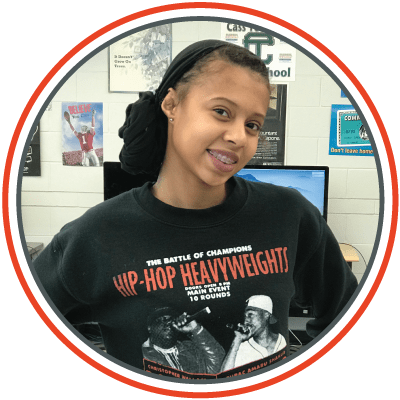 Student: Malia
Teacher: Ms. Holmes
School: Cass Technical High School
State: Michigan
Sponsor: John Hancock
"To survive in this world, a person must know how to go about life with an idea and a will to live. Most of us will attend school seeking an education and often sacrifice a lot just to be able to receive that education. When we are young, our families and friends ask us, 'What do you want to be when you grow up?' and our responses are often innocent and not given much thought as we only have so much experience. As we get older, we start to develop interests and hang around people who influence us and our decisions. These impacts can be beneficial or detrimental; we make the ultimate choice to start new habits and make a way for ourselves.
My experience as a student has been full of opportunity. My family has always worked to ensure me and others around me that I will always be prepared for the next step I take in life. Even from a young age, I was concerned about my grades and how well I function in my day-to-day. As a teenager residing in Detroit, ranked the second most dangerous city in America, I am looked at as a person with minimal opportunities. However, I have had much success with making it and taking opportunities, hopefully changing the perceptions of others not coming from where I am.
I've developed a profound interest in real-estate development and brokering. To get a head start in reaching my full potential, I was able to get an internship at a small real-estate firm, hired by a family friend, Ms. Rivers. There, I learned not only important careers skills but also important life skills. Skills such as learning how to greet people, dress professionally, carry myself, and even deal with rejection.
I appreciate school right now but job opportunities and programs such as EVERFI teach me skills that I wouldn't be able to retain just from school alone. With the EVERFI program, I got a deeper understanding of what I refer to as 'adult concepts,' such as what types of accounts there are, what higher education options I have, how to invest wisely, and what living situations will work best for me.
If I was honored as a recipient of this scholarship, I would use this money for my higher education and to save on costs to contribute to my ultimate career goal as a broker. When I turn 18, I will be able to take a test to earn my broker license in the state of Michigan. In life, I hope to travel to other states with high property values such as New York, as well as states that have the potential to provide affordable housing for the people looking to live there. Ultimately, the EVERFI Scholarship would be a great opportunity to get my foot in the door for college and encourage me to chase after other opportunities to better myself."