Lessons to Address High School Vaping in 2022
Lessons to Address High School Vaping in 2022
High school vaping continues to be a national issue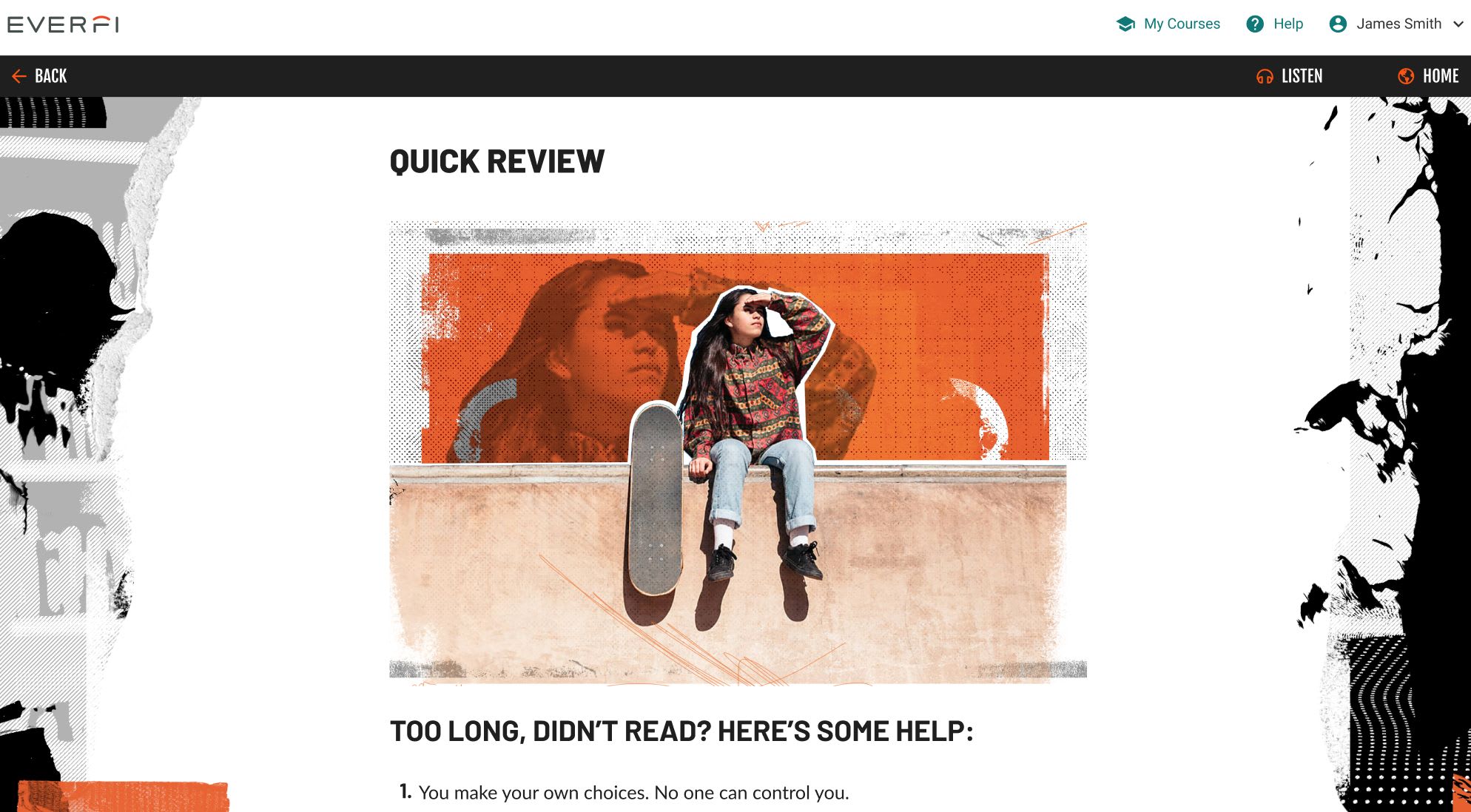 It's no doubt that we are experiencing a growing epidemic of high school students vaping. Over the last several years, youth e-cigarette use has seen a surge. According to the U.S. Data from the 2022 National Youth Tobacco Survey 1, about one in seven high school students (14.1%), and one in 30 middle school students (3.3%) – that's an estimated 2.55 million young people –  reported using e-cigarettes. What's more, many young people are vaping on a daily basis, indicating both the addictive nature of nicotine and a growing problem among our youth.
While we may not yet understand the long-term effects of high school students vaping, one thing is for certain – science shows that any kind of substance addiction can impact the brain and body, leading to long-lasting impacts. Now more than ever it's important that we work to establish vaping prevention programs for high school students to ensure that they are equipped with the necessary knowledge and resources to either avoid starting or have the resources to discontinue e-cigarette use.
Through various high school vaping prevention resources, we can introduce our students to vital information about e-cigarettes and the epidemic that continues to impact many young people. With EVERFI's interactive high school vaping prevention courses, students can come to understand what vaping is, how vaping affects the body and the implications of vaping during a global pandemic like COVID-19. The following includes in-depth resources to help you get started on the path to your own vaping prevention program for high school students.
What Is Vaping? Lessons to Introduce the Possible Dangers of Vaping in High School
The concepts of vaping and e-cigarettes are relatively new, with JUUL and other similar vaping devices having recently come onto the scene just a few years ago. It could be helpful to include basic information about e-cigarettes in your high school vaping program. EVERFI's Vaping: Know the Truth offers interactive lessons on e-cigarette use and the possible dangers. The first lesson "Know" is a perfect place to start, covering topics, including:
The definition of vaping,
Students' current knowledge,
A history of the tobacco and vaping industries,
And harmful ingredients found in vaping devices.
One engaging and interactive way to introduce the topic of vaping to your students could include a game to challenge what your students think they know about vaping. Consider putting students into two teams and having them compete to see who knows more. Possible prizes could include extra credit or a homework pass, for example, to keep students engaged and excited. Some examples of questions to ask include:
Which is less harmful to the body – traditional cigarettes or e-cigarettes?
JUUL is a safe alternative to traditional cigarettes. True or false?
High School Vaping and Addiction – Lessons to Lay the Foundation
It's well-known that nicotine is a highly addictive substance found in traditional cigarettes. What you may not know, however, is that e-cigarettes can deliver as much, if not more, nicotine than cigarettes. I didn't before utilizing some of EVERFI's vaping information for students, and it's likely that some of your students may not either due to a major lack of available and reliable information on the impacts of vaping.
EVERFI's Prescription Drug Safety offers students the tools to make healthy and informed decisions when it comes to prescription medications and addiction. In the second lesson "Science of Addiction," students explore the nature of addiction and how it impacts both the brain and body. Students are also equipped with information to help them avoid addiction or find support. One way to integrate this lesson into your vaping program could be to connect addiction to vaping and how easily people can become addicted to the high nicotine concentrations found in e-cigarettes. You can explore concepts, such as nicotine withdrawal and tolerance, and how these conditions, which result from addiction, can negatively impact someone's life.
Vaping Companies Are Targeting Our High School Students
Big tobacco and e-cigarette companies do not have our best interests in mind – in fact, their top priority is selling their products no matter how harmful and addictive they may be. Flavored products are a strategy used by tobacco companies to lure youth, and research indicates that nearly 85% of youth use flavored e-cigs2. In lesson two of Vaping: Know the truth, students have the chance to explore these companies and their deceptive marketing tactics, many of which rely on social media to reach potential users. That's why it may be important to include this content in a vaping program for high schoolers who regularly use social media and are likely exposed to misleading advertising.
One way to engage your students through this lesson could be to task them with trying to find concrete evidence supporting statements that e-cigarette companies have claimed to be true. Some examples include the following:
E-cigarettes are a healthier alternative to regular cigarettes.
Vaping helps smokers quit smoking.
There is not enough nicotine in e-cigarettes to cause addiction.
Those who vape are no more likely to test positive for COVID-19 than those who do not vape.
You can encourage students to find .gov or .edu sources, which are often the most reliable.
Vaping and COVID-19 – a Discussion Guide for Teachers
Looking for more relevant topics to include in your high school vaping program? EVERFI's Extension Guide has got you covered. Consider discussing the correlation between vaping and COVID-19. One study recently found that people who use e-cigarettes are more likely to test positive for COVID-19 for several different reasons, including e-cigarette use's impact on lung function and the immune system.
What's Next? Getting Started on the Vaping Lessons for High School Students
The ongoing e-cigarette pandemic emphasizes the need for vaping prevention programs for high schoolers. EVERFI is here to help, offering extensive and engaging anti-vaping resources for you and your students. Consider including some of the following resources to further important discussions about high school vaping.
---
Christina DeBartolomeo specializes in marketing and journalistic communications, and has been writing professionally since 2017. She graduated from The George Washington University in Washington, D.C., in May 2020 with a Bachelor of Arts in journalism and mass communication and a minor in business administration.