Your Organization Wants More Focus on Diversity
Workplace Training • 5 Minute Read
Your Organization Wants More Focus on Diversity
Are They Actually Prepared?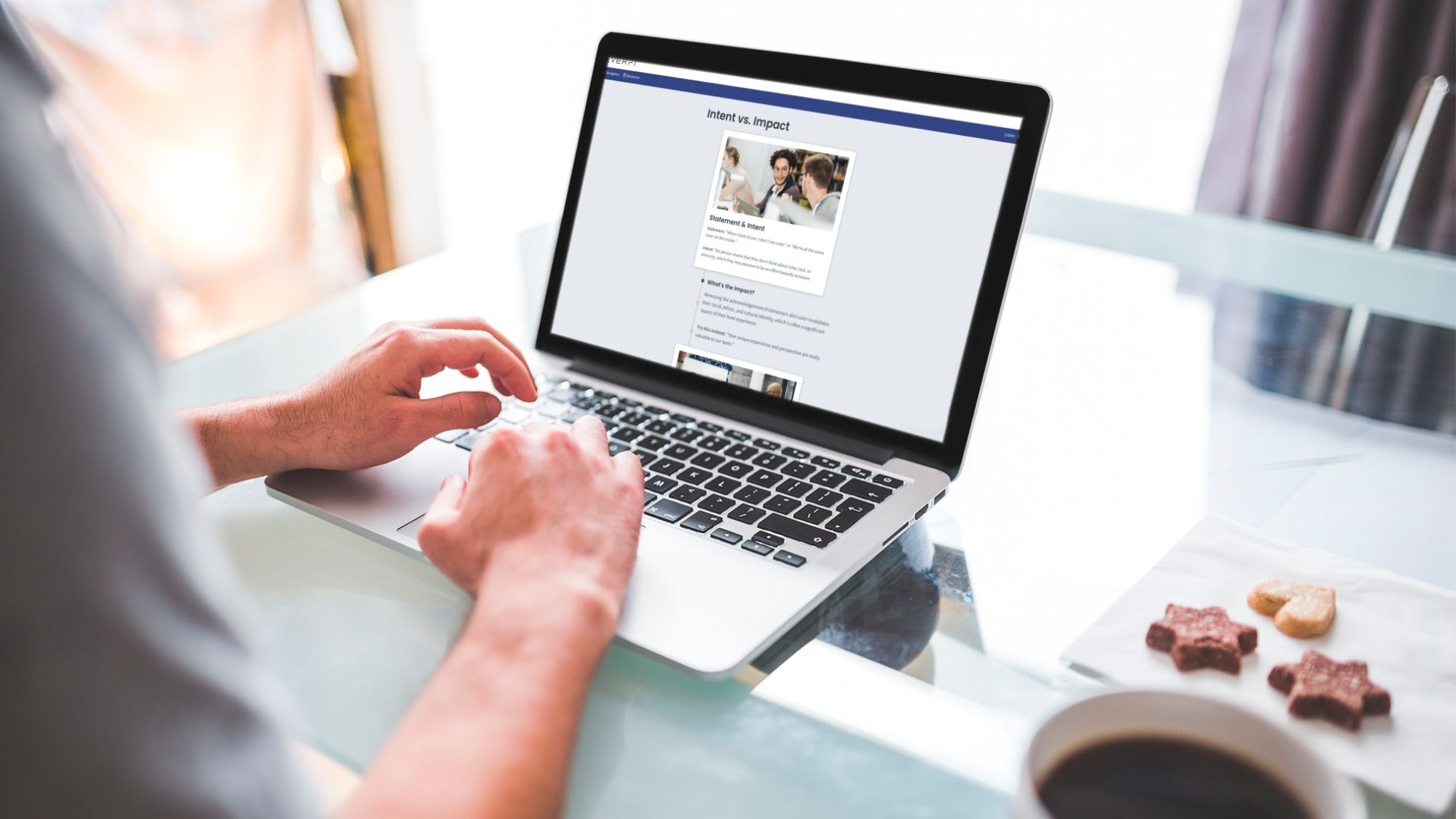 The events of 2020 compelled many organizations to more deeply align public statements of commitment to social justice and their internal diversity, equity, and inclusion (DEI) efforts. This collective interest in improving workforce diversity and fostering equitable workplaces of inclusion and belonging is what every diversity, equity, inclusion and belonging (DEIB) professional has hoped, planned, strategized, and advocated for. 
Employees, stakeholders and community members alike have a growing expectation that workplaces serve as both places of authentic connection and belonging, as well as forums for discussions about equity. For example, 74% of employees expect their employer to become actively involved in the cultural debate of the day. 
The challenge is that while engaging in workplace discussions about inclusion and equity is an emerging expectation, not all employees are equally equipped with the skills and knowledge to be active co-owners of a culture of belonging.  And cultivating this shared sense of responsibility and empowerment requires the following 5 building blocks of a larger strategy: 
Identifying and measuring what matters

Implementing sustainable and data-informed programs

Sharing the results on a consistent and broad basis

Providing effective training for all employees 

Implementing dedicated learning and skill-building for leaders
The last two bullet points underscore the need for effective, and scalable training across the organization. This need was reinforced by EVERFI customers in late 2020 – 60% of survey respondents indicated that new or additional diversity training is important or critical in 2021 (source: 2020 Everfi DEI Survey). 
These training experiences provide foundational knowledge and essential skills that will build the confidence and competence of every person in the organization to be an ally of inclusion in the workplace. But not all training is built alike. 
At EVERFI, we set a goal to create a best-in-class learning experience that meets employees where they are and supports the larger organization's efforts to build diverse, equitable, and inclusive workplaces of belonging. To achieve this goal, we understand that successful DEI training needs to address certain issues:
That employees are starting in varied places of knowledge, skill, and understanding

That there are limitations to the scale and consistency of training facilitators

That many organizations have and will continue to operate as a dispersed workforce

That addressing core topics in diversity training requires a safe place to learn, explore and practice modeling before engaging in real-time interactions 
We sought the input of hundreds of our customers and comprised a panel of cross-industry experts to identify the needed topics, skills, and capabilities in a training experience to support employees in productively collaborating across differences and fostering workplace inclusion and belonging: 
Exploring Identity

Understanding and addressing microaggressions

Honing effective communication skills 

Practicing skills to be an effective ally and advocate 

Providing dedicated learning for organizational leaders to enhance equity in decision making
Introducing EVERFI's Diversity, Inclusion & Belonging Training Course
Our new training course, Diversity, Inclusion & Belonging, does just that. It equips HR teams with:
Short, flexible modules.
Bite-sized content on critical topics can be delivered together as one course or assigned individually to provide just-in-time learning. Are you hosting an open forum to address microaggressions? Assign the module on Understanding Our Impact for best practices in recognizing the difference between the intention and impact of our words and actions. If you want new hires to develop a deeper appreciation for a workplace of belonging, assign Foundations of Belonging during orientation and onboarding. 
Focus on action and skills.
Employees build and practice new skills in nuanced, real-world scenarios that they may face whether they are working remotely or in person. From speaking up on behalf of a colleague to identifying behavior that may exclude, team members can practice new skills in a private learning environment.
An effective approach.
Our course ensures that complex topics like bias and microaggressions are approachable and actionable by focusing on behaviors, skills, and tactics that all employees can use to promote inclusion and belonging. We integrate proven practices–like perspective-taking and goal-setting exercises.
Scale and accessibility.
For organizations with large or dispersed workforces, live and in-person training may simply not be feasible. Our scalable, digital solution helps organizations ensure that all employees can receive the training they need, regardless of location.  
Best in class, inclusive design.
The course content, imagery, characters, and interactive moments in our courses are designed using a learner-centered DEIA (Diversity, Equity, Inclusion, Accessibility) approach so all learners feel represented in the course and are able to engage with it. 
Building the skills to be allies and work effectively in teams with people who have a diversity of experiences, perspectives, opinions, and backgrounds takes practice. EVERFI's Workplace Insights dashboard equips you with invaluable data on which topics to more deeply explore and reinforce as a part of a larger training strategy. Additionally, leaders within your organization have a unique role in responsibility in creating inclusive and equitable workplaces. Learn more about how the Diversity, Inclusion & Belonging course provides the fundamental skills that organizational leaders can refine and build on in the Diversity, Inclusion & Belonging for Leaders course. 
The Diversity, Inclusion & Belonging course sets a solid foundation of shared vocabulary, core skills, and actionable information to empower all learners within your organization to be confident allies of workplace inclusion. If you are looking for training that will bolster your efforts to create a sustainable culture of inclusion and belonging, for all, EVERFI can help.