What is Retaliation in the Workplace? A Silent Crisis
Workplace Training • 5 Minute Read
What is Retaliation in the Workplace? A Silent Crisis
Retaliation could be the next "#MeToo"
One of the most widespread and persistent workplace problems today is one that most organizations aren't even thinking about: retaliation.
Although issues like sexual harassment and racial bias make headlines (and deservedly so), workplace retaliation is actually the most common claim of workplace discrimination by far, and has been for the past decade. The EEOC receives five times more charges of workplace retaliation than sexual harassment—more than all race, color, and religion-based discrimination charges combined. 
COVID-19 has further exacerbated this trend: a new survey found that more than 1 in 8 workers believe they've experienced possible workplace retaliation for expressing concerns about health and safety during the pandemic.
Indeed, workplace retaliation could be the next #MeToo-type issue that takes the workplace by storm.
Here's why:
It is alarmingly common, yet is not often spoken about by those who experience it;

It can lead to significant legal claims, decreased morale and retention, and damaged workplaces cultures;

And it is not on most organizations' radar. Even if it is, many are not taking proactive steps to prevent it from happening.
Given the persistence and scope of this problem, as well as its devastating impacts, we wanted a better understanding of why workplace retaliation occurs, who tends to experience it (and perpetrate it), and what steps can be taken to help prevent it. To do this, EVERFI partnered with the HR Research Institute, surveying 528 HR professionals to get to the bottom of some key questions.
1. Why does workplace retaliation happen?
Workplace retaliation can occur after any type of complaint is made, but some subjects are more likely to trigger workplace retaliation than others. Over half of HR professionals say that retaliation in the workplace is sometimes or often the result of a harassment and discrimination complaint (53%), followed by concerns about pay or working conditions (44%), a conflict of interest (39%), and a request for accommodation (30%).
When we looked at what prompts retaliation against a colleague, we found that emotions and assumptions are a driving force. Indeed, the most common reasons cited for workplace retaliation are personal feelings of anger, embarrassment, hurt, or betrayal (61%) and viewing the person as disloyal, a troublemaker, or not a team player (59%). Far less common is the belief that the complaint was knowingly false or made with bad intent (28%).
2. Who are the targets and perpetrators of workplace retaliation?
While workplace retaliation can happen to anyone in an organization, some employees are more susceptible than others. The majority of responding HR professionals indicated that low-performing employees (63%) and women (62%) are sometimes or often the targets of retaliation in the workplace, compared to high-performing employees (36%) and men (47%). While the results do not reveal the cause of these disparities, it is possible that unconscious (or conscious) biases regarding gender or performance level may influence a respondent's perceptions of employee loyalty and intent, and therefore their own response to a complaint.
Meanwhile, employers often think workplace retaliation is committed primarily by managers against their direct reports, but the data reveals this is often not the case. Nearly half of respondents (46%) say the person retaliating is sometimes or often some other leader in the complainant's chain of command, 35% say it is a leader outside of their chain of command, and 51% say it is a peer-level colleague. Retaliation in the workplace even occurs by employees against their supervisors (35%). For these reasons, employers must take an organization-wide approach to preventing retaliation—develop a strong non-retaliation policy, provide training and monitoring against it broadly—as retaliation can be perpetrated by anyone.
3. Are organizations aware of risky actions and are they protecting whistleblowers?
Retaliation in the workplace can take many forms. And while not every negative workplace action following a complaint may be illegal (depending on applicable law), even the perception of workplace retaliation can lead to additional complaints, legal actions, decreased morale, and damaged workplace culture.
Unfortunately, many organizations are unaware of actions that are potentially risky.
Employees and lawmakers often take a broad view of workplace retaliation, but organizations tend to view retaliatory actions more narrowly, focusing on egregious acts like termination (80% of respondents say their organization would consider it retaliatory), hostile treatment (78%), discipline (75%), and demotion (74%). Many HR professionals said their organizations were less likely to consider changes in benefits (57%), work location (64%), or duties/work schedule (65%) to be potentially retaliatory, even though the EEOC and U.S. Supreme Court have stated that they could be.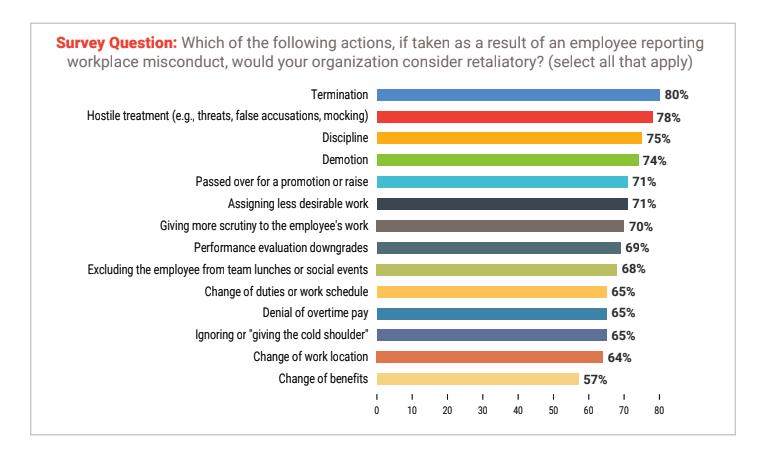 We also found that many organizations don't have procedures or an anti-retaliation policy in place to prevent workplace retaliation and safeguard employees who come forward. Of note: 
Almost one-third of companies surveyed don't have an anti-retaliation policy.

Of those that do have a policy on the subject, only 57% train all employees on it.

Only half of organizations (52%) check in with employees periodically to confirm that no workplace retaliation has occurred after a report, 64% counsel managers about how to avoid retaliation when managing an employee post-report, and just 19% designate someone to monitor an employee's performance reviews to safeguard against retaliatory ratings.

Nearly one-fifth (17%) don't take any such steps to protect whistleblowers post-complaint. 
Finally, even fewer respondents indicate they take the above precautions to protect witnesses from workplace retaliation (although they too are protected under the law), further exposing companies to risk. 
4. Do organizations that prioritize and take proactive steps to prevent workplace retaliation report fewer incidents?
The good news is that amplifying your focus on workplace retaliation and implementing some straightforward procedures pays dividends. Our results show that for those HR professionals who view preventing workplace retaliation as very important or extremely important, only 17% say retaliation occurs sometimes or often in their organization. In contrast, for those who indicate that retaliation in the workplace is a lower priority, almost half (49%) report that retaliation is sometimes or often occurring in their company.

Taking some simple steps to demonstrate that preventing workplace retaliation is a priority makes a difference too. Companies that actively communicate their anti-retaliation policies (e.g., through training and communications from senior leaders) are far less likely to say that retaliation occurs sometimes or often (35%) than those who take a more "check the box" communication approach (e.g., via a handbook or website) (65%).
Next Steps for Preventing Workplace Retaliation
It is clear that retaliation is not a force outside of an employer's control, nor can it be prevented by simply saying "don't do it." It's a risk to both compliance and workplace culture that must be proactively addressed through policies, procedures, communication, and enforcement. It requires coaching and training to ensure all employees understand its causes, effects, and warning signs of workplace retaliations.
By shining a spotlight on this widespread issue and taking simple, yet meaningful actions now, our organizations can turn the tide on the devastating problem of retaliation in the workplace.