How to 'Re-Onboard' Staff to Return to the Office
Why Re-Onboarding Your Staff is Critical
Workplace Training • 9 Minute Read
How to 'Re-Onboard' Staff to Return to the Office
Why Re-Onboarding Your Staff is Critical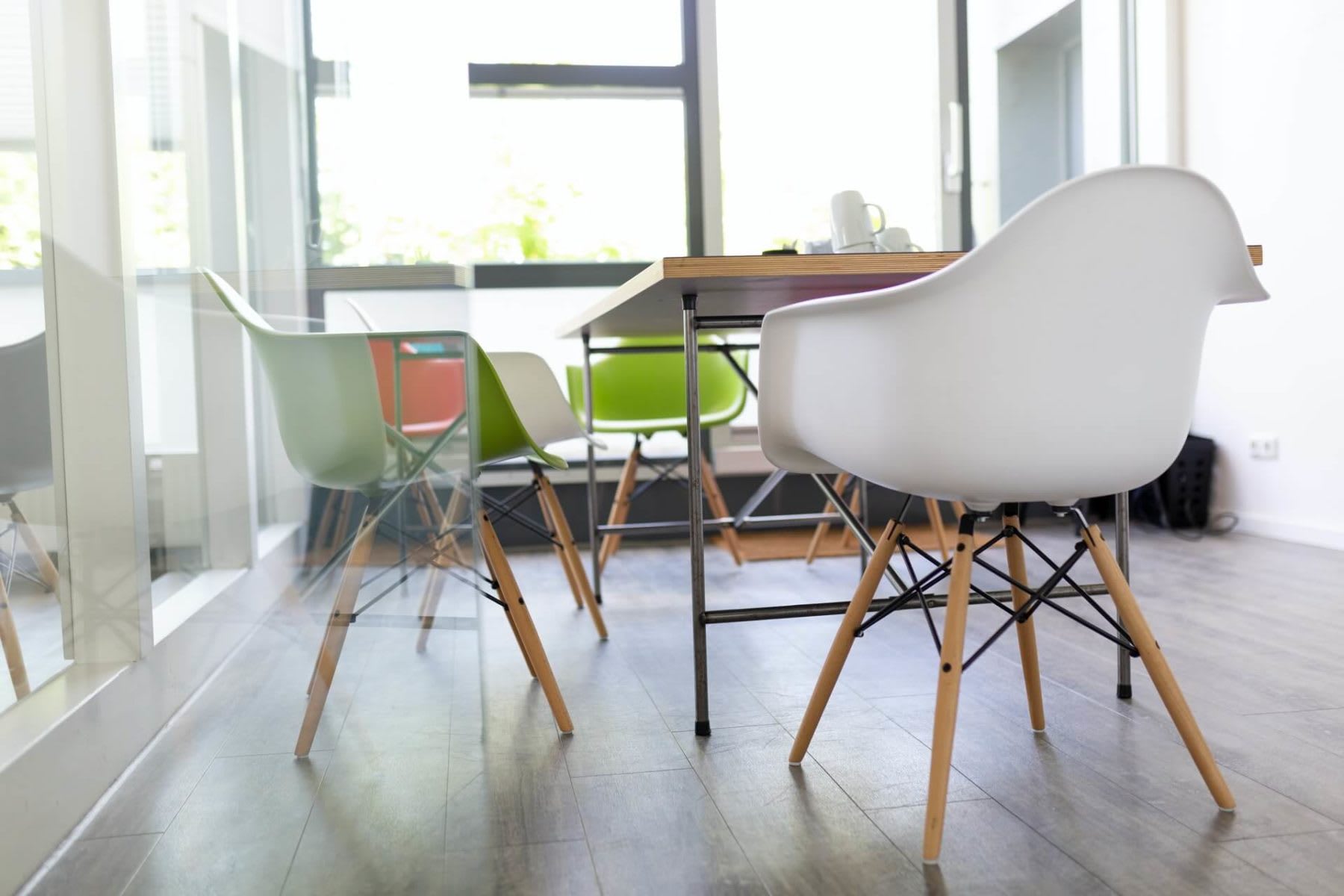 'Re-Onboard' Staff to Return to the Office or Continue Working Remotely
We often consider onboarding practices or experiences, which is "the process of integrating an employee with a company and its culture, as well as providing [the employee] the tools and information needed to become a productive member of the team", as one exclusive to new employees. However, the benefits of onboarding practices, or an intentional re-onboarding, may extend beyond those who are new to the organization to supporting your current team members as well as they return to the workplace and adjust to extended dispersed workforce arrangements.
Adapting Onboarding to Manage Changes in the Workplace
So while the need for onboarding should continue to be a consistent part of the new employee experience, the four distinct levels of the onboarding process can be used as guiding principles to provide support, certainty and clarity to current employees as part of your return to work plan. The four levels, or the Four C's, are ordered from foundational to progressive:
Compliance is the lowest level and includes teaching employees basic legal and policy-related rules and regulations.
Clarification refers to ensuring that employees understand their jobs and all related expectations.
Culture is a broad category that includes providing employees with a sense of organizational norms— both formal and informal.
Connection refers to the vital interpersonal relationships and information networks that new employees must establish.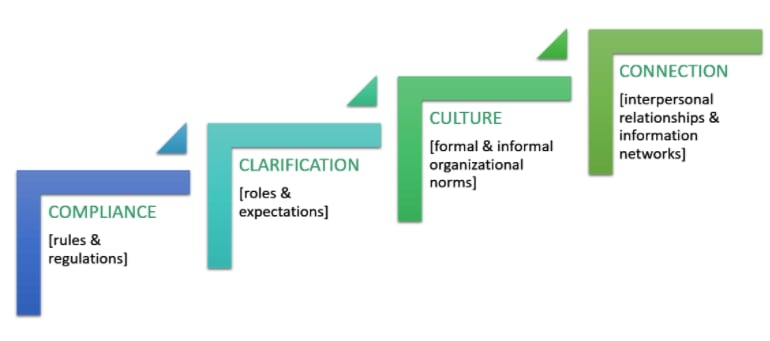 Source: T. N. Bauer. Onboarding New Employees: Maximizing Success
How to "Re-Onboard" by Applying the 4 C's
Compliance
Send intentional and regular communication about changing or new policies, whether that be guidance about PPE and workplace entry protocols or supporting people leaders in how to arrange accommodation for team members.
Redeploy training such as harassment and discrimination prevention, anti-retaliation, bias reporting and health and safety training to all employees, regardless of work location. This can help mitigate uncivil behavior that is more likely in virtual environments and reinforce behavioral expectations in more isolated work spaces
Clarification
If organizational structure, reporting relationships, or scope of responsibilities have shifted, stage 1:1, small group and large forum sessions to communicate both the changes and the expected duration (if temporary). This can alleviate confusion and misunderstanding of expectations. Not doing so may have a downstream impact during performance reviews
Additionally, ensure you regularly communicate "return to office" plans and protocols. Many organizations are designing plans that shift based on locality and the plans of surrounding school districts. If dates or plans change, be proactive about clarifying new timelines and expectations.
Culture
Revisit and reiterate your organizational values of respect, civility, and inclusion as a part of your overall workplace culture continuity plan. Deploying population-level training about inclusion and diversity can help broadly underscore these behaviors as core to the organization.
Establish traditions that account for convenings with in person and remote participation and be intentional about inclusive meeting practices to circumvent distance bias (e.g. out of sight, out of mind)Connection
Connection
Develop "ground rules" for engaging in dialogues about social justice issues that support healthy, respectful and authentic dialogue.
Poll team members and people leaders about ways they are keeping teams socially engaged and connected – sometimes the best practices exist within your organization and simply need to be surfaced and scaled.
If you have them, convene the leaders of Employee Resource Groups and determine what resources they may need to develop and support their respective populations.
Applying the 4 C's will help your organization adapt it's onboarding practices to the rules and regulations, role expectations, organizational norms that have been disrupted by COVID-19. Consider the following changes in the workplace which could be negatively impacting current employees' engagement and productivity.
Be Mindful of These 4 Changes in the Workplace
1. Hiring Trends
The velocity of and need for hiring has shifted remarkably, with each talent acquisition strategy reflecting the organization's response to the impact of the economic and health crises. Some organizations have made difficult decisions to institute hiring freezes, others are replacing full time staff with more contingent workers, many companies have significantly downsized or altogether canceled their summer internships, while there are organizations experiencing hiring surges.
The growth of the organization and personnel with the needed skill sets is in flux. Roles that have been budgeted for may now be pushed to the next quarter or high potential interns that would drive the early talent pipeline were not hired, leaving incumbent employees with additional responsibilities. On the converse, there may be a sharp influx of talent who require the time and limited capacity of existing managers to properly position them for success. All of these challenges can leave gaps in understanding expectations, priorities and team structure.
2. The Physical Workplace
In the context of the COVID19 pandemic, the workplace, as we historically defined it, has been remarkably altered. Currently, leaders are creating a variety of plans for employees that include, but aren't limited to, returning to the physical workplace, developing hybrid remote and in office scenarios, reintegrating dispersed employees with colleagues who remained in the workplace and developing expanded or indefinite remote work plans.
The evolving plan for where people work, also surfaces cascading considerations about not only how people work together, but also the health and inclusivity of your workplace – the technological infrastructure to promote effective hybrid (in person and remote) engagement, the prioritization exercise of who returns to the workplace and when, physical space planning that accounts for hidden risks of physically isolated staff, reintegrating team members who have previously been remote with employees who remained in the workplace should all be taken into account in business continuity plans.
3. Employee Well Being
Physical displacement is not the only disruption to work protocol. There is a rise in diagnosed mental health conditions, across the nation and conditions like anxiety, depressive disorders and PTSD may be heightened for employees by concerns about workplace health and safety protocols. The uncertainty and evolving plans of K-12 schools districts and Higher Education institutions continue to impact the wellbeing and productivity of employees who have children. Organizations experiencing downsizing are adjusting work streams for a smaller workforce, which could be putting a strain on team members.
This changing context creates implications to provide accommodations for hidden disabilities, create flexible or staggered work schedules, redesign benefits packages to increase support of mental health services, and call for an expansion of the role of employers to become more of a social safety net. Both managers and individual contributors may need support navigating a complex landscape of changing cultural norms and policies.
4. Interpersonal Dynamics
Prior to the stark uptick in remote work resulting from the COVID-19 pandemic, digital civility was at its lowest levels in 4 years, according to the latest Microsoft Digital Civility Index. This general downward trend in online civility, overlaid with the collective uncertainty about health and safety, is heightening the risk of online discrimination and microaggressions. Additionally, the collective heightened awareness of systemic and acute racism and inequity are now active workplace discussions. These are necessary and, at times, difficult conversations that require intentional support and follow up to ensure that there is room for both difference of perspective and a continued valuing of respect, civility, and productive engagement.
The stated benefits of a robust employee onboarding practices and process are increased feelings of confidence and self efficacy, a clear understanding of expectations, social integration and a knowledge of the organization's goals and values. In times of remarkable change, uncertainty, and evolution, your team members need support to understand the current compliance measures to take, clarity of their roles and expectations, a reinforcement of organizational values and culture, and opportunities to connect interpersonally. Using the 4 C's to "re-onboard" your current workforce provides a framework to comprehensively meet these needs, promote a safe return to work, and can help enhance employee engagement and productivity.