Improve Campus Mental Health and Provide Quality Care for Students

There is a Mental Health Crisis in Higher Education
Institutions are simultaneously seeing an increased demand for mental health resources while also, facing staffing shortages due to budget cuts. Administrators are being forced to make difficult decisions between proactively investing in mental health education for all community members or providing clinical resources for those in need, despite both approaches being critical for student success.
of college students have experienced high to moderate levels of distress as a result of the pandemic.33 EVERFI Research
How Our Partnership Works
Institutions can integrate TimelyMD's teletherapy platform directly into EVERFI's industry-leading safety, well-being, and inclusion courses to meet students wherever they are in their mental health journey.
By adopting both platforms, institutions can now provide students with a comprehensive continuum of care: providing students with the knowledge and skills to keep themselves and others safe and healthy while ensuring real-time clinical support for those who need it.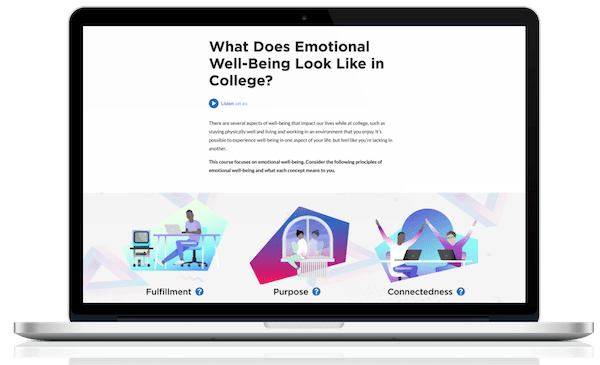 Step 1
Students take EVERFI training
Built with evidence-based content and cutting-edge digital design to engage your students

Published and proven effective, with 9 peer-reviewed studies demonstrating the efficacy of our courses

Driven by data with real-time dashboards to track changes in students' knowledge, attitudes, and behaviors
Step 2
Students click integrated links for on-demand mental health support
On-demand mental health care 24 hours a day
Best in class technology by web, mobile, or phone
Behavioral health professionals in 50 states
No cost visits for students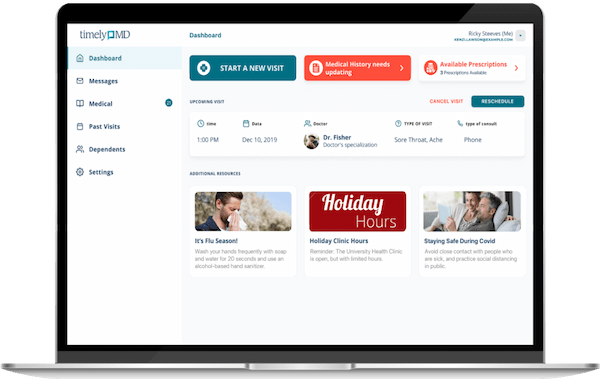 Why EVERFI and TimelyMD?
"Now, with TimelyMD integrated in our programs, students can turn their awareness into action by requesting real-time support if they're experiencing mental health challenges."
- Rob Buelow, SVP of Higher Education and Impact 
"Providing students with as many on-ramps to access mental health support is in everyone's best interest.  EVERFI and TimelyMD's strategic partnership enables higher education to deliver a complete health and well-being continuum for students."
- Luke Hejl, CEO and Co-Founder of TimelyMD
Get in Touch
Take a closer look into how EVERFI and TimelyMD can help you create a campus where students thrive.
By clicking "Submit" you agree to EVERFI's Policy and to receive communication about additional resources and information we think may interest you.