Overview
Higher Education
Diversity and Inclusion Training for College Students
Build a campus culture of inclusive excellence.
DIVERSITY EQUITY & INCLUSION COURSE OVERVIEW
73% of students believe that their institution's diversity and inclusion programming is either weak or non-existent. While diversity, equity, and inclusion are frequently included as an institutional priority, EVERFI's training courses reinforce that commitment on a population level.
This course is a critical component of a campus-wide DE&I strategy because it allows your students to tailor their learning experience based on their background. Course pathing adjusts to meet learners where they are and provides additional framing based on their responses to interactive lessons. This training makes students feel safe, included and ready to learn.
DIVERSITY, EQUITY, & INCLUSION COURSE HIGHLIGHTS:
Short training sessions introduce key concepts related to identity, bias, power,and

privilege.

Educate students of the vast benefits of being part of a diverse community.

Flexible learning modules allow students to practice allyship, self-care, and strategies to create inclusive space.
Course Exercises & Topics:
Identities
Encourage students to explore what factors influence identity and the negative impacts of stereotypes.

Power & Privilege
Prompt students to reflect on their own experience and reflect on any unconscious biases they might have.
Oppression
Define concepts related to discrimination and oppression and introduce bystander intervention techniques to use when they encounter these behaviors.   
Culture of Respect
Introduce the students role in creating an inclusive and respectful community.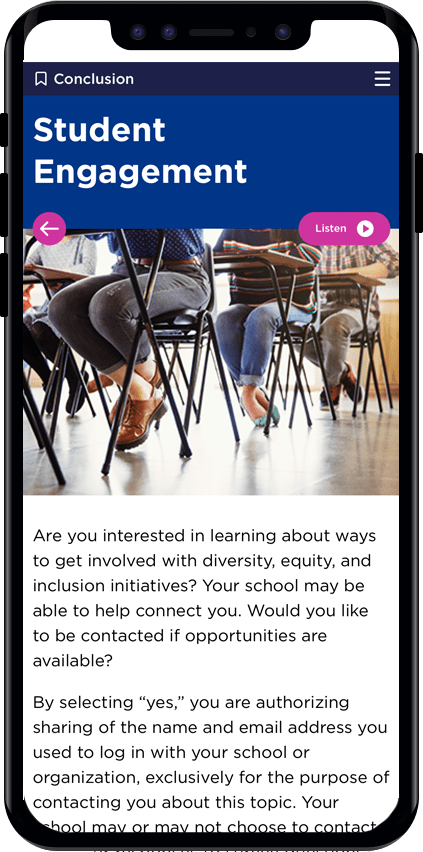 An Evidence-Based Online Student Training Program
Easily deploy EVERFI's customizable diversity, equity, and inclusion student training to create a campus where students thrive.
Fresh Content
EVERFI content is always up-to-date with the most effective training techniques that promote an inclusive campus.
Designed by Experts
EVERFI content is designed by 7 in-house, leading experts in collaboration with renowned researchers and campus practitioners.
Customizable
EVERFI course content is configurable with over 20 points of customization allowing you to tailor the content to your unique institution.
Interactive Experience
Engaging exercises build bystander intervention skills by providing realistic scenarios and asking members to make the appropriate choice.
Data Insights
Real-time data dashboards help you monitor completion and track pre- and post-course attitudes and beliefs. Plus, our in-house researchers provide a custom annual Impact Report so that you can easily elevate your work to senior leadership and identify future prevention strategies.
Best-in-Class User Experience
Course content is designed for use on desktop, tablet, and mobile, and built to WCAG 2.0 accessibility standards.