Overview
WORKPLACE DIVERSITY TRAINING
Online Diversity Training that Promotes Workplace Inclusion
Build a workplace culture of respect.
Diversity Training Overview
Social factors like diversity, equity, and inclusion play an important role in the health and well-being of your workforce - and its productivity. By focusing on key concepts that shape our world and inform our values, this diversity training course provides practical strategies for managers and employees to use in order to create a workplace culture of inclusion. This diversity training course uses the unique experiences of relatable individuals to explore key concepts such as identity, power, privilege, and communication. By gaining a better appreciation for our shared experiences of difference, our shared expectations of respect, and our shared need to belong and feel appreciated, employees are empowered to create more respectful and inclusive workplaces.
DIVERSITY TRAINING COURSE HIGHLIGHTS
Live action videos bring realistic, interactive skill building scenarios to life
Motion graphics help create visual representation of complex, nuanced subjects
Bite-sized content in short sequences to promote learning and reflection
Flexible design allows the right lesson to be delivered at the right time
Interactive "knowledge checks" and quizzes to keep employees engaged
Online Diversity Training EXERCISES & TOPICS:
Identity
Encourage employees to explore what factors influence their identity and how identity shapes experiences at work.

Microaggressions
Prompt learners to reflect on their own experience and reflect on any unconscious biases they might have.
Allyship
Define concepts related to discrimination and oppression and introduce bystander intervention techniques for learners to use to disrupt negative behavior.

Effective Communication
Introduce the employee's role in creating a community of belonging.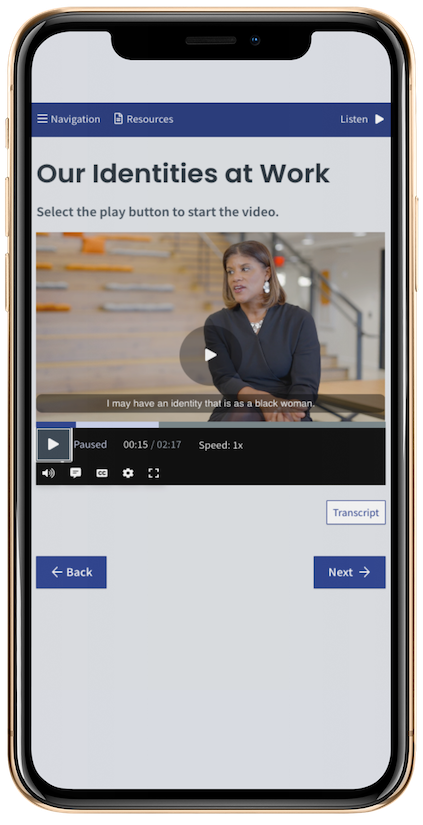 An Evidence-Based Online Diversity Training to Promote Workplace Inclusion and Belonging
Easily deploy flexible diversity training designed to provide opportunities for your employees to practice being a part of an inclusive culture and belonging in the workplace.
Fresh Approach to Content
Deliver diversity training on the most relevant topics on your schedule. Activate bystanders with real-to-life training scenarios, not green screens.
Designed by Learning Experts
Make sure supervisors are engaged and build critical skills with courses that use cutting edge design and teaching practices.
Skill-Building Exercises
Check retention and knowledge gain through interactive assessments incorporated throughout the course.
Workplace Insights
Use accurate and real-time data to guide your diversity and inclusion strategy.
Mobile Friendly
Deliver content conveniently via desktop, tablet, or mobile device to offer flexible options for your workforce.
Built For Scale
Take advantage of flexible user assignments, progress tracking, and automated assignments, plus easily monitor completion rates.
Diversity Training Statistics
Besides the impact on company culture, these corporate diversity statistics show that there are definitive trends correlating diversity to business performance.
The most racially diverse companies bring in nearly 15 times more revenue than the least racially diverse
Companies that have three or more women on the board "outperform companies with all-male boards by 60 percent in return on invested capital, 84 percent in return on sales, and 60 percent in return on equity
It's a competitive advantage since only one in five companies that were surveyed for the Deloitte University report believe their company is fully "ready" to address the issue of workplace diversity.