COVID is making it harder for schools to practice restorative justice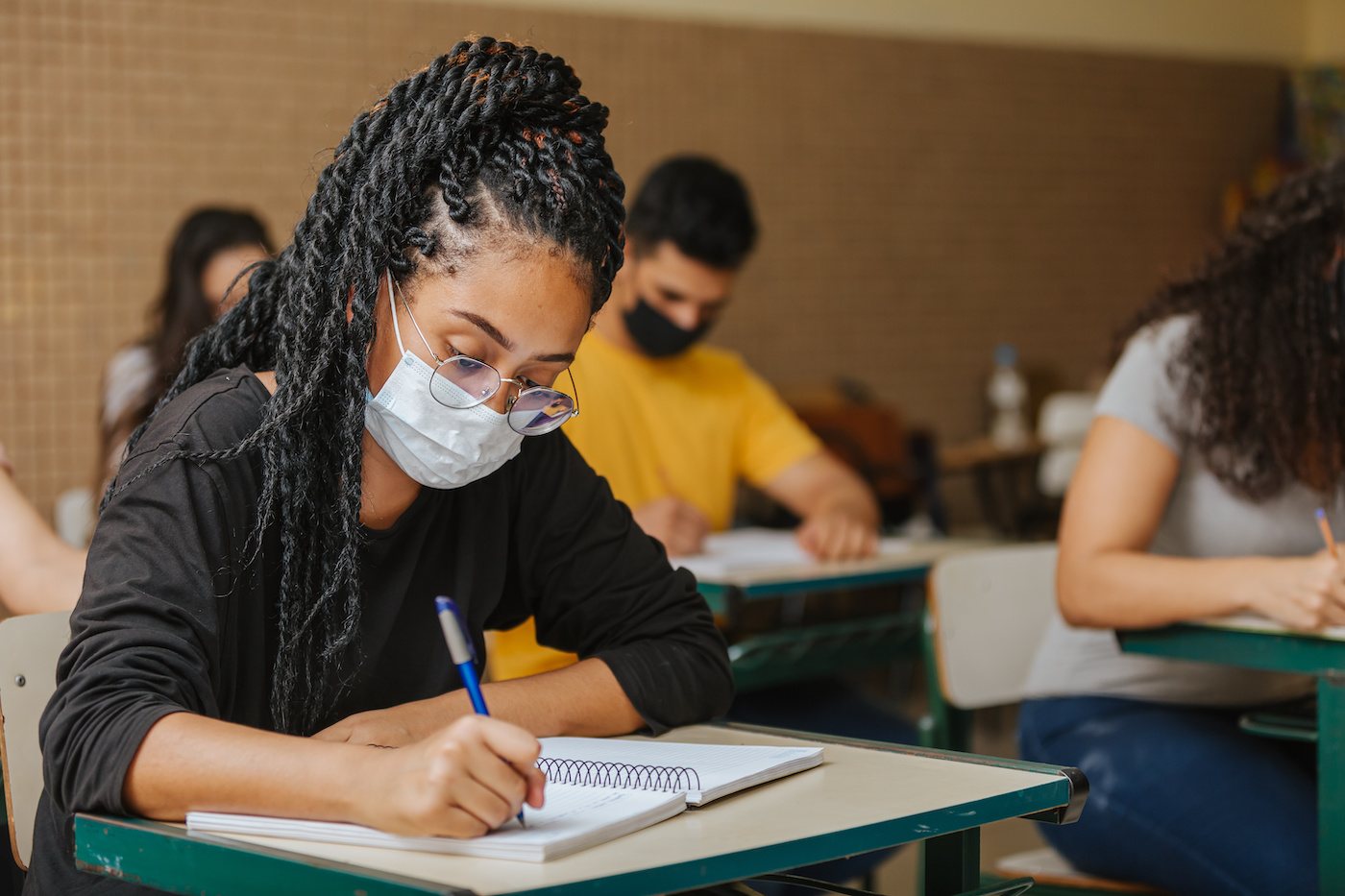 Published in Fortune Magazine January 19, 2022
In the past decade, schools have shifted away from punitive discipline policies in favor of restorative justice practices—a broad term referring to discipline practices that are grounded in relationships and community—in response to a growing body of research illuminating the harm and racial disparities inherent in the zero-tolerance approach of earlier decades. The racial justice reckoning that swept the nation in the spring of 2020 may have accelerated the trend, with many schools eager to adopt or expand policies grounded in equity.
But implementing restorative justice practices with fidelity requires time, manpower, and patience—things that are in short supply right now, with teacher stress and burnout at an extreme high and schools plagued by COVID-related staffing shortages.
Chris Sweigart, an education consultant who works with a number of school districts in Kentucky, has seen firsthand the toll the pandemic has taken on teachers.
"I have teachers and administrators rate themselves on a one-to-10 scale for anxiety and distress, and their self-reported ratings are astronomically high," Sweigart said. "There are so many job openings in our region because people are leaving [the profession] early."
Teachers are faced with more challenging student behavior and perhaps a lower threshold for managing that behavior. Sweigart tells of a district where office referrals—behavior teachers feel is severe enough that it must be handled by an administrator outside the classroom—quadrupled in the first months of the school year. On top of that, the school staff most able to support students with challenging behaviors—counselors, social workers, and school administrators—are often called upon to substitute in classrooms when many teachers are absent because of illness or quarantine requirements.
Sweigart's anecdotal observations are echoed in a 2021 report by the Rand Corporation, which found that teachers reported job-related stress and symptoms of depression at a much higher rate than the general population, and that nearly a quarter of teachers surveyed intended to leave their jobs by the end of the 2020–21 school year.
An exodus of experienced educators would mean more new teachers entering the profession, often with very little training in how to manage student behavior.
"I did a training in a district with 60 educators, and I asked them to raise their hands if they had ever had a course on classroom management or behavior," Sweigart said. "Only half raised their hands. Most teachers don't have a course dedicated to this skill, and success with students hinges on it."
This lack of training is not lost on kids: Recent data from education technology provider Everfi suggest that students are all too aware of the challenges their teachers face when it comes to managing conflict in the classroom. Everfi surveyed over 150,000 students who took an online course about cultivating and maintaining healthy relationships, and only 52% of them agreed that the adults at their school handled conflict in a fair and responsible manner.
Derek Hinckley now teaches eighth-grade English and history in the Chicago public school system but formerly taught at a stand-alone charter school in Chicago that espoused a restorative justice approach. Despite his 10 years of teaching experience, Hinckley didn't feel well prepared to implement restorative justice practices in his classroom, especially given that the school's staff didn't have a uniform definition of the term.
"I never received any formal training on what restorative practices look like and how to do them well," Hinckley said. "I have my understanding of how to use restorative practices in my classroom, but that's not necessarily what everybody else means."
In Hinckley's experience, his former school lacked an effective schoolwide discipline system, a predicament that became untenable when students returned to in-person instruction in the fall of 2021 with more behavioral and mental health needs.
"We failed to anticipate how intense kids' needs would be [returning to school in person]," Hinckley said. "There was widespread discord among students. A lot of students didn't want to be told to do anything. Any redirection I gave would be immediately met with students talking back, rolling their eyes, or ignoring me entirely."
In response, the school implemented a more structured system of consequences, but staff opinion was sharply divided on this decision, with teachers disagreeing about the very meaning of restorative practices.
"That's the ideological fault line: Should there be consequences, and are all consequences by their very nature punitive?" Hinckley said. "Some teachers perceive all consequences as being punitive, while others perceive them as a necessary step."
Given the lack of a lingua franca among educators around restorative practices, it's perhaps unsurprising that schools vary widely in their interpretation and implementation of the philosophy.
Allan Benton is a school principal in California who has been using restorative practices for nearly a decade. In that time, he has seen them implemented well, to the benefit of both students and teachers; he has also seen the restorative justice label distorted and used as a quick fix for high suspension numbers.
"We saw schools quickly turn [toward restorative justice]," Benton said. "Suspensions went to zero, but you had a horrible school climate, and kids were afraid because [their peers] were doing really bad things that weren't being properly dealt with. Just getting suspensions to disappear isn't helping, nor is it actually restorative justice."
Getting to the root cause of a behavior or conflict and teaching children how to manage conflict in ways that don't rely solely on adult authority are hallmarks of many restorative justice approaches. Benton's interpretation does incorporate punitive consequences—including suspension, when the severity of the behavior warrants it—but calls for those consequences to be applied in a way that doesn't ostracize students from the school community.
For example, when a student is suspended, Benton frames the consequence as a learning opportunity and works with the student to plan a successful return to school after the suspension.
"Sometimes we have to do the suspension because that's what's appropriate for the behavior," Benton said. "But [we ask] how are we going to work with you after that suspension to make sure that this is a growth experience and not just [us saying] you're a bad person, and we're going to knock you down a peg."
Restorative justice in the United States has its origins in the 1970s criminal justice system, where it began as a way to conduct mediations between victims and offenders, but it took several decades to make its way into the education field. In the '90s and early 2000s, schools moved toward particularly punitive forms of discipline, perhaps mirroring the pendulum swing of the criminal justice system toward mass incarceration and policies that purported to be tough on crime.
"In the '90s and 2000s, schools started cracking down on minor misbehavior," said Aaron Kupchik, a professor of sociology and criminal justice at the University of Delaware. "These behaviors posed no threat to student safety—talking back, cursing, dress code violations. Suspension became the normal reaction, and we started flooding police officers into schools that were already safe, despite no evidence that they prevent crime and some evidence that they can do harm."
Kupchik notes that the practice of suspending students can largely be traced back to school desegregation efforts in the '60s and '70s. Though his research on this topic is still in progress, he has observed that the more resistant a school district was to desegregation (as measured by the number of desegregation-related court cases against them), the more likely schools in that district are to suspend students—particularly Black students—today.
"Desegregation came with a lot of anxiety and fear," Kupchik said. "In a lot of schools, Black students were seen by white teachers and administrators as foreign and unwanted."
About 10 years ago, the Obama administration urged schools to move away from the excessive use of suspension and other exclusionary discipline practices, owing to the harm that such practices can cause.
Kupchik believes that suspensions are warranted in response to dangerous behavior. However, he enumerates many negative consequences that arise when schools overuse suspensions: Suspended students are more likely to be incarcerated and less likely to graduate from high school, to vote, or to volunteer in their communities. There are also serious consequences for the student body as a whole: In schools with high suspension rates, even non-suspended students score worse on standardized tests.
Given the history and far-reaching consequences of punitive disciplinary practices, it's understandable that schools would be eager to reduce suspensions and shift toward a different model of school discipline. But Liz King, director of education equity at the Leadership Conference on Civil and Human Rights, underscores that such shifts can't be made without adequate resources for teacher support and training. She believes this is part of a larger conversation about school funding and inequality.
"The conversation around school climate ignores the elephant in the room," King said. "We have, through policy decisions, created a situation where kids facing the greatest challenges are concentrated in schools with the fewest resources. It's a hard place to work and a hard place to be a child."
King is hopeful that schools might use the influx of money from COVID relief packages to improve school climate and further the implementation of restorative practices by hiring more counselors and support staff or providing training in trauma response. However, she warns that the money could be used to other ends that might further alienate kids.
"Our fear is that these funds could be used to further criminalize and marginalize," King said, "by investing in threat assessment systems or criminalization strategies where there's effort to increase contact between children and police, instead of providing positive support."
Fortunately, according to reporting from Chalkbeat, many schools are using COVID funds to provide the positive support King envisions, such as additional counselors, mental health clinics, staff training, and mental health screenings. However, some schools are indeed spending a portion of their allocation on items seemingly unrelated to COVID initiatives or student well-being, such as security cameras and patrol cars for school safety officers, Chalkbeat also reports.
When schools do successfully implement restorative justice practices, students notice the shift in school climate. Tamar Shoshan is a junior at Manhattan Hunter Science High School in New York City and a youth trainer with Students and Educators for Equity, where she trains students and teachers across the city on youth-adult partnerships and restorative justice practices.
Shoshan's school has been working to roll out restorative practices in phases, first to teachers and then to students, with a focus on community building. Though the school still uses a system of punitive consequences for certain behaviors, Shoshan appreciates that students aren't ostracized from the school community and that restorative justice practices can give rise to more mature and nuanced conflict resolution.
"It's hard to have a mature conversation when somebody does [something hurtful]," Shoshan said. "Our instinct is to hate the other person. Cancel culture plays a large part in that. We're taught that if a person does one thing wrong, we label them as a bad person. [We have to] acknowledge that people are complex, and they have reasons for acting out."