Student Mental Health
Kids say their mental health is fine. Experts disagree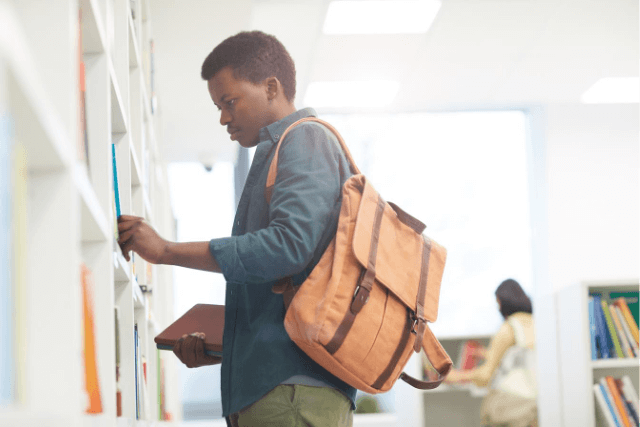 Published in Fortune Magazine December 22, 2021
Several leading medical professionals and institutions have declared a crisis in youth mental health. The Children's Hospital Association, the American Academy of Child and Adolescent Psychiatry, and the American Academy of Pediatrics sounded the alarm first in October, followed soon after by the surgeon general. These declarations cite many statistics as cause for concern, including sharp increases in suicide attempts and emergency room visits by children in mental health crisis.
At the same time, kids' self-reported responses to some surveys paint a very different picture.
Education technology provider EVERFI surveyed over 200,000 middle and high school students who took an online course about mental wellness last school year. Before engaging in course content, about two-thirds of students already agreed that they knew how to manage their emotions in a healthy way and get help for their mental health needs. After taking the course, that number jumped to 79%.
A recent poll conducted by Ipsos and the FiveThirtyEight paints a similarly positive picture of youth mental health. Of the over 1,000 kids and teens surveyed, 89% described their mental health as very good or somewhat good, and 80% said they're a little or not at all concerned about their mental health.
At first glance, this may seem like an impossible juxtaposition. But mental health professionals view these data as part of a cohesive story—one that is complex and multilayered. Many factors are at play, including kids' widely varying experiences of the pandemic, a tendency for some kids to underreport mental health struggles, and the limited availability of mental health care in many communities. The story may not be simple, but one thing is certain: For some kids, it is as dire as the declarations proclaim.
"I've done more crisis assessments on kids for suicidality in one month [this school year] than in the totality of the whole year last year," said Taylor Hayes, a social worker at IDEA Parmer Park College Preparatory, a K–8 school in Austin.
Hayes tells of students sobbing in hallways during a recent week of midterm assessments, unable to summon the wherewithal and confidence to complete their exams. This year she has seen kids struggle with panic attacks, walk out of class, withdraw from their friends, and express thoughts of self harm and suicide. Many of Hayes's students also show impressive resilience in the face of adversity, but she says that this can belie the magnitude of the current crisis.
"I don't think anybody is doing okay," Hayes said. "Kids say they are fine, but when they tap into emotions about what's really going on, they realize that [things aren't] normal. Students are resilient, and overall they're going to get through this, but I think that we are underplaying the actual destruction."
Tracy Gladstone, senior research scientist at the Wellesley Centers for Women at Wellesley College, echoes these sentiments about resilience. Gladstone and her team recently published a study comparing depressive symptoms in adolescents shortly before the pandemic and after its onset. They found that kids' reports of depressive symptoms were slightly higher during the pandemic but generally low overall. However, certain groups in Gladstone's research fared worse than others—in particular girls—and she cautions that these findings don't negate the current problems with youth mental health.
"Kids are remarkably resilient," Gladstone said. "They are good at doing what they need to do, even if they're struggling. But mental health is hard to talk about. As long as kids are functioning well enough, they're falling through the cracks. Kids who aren't making trouble may be having trouble, and we just don't know it."
Gladstone notes that family wealth and privilege played a big role in kids' experience of the pandemic, and that some kids even thrived. Stay-at-home orders meant less pressure around homework, academic achievement, and extracurricular activities, and for some kids with social anxiety, online learning was a relief.
"A lot of this is about privilege," Gladstone said. "I've talked to some parents whose kids were able to do projects, they were able to spend more time with family. These are families where parents are able to work remotely, and there's not a problem with illness or food security."
Francesca Penner, a postdoctoral fellow formerly at the University of Houston, points to another factor that may have had an impact on kids' mental health during the pandemic: the interconnectedness of their community. Penner and her colleagues studied mental health outcomes in a sample of mostly Latinx teenagers shortly after the onset of the pandemic. Surprisingly, they found that many kids who had struggled with their mental health immediately before the pandemic reported declines in symptoms shortly after stay-at-home orders swept the country.
Penner hypothesizes that some of the same factors Gladstone mentioned are at play: Removal from the physical environment of school might have initially lowered stress for kids who were worried about grades or peer pressure, and some kids might have thrived with more flexible routines.
But the research team also looked at family functioning and found that kids fared better when their families were more communicative and cohesive and when they were enmeshed in a more collective and supportive community.
"Our speculation was that cultural factors like familism—which is a valuing of the family—in Latinx culture, where the family unit is the priority, could be a source of resilience," Penner said. "And also that Latinx culture is more collectivistic, this idea that people in the community were helping each other more."
Despite these generally positive findings, reports of kids' mental health are extremely variable. When Hayes asked her students about their own resilience and mental health, responses ranged from cautiously optimistic to decidedly bleak.
"As a person who identifies with the LGBTQ+ living in an unsupportive house, I was happy to be back," said one of Hayes's students via email. "I think the pressure of having to perform in class sucks, but I can be myself at school."
While another of her students wrote, "We talked about PTSD, and I think we all have it in one way or another, just from what we've been through. The way things are with school right now, it's like waking up from a nightmare, but we actually lived the nightmare."
Regardless of the individual variations among kids, Hayes and her colleagues have been confronted with a host of student behaviors that are indicative of worse mental health overall, such as an increase in substance use (and substance use among younger kids) and a greater tendency toward impulsivity, irritability, and fighting.
As Hayes's sentiment suggests, kids may be hesitant to divulge the full extent of their difficulties, and they may express confidence in their ability to care for their own mental health or help a friend in crisis, even when they're struggling to cope or find help.
Cat Magielnicki, a school social psychologist and education consultant, finds that it's normal for kids, especially teens, to crave autonomy, feign confidence, and draw closer to their community of friends when they're struggling. She also notes that access to social media and technology might bolster kids' knowledge and confidence when it comes to mental health: It's now easier than ever to find information and community online or to get counseling and help via text. However, kids' knowledge may not be as comprehensive as adults would like to think.
"There's a lot of truth in kids' statements" that they feel knowledgeable about mental health, Magielnicki said. "But their knowledge may not be as sophisticated as we'd hope for. And what gets lost with teens is the message of, your friend may come to you [in crisis], and it's important to tell an adult."
A particularly pernicious obstacle that deters some kids from speaking up is stigma. Despite proclamations that stigma around mental health has never been lower, Hayes still sees many of her students struggle with it.
"There's a very big stigma out there still, that what you're feeling isn't normal," Hayes said. "I tell kids that there's no such thing as normal, but they are still embarrassed to feel this way."
Hayes has seen stigma come from many places, including parents or caregivers in older generations, for whom mental illness was often considered shameful. Kids may be afraid that parents won't believe them or that they are going to be seen as crazy. Even when a number of people in a child's life are affirming their mental health struggles, one negative voice—especially that of a family member—can cause kids to suppress the instinct to seek help.
"I've had parents come into a crisis meeting with me and say, 'My child is just having a bad day,' when actually the kid is telling me they're going to cut themselves," Hayes said.
Despite the continued prevalence of mental health stigma, more young adults are seeking help and information. Kelly Davis is the associate vice president of peer and youth advocacy at Mental Health America, a nonprofit that promotes mental health for all ages and provides online tools to screen for symptoms of mental illness. She reports a significant increase in the number of people using these screeners, but there's a catch: Information is far easier to access than treatment.
"It's concerning the amount of young people who are reaching out for help and the degree to which they're struggling," Davis said. "Two-thirds of them are under 24, and the majority of them have no formal contact with mental health services."
Davis calls access to care the "elephant in the room," noting that it's particularly difficult for youth of color to find clinicians who share their cultural background, as a majority of mental health professionals are white. According to 2019 demographic data from the American Psychological Association, 83% of psychologists in the U.S. are white.
Insufficient access to mental health care for kids isn't a new phenomenon. Magielnicki recalls that even before the pandemic, funding for school social worker and psychologist positions was incredibly limited; she previously worked at a school where she was the only mental health professional serving a student body of about 900 kids.
Magielnicki finds the shortage of mental health professionals in schools particularly concerning. Faced with significant barriers to care, including long wait-lists to see providers, the high cost of treatment, and limited insurance coverage, school is the only place to access mental health services for many kids.
"[The research says that] one-fifth of kids throughout their school career will have a serious mental health need," Magielnicki said. "80% of those kids will access mental health services through a school."
Matthew Biel, a professor and the division chief of child and adolescent psychiatry at Georgetown University, reports that even kids in severe mental health crisis may not have easy access to care.
"[Suppose] a 15-year-old attempts suicide and their family brings them to the emergency room," Biel said. "They are medically treated, but they need emergency psychiatric care in the hospital. They sit in an emergency room bay for three weeks. There's nowhere to send them because every in-patient psychiatric bed is taken within the state and oftentimes within neighboring states."
Biel believes that expanding the mental health workforce—by instituting loan repayment programs for students who go into mental health fields, ensuring that paraprofessionals and other nonclinical staff are well-paid, and recruiting more students of color to go into the mental health field—is only part of the solution.
He also stresses the necessity of enforcing mental health parity laws—regulations stipulating that insurance companies must provide equal coverage for mental health conditions and medical conditions—and ensuring that insurance companies continue to provide coverage for telehealth visits.
"There's noise about insurance companies limiting or stopping coverage for telehealth," Biel said. "Telehealth has been a positive story of COVID, and it needs to continue to be paid for."
Kelly Davis suggests yet another potential solution to the current mental health crisis: empowering young people to support one another and advocate for their own mental health. She underscores that this is not just a sound policy idea but a necessity, as the demand for youth mental health services has increased past the point where the current infrastructure can fully meet young adults' needs.
"If we're not implementing initiatives in partnership with young people we will have wasted a massive opportunity to rethink how we're doing mental health advocacy," Davis said.
Given the recent influx of federal money earmarked for youth mental health—the Substance Abuse and Mental Health Services Administration awarded over $74 million in grants in August 2021—and the array of possible solutions on the table, mental health professionals are hopeful that this might be a turning point.
"This is a moment of tremendous opportunity," Biel said. "This is a really prominent topic in public discourse among our friends and neighbors as well as policymakers. Good mental health strengthens families and communities. It improves kids' ability to learn and enter the workforce. This isn't a progressive left-wing issue. This is an American issue."