Today, EverFi, Inc., the nation's leading education technology company, unveiled EverFi Engage, a new volunteer management system that allows financial institutions to maximize and track their community engagement efforts. It also allows the institutions to report to regulators, or other third parties, more effectively and elevates the importance of the critical work CRA officers are doing to improve financial capability. This product is a key component of EverFi's newly established Financial Capability Network (FCN), a coalition of over 750 financial institutions who are committed to improving the financial capability of their communities.
"We challenged ourselves to imagine and then build a system to advance financial capability in communities across the country," EverFi Co-Founder and President of Financial Education, Ray Martinez said. "EverFi Engage is the scalable, tangible embodiment of our commitment to use innovative solutions to help solve some of the toughest problems faced by the financial industry and transform the way we think, work, and serve all communities."
Financial institutions are often challenged with delivering, managing, and tracking meaningful in-person financial education and community service events across their markets. And it's never been more important to do so in the increasingly complicated and ambiguous world of industry regulation. Without a streamlined solution, it can be difficult to track and demonstrate the impact of financial education and community outreach programs. EverFi Engage is a comprehensive solution for planning, delivering and tracking in-person and online educational or community events. EverFi Engage empowers financial institutions with easy access to the information they need to provide to comply with regulatory requirements mandated in the Community Reinvestment Act (CRA).
Through EverFi Engage, employee volunteers can access high-quality and engaging content via a software solution that allows for easy management of event and participant logistics. Administrators can access a data engine that collects and tracks event and participant information and provides downloadable reports that can be utilized to meet regulatory or third-party reporting requirements.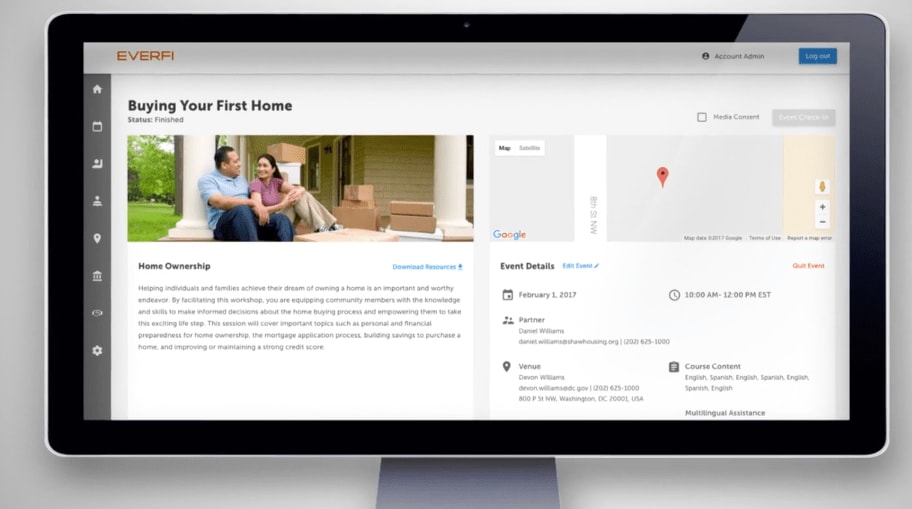 EverFi Engage provides financial institutions with:
Centralized and consistent financial education content that enables every volunteer to deliver high quality financial education
Comprehensive volunteer management system for tracking all volunteer opportunities including but not limited to financial education seminars
Flexible delivery options for any environment including high tech, low tech and no tech presentation environments" are all covered
Scalable & easy to use engaging more volunteers into the field more often
Seamless data collection for ease of tracking and reporting
Pre/post assessments & follow-up surveys to capture knowledge gain & continue the conversation with participants
Leads for new products and services to achieve business objectives while also helping the communities you serve
About EVERFI
Monique Waters
EverFi – Senior Director of Corporate Communications
[email protected]
301-233-4241