Reading, writing, and…health literacy? While integrating a critical health literacy curriculum into the school day might not be something that has traditionally been emphasized, there is growing discussion around the topic and evidence of its importance. After all, how many of us have waded through websites, calls with our insurance, and unexpected bills, all in the name of staying healthy? Is it time we think twice about ensuring that we are teaching critical health literacy in our schools?
What is health literacy?
In August of 2020, the U.S. government released the Healthy People 2030 initiative, in which health literacy is a central focus. The new definitions, addressing personal and organizational health literacy, are as follows:
Personal health literacy is the degree to which individuals have the ability to find, understand, and use information and services to inform health-related decisions and actions for themselves and others.
Organizational health literacy is the degree to which organizations equitably enable individuals to find, understand, and use information and services to inform health-related decisions and actions for themselves and others.
As Healthy People states, these definitions have been changed from ones in the past in order to emphasize people's ability to use health information (rather than just understand it), to focus on the ability to make "well-informed" decisions (rather than "appropriate" ones), to incorporate a public health perspective, and to acknowledge organizations' responsibilities in addressing the subject.
Why is teaching critical health literacy important?
There are tons of reasons why teaching critical health literacy is important for all, but it is especially crucial that we start teaching it at a younger age to better prepare our teenagers as they head into the "real world" post-high school. By looking at the evidence, we can see just how critical this information is and the impact it can have on one's future.
Closing the gap. As reported by Axios, health disparities hit rural children of color the hardest. In the first-ever ranking of counties in America, it was revealed that "the most disadvantaged counties are mostly comprised of communities of color, and nearly all are rural, poor, and concentrated in the South," according to a report by Save the Children. These children die at alarming rates of up to five times those of children in the highest-ranking counties in their state. It is crucial that we get health knowledge to those who need it most, and schools can be a conduit for doing so.
Eliminating debilitating medical debt. According to a recent survey by LendingTree, sixty percent of Americans have been in debt due to medical bills, on average owing $5,000-$9,999. This is a heavy burden to carry, and medical debt can have effects on other financial milestones, including delaying one's ability to save for retirement, buy a home, or have children. By understanding health finance at a younger age, we can help position students to make more informed decisions to best set themselves up for success in the future.
Learning to manage one's own health and developing healthy habits. While actively maintaining one's health doesn't always come naturally to teens, the skills and knowledge acquired at this age can shape their decision making and overall health throughout their lives. (ACT for Youth, 2020) Whether it's learning to manage their own medicines, understanding and being able to identify safe and unhealthy behaviors, or learning how to advocate for themselves prior to college, before the time comes when they might be visiting campus clinics on their own, there are many important skills to start practicing now.
Understanding the healthcare system and insurance. While we know the vital importance of health insurance, historically, health insurance coverage rates for young adults have been the lowest of any age group, and young adults without health insurance (or those that have gaps in coverage) are less likely to access health services than those who are continuously insured. (Committee on Improving the Health, Safety, and Well-Being of Young Adult, 2017) High school students are getting, or soon to be getting, first jobs, some of which come with benefits, and it's crucial students know how to navigate the system.
How to Teach Critical Health Literacy in High Schools
Students across the country are the key to a healthier future. Implementing functional healthcare literacy education in schools prepares the next generation to navigate their health, while also equipping students with the knowledge to support their family members who may not have the understanding or resources to navigate the system independently.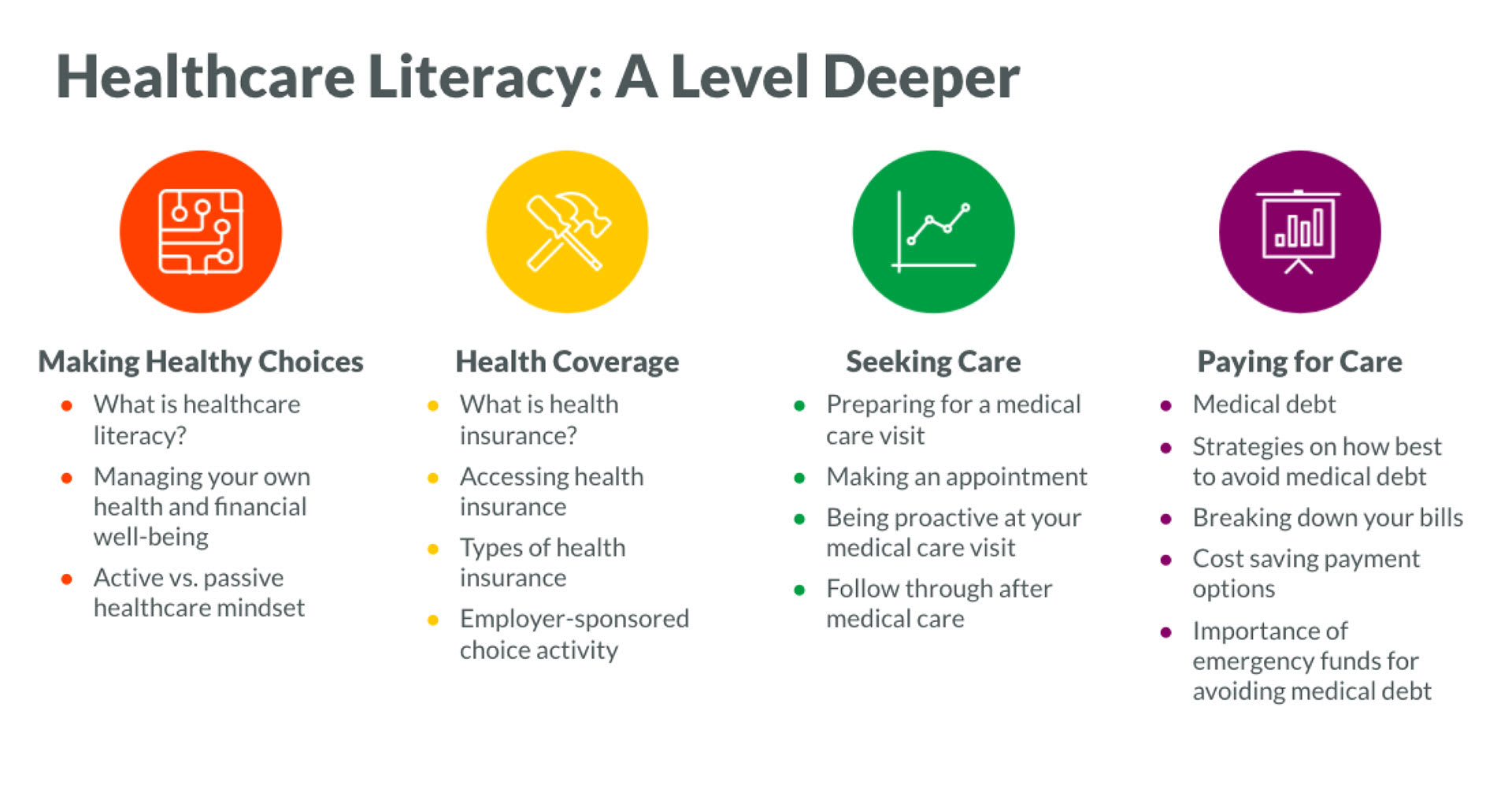 EVERFI's new Healthcare Literacy course for high school students empowers students to develop critical health literacy skills, become advocates for their own health care, and know when and where to ask for help when making health-related decisions. Throughout interactive lessons, students will explore four main topics — making healthy choices, health coverage, seeking care, and paying for medical care — and gain confidence in navigating the world of healthcare.
Check out the new Healthcare Literacy course to learn more about how you can start implementing health literacy in your classroom, and for more information on the course, watch this short video.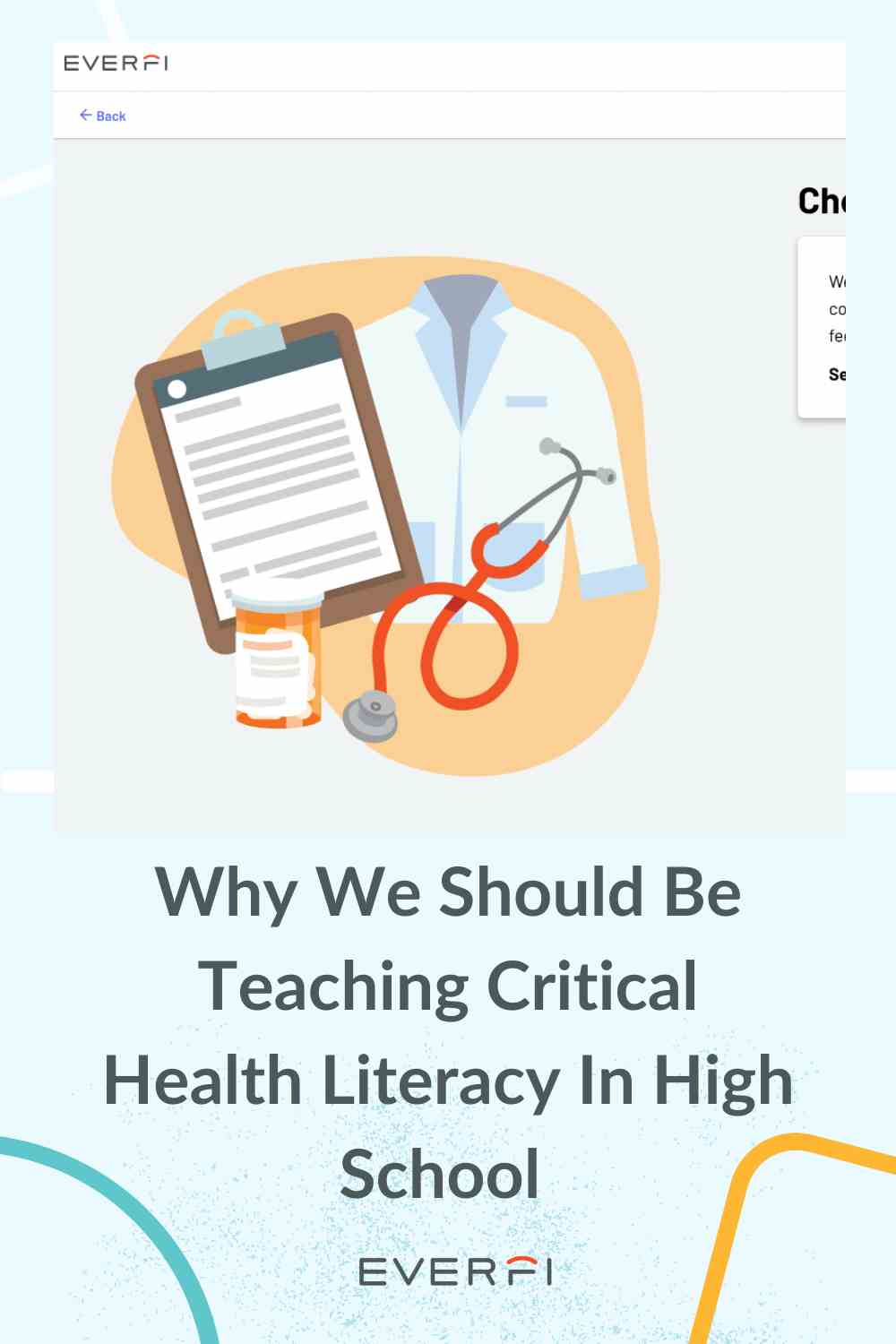 ______________________________________________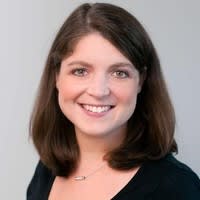 Kaley Levine, Lead K12 Family Marketing at EVERFI, has over 12 years of experience in Product Marketing and Program Management within the Education Management and Technology industry. Additionally, she has 2+ years experience as a general education, special education and gifted programs teacher for K-12 public schools.