Overview
FREE FOR K-12 TEACHERS, STUDENTS, AND DISTRICTS
Endeavor - STEM Career Exploration Activities for Middle School
Inspire and Excite With STEM Activities for Middle School
STUDENT LEARNING OBJECTIVES
STEM Career Exploration
Designing Prototypes
Data Gathering and Analysis
Software Development
Game Design
OVERVIEW
STEM is everywhere—from businesses and organizations to the products that power our daily lives. That's why it's important to build the first fully STEM literate generation and encourage STEM career exploration at an early age.
Endeavor is a first-of-its-kind interactive program designed for exploring STEM careers for middle school students. This STEM curriculum for middle school is built to empower learners with the knowledge they'll need to discover their career pathways.
The STEM lesson plans for middle school provided in this course enable learners to engage with interactive content that reinforces key STEM skills while discovering some of the exciting STEM opportunities that await.
COURSE DETAILS
BEST FIT:
Career and Technical Education
TIME PER LESSON / TOTAL DURATION:
20-25 Minutes / 1.5 Hours
STANDARDS:
Common Career Technical Core (CCTC), Next Generation Science Standards (NGSS), Common Core State Standards (CCSS)
Designing the Ultimate Prototype
Students explore advanced manufacturing techniques by designing and prototyping their own custom sneaker. They also come to understand the link between the design process and the high-tech manufacturing techniques that shape that future of production. Through this lesson, students connect these skills to STEM careers in engineering.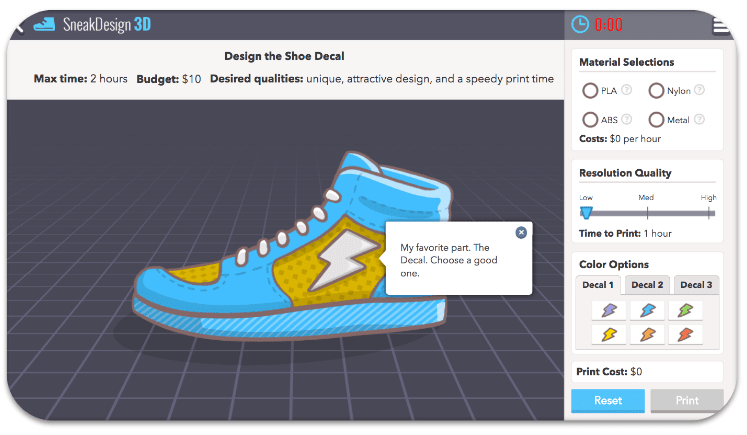 Create Your Teacher Account