Exploring Healthcare Careers to Spark Student Interests
Exploring Healthcare Careers to Spark Student Interests
When you think about a job in healthcare, what immediately comes to mind? White lab coats, long hours and a mountain of student loans? Chances are your students think the same thing. It's no surprise that the professions we see on tv and interact with the most in real life are the first that we think about.
We all know that not everyone is cut out for medical school, especially those of us who don't love math, science and studying. But the field of healthcare is chock full of careers that require four or fewer years of schooling, that pay well, are in-demand, and just sound downright fun! Below is a list of healthcare careers that are sure to spark the interests of every type of learner in your class.
"Not-So-Fond-of-Study" Buddies
Let's face it: sitting through lectures and pulling all nighters probably doesn't appeal to the majority of your class. While the most high paying healthcare careers will demand the highest attainment of schooling and certification, some jobs don't even require four years of school, let alone eight! Becoming a registered nurse, a medical technician, or a physical therapy assistant are just a few of many careers that your students can launch in 2 years or less.
"Show-Me-The-Money" Honeys
If your students love the idea of earning a high salary but don't want the stress and long hours that come with being a doctor, they may want to consider becoming a biomedical engineer or a dental hygienist. These gigs are two of the top-paying jobs that require four or fewer years of vocational training and are reported to be considered "low stress." No wonder most dental hygienists always seem to be in a good mood!
"Gonna-Go-Pro" Bros (& Sisters)
There is about a .03% chance that a high school basketball player will make it to the NBA. One of the most important lessons we can teach our student athletes is the importance of a "Plan B" if their dreams to go pro don't come true. One thing we can instill in students is the fact that they don't have to completely abandon their love of sports in a non-pro athlete career. Becoming an athletic trainer, a personal trainer, a dietician or a dance movement therapist are all careers that would allow them to stay tapped into the games and activities that they love.
"Number-Crunch" Bunch
Not all math and tech lovers have to become accountants and Silicon Valley coders. There are many careers in healthcare that incorporate number crunching and data analysis. The health IT industry is booming with jobs related to electronic medical records and analytics. Biostaticians translate data into usable information for the public, such as public health trends and the risks and effectiveness of medications.
"Desk-Tapping-Doodle" Crew
Do you have any students who tap out beats on their desks or sketch pictures in their notebooks? Perhaps they could consider use their musical and artistic talents to earn an income. Lesser known careers in music therapy or medical illustration could bring students tremendous satisfaction and a decent living. Or maybe you have students who can't get enough of the plot lines of tv crime shows? Maybe a career as a forensic scientist is in their future. Finally, if all else fails, no one can go wrong with a job involving puppies.
---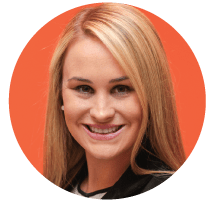 Brittany Simmons is Director of Communications for K-12. Prior to this role, Brittany served as a Senior Implementation Manager and Florida Team Leader. Brittany taught middle school science in Charlotte, NC and Jacksonville, FL. In her free time you'll find her teaching barre classes, flipping historic homes and playing with her Goldendoodles, Ponce and Scout.