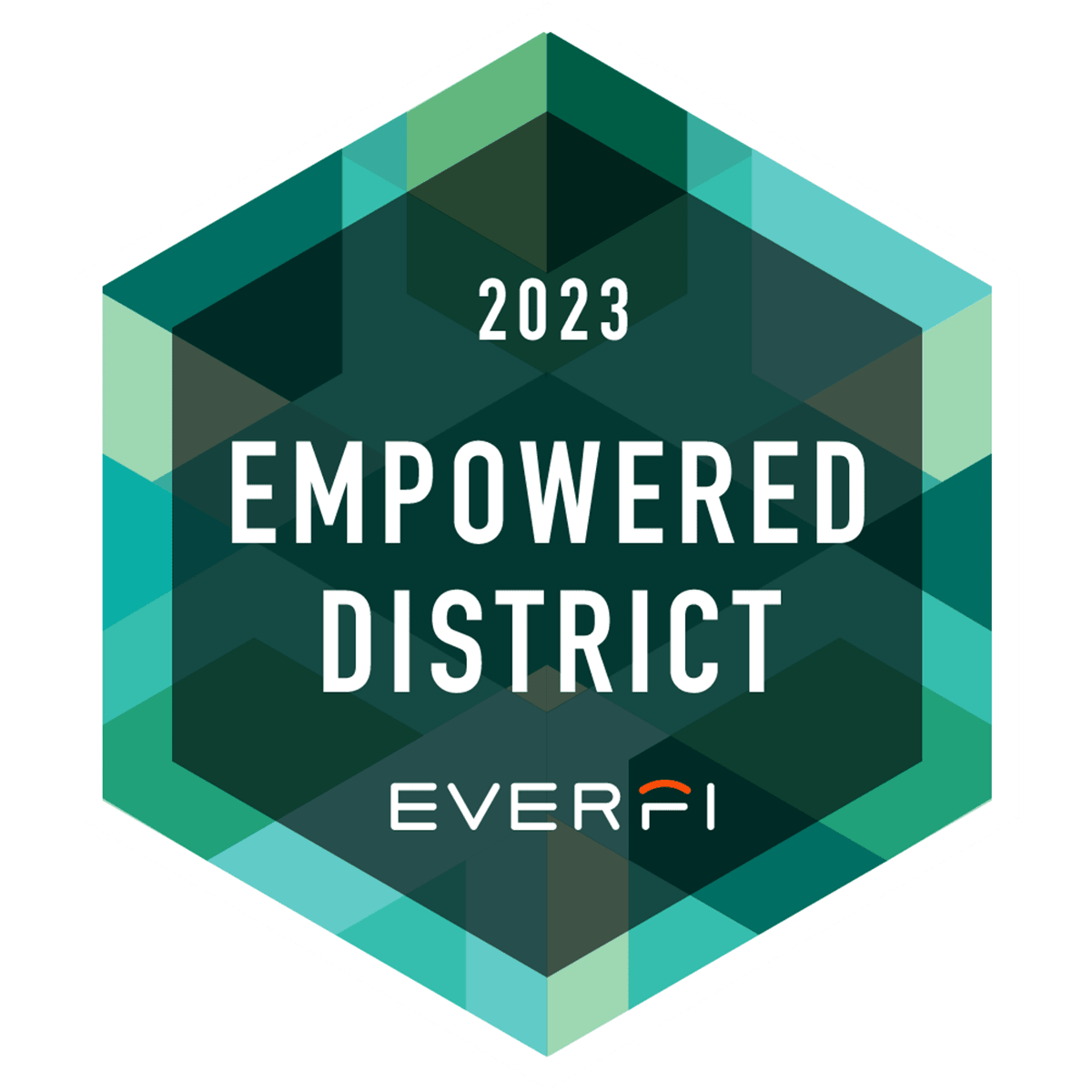 Celebrating the 2023 Empowered Seal Districts
for their exemplary commitment
to whole child education!
Earning the Empowered Seal
EVERFI's team of subject matter experts and curriculum designers established criteria that a district must meet to earn our K-12 Empowered Seal. These criteria, outlined below, are in accordance with the Principles of Effective Prevention Programs published by Nation, et al. (2003).
Efficacy-based Programs: accurate, supported by research, diverse instructional methods

Well-trained Staff: educators implementing the program receive high-quality training

Appropriate Placement: correct grade-level and timing, meets curriculum standards

Sufficient Reach: courses deployed to an entire grade-level with high usage and completion

Outcomes Evaluated: results reviewed to ensure student impact and knowledge gain

For more information on how your district can earn EVERFI's Empowered Seal, schedule time with us! -->
2023 Empowered Seal School Districts
1,335 school districts earned the 2023 Empowered Seal!
| State | District Name | Total Students |
| --- | --- | --- |
| Alabama | Autauga County | 9,094 |
| Alabama | Baldwin County School District | 32,267 |
| Alabama | Birmingham City School District | 23,041 |
| Alabama | Calhoun County Schools | 8,548 |
| Alabama | Cherokee County | 3,934 |
| Alabama | Chilton County | 7,837 |
| Alabama | Colbert County | 2,668 |
| Alabama | Cullman County | 9,704 |
| Alabama | Decatur City | 8,699 |
| Alabama | Elba City | 622 |
| Alabama | Enterprise City | 6,723 |
| Alabama | Henry County | 2,466 |
| Alabama | Hoover City | 13,952 |
| Alabama | Huntsville City School District | 23,993 |
| Alabama | Jefferson County School District | 36,246 |
| Alabama | Lee County | 9,514 |
| Alabama | Madison City | 11,290 |
| Alabama | Madison County Schools | 19,093 |
| Alabama | Marengo County | 1,002 |
| Alabama | Mobile County Schools | 53,967 |
| Alabama | Montgomery County | 28,890 |
| Alabama | Morgan County | 7,574 |
| Alabama | Opelika City | 4,514 |
| Alabama | Oxford City | 4,083 |
| Alabama | Randolph County | 2,160 |
| Alabama | Scottsboro City | 2,492 |
| Alabama | Sheffield City | 1,054 |
| Alabama | Sumter County | 1,348 |
| Alabama | Talladega County | 7,398 |
| Alabama | Tuscaloosa County | 18,709 |
| Alabama | Tuscumbia City | 1,496 |
| Alabama | Wilcox County | 1,575 |
| Alabama | Winston County | 2,375 |
| Alberta | St. Thomas Aquinas Roman Catholic Regional Division 22 | 3,267 |
| Arizona | Bagdad Unified District | 465 |
| Arizona | Cartwright Elementary District | 16,034 |
| Arizona | Colorado River Union High School District | 1,886 |
| Arizona | Ft Thomas Unified District | 628 |
| Arizona | Holbrook Unified District | 1,963 |
| Arizona | Mesa Public Schools | 63,124 |
| Arizona | Peoria Unified School District | 37,691 |
| Arizona | Phoenix Unified High School District | 27,573 |
| Arizona | Riverside Elementary District | 918 |
| Arizona | Tolleson Elementary District | 3,184 |
| Arizona | Young Scholars Academy Charter School Corp. | 401 |
| Arkansas | Alma School District | 3,244 |
| Arkansas | Alpena School District | 545 |
| Arkansas | Arkansas Virtual Academy | 2,361 |
| Arkansas | Atkins School District | 992 |
| Arkansas | Batesville School District | 3,277 |
| Arkansas | Bauxite School District | 1,718 |
| Arkansas | Bearden School District | 483 |
| Arkansas | Berryville School District | 1,929 |
| Arkansas | Bismarck School District | 1,016 |
| Arkansas | Blevins School District | 510 |
| Arkansas | Brookland School District | 2,709 |
| Arkansas | Cedarville School District | 745 |
| Arkansas | Centerpoint School District | 1,003 |
| Arkansas | Cleveland County School District | 934 |
| Arkansas | Clinton School District | 1,346 |
| Arkansas | Concord School District | 455 |
| Arkansas | Conway School District | 10,255 |
| Arkansas | Cotter Public Schools | 768 |
| Arkansas | Cross County School District | 620 |
| Arkansas | Cutter-Morning Star School District | 650 |
| Arkansas | Dequeen School District | 2,411 |
| Arkansas | Dewitt School District | 1,254 |
| Arkansas | Drew Central School District | 1,109 |
| Arkansas | Dumas School District | 1,259 |
| Arkansas | El Dorado School District | 4,296 |
| Arkansas | Elkins School District | 1,309 |
| Arkansas | Foreman School District | 526 |
| Arkansas | Gosnell School District | 1,276 |
| Arkansas | Green Forest School District | 1,363 |
| Arkansas | Greenbrier School District | 3,600 |
| Arkansas | Guy-Perkins School District | 364 |
| Arkansas | Haas Hall Academy | 941 |
| Arkansas | Harmony Grove School District | 985 |
| Arkansas | Harrisburg School District | 1,191 |
| Arkansas | Harrison School District | 2,686 |
| Arkansas | Hazen School District | 603 |
| Arkansas | Hillcrest School District | 460 |
| Arkansas | Jonesboro Public Schools | 6,795 |
| Arkansas | Lake Hamilton School District | 4,490 |
| Arkansas | Lakeside School District | 3,603 |
| Arkansas | Little Rock School District | 23,368 |
| Arkansas | Lonoke School District | 1,780 |
| Arkansas | Manila School District | 1,123 |
| Arkansas | Mansfield School District | 779 |
| Arkansas | Marion School District | 3,922 |
| Arkansas | Mcgehee School District | 1,228 |
| Arkansas | Melbourne School District | 849 |
| Arkansas | Midland School District | 561 |
| Arkansas | Mineral Springs School District | 398 |
| Arkansas | Mountain View School District | 1,684 |
| Arkansas | Nettleton Public Schools | 3,562 |
| Arkansas | Omaha School District | 418 |
| Arkansas | Ouachita River School District | 766 |
| Arkansas | Ouachita School District | 522 |
| Arkansas | Ozark Mountain School District | 613 |
| Arkansas | Palestine-Wheatley School District | 840 |
| Arkansas | Prairie Grove School District | 2,036 |
| Arkansas | Pulaski County Special School District | 12,383 |
| Arkansas | Riverside School District | 800 |
| Arkansas | Riverview School District | 1,252 |
| Arkansas | Rogers Public Schools | 15,944 |
| Arkansas | Salem School District | 854 |
| Arkansas | Scranton School District | 424 |
| Arkansas | Sheridan School District | 4,171 |
| Arkansas | Spring Hill School District | 611 |
| Arkansas | Springdale Public Schools | 23,350 |
| Arkansas | Trumann School District | 1,571 |
| Arkansas | West Memphis School District | 5,385 |
| Arkansas | White Co. Central School District | 794 |
| Arkansas | White Hall School District | 2,971 |
| Arkansas | Yellville-Summit School District | 824 |
| British Columbia | Vernon School District 22 | 9,000 |
| California | Anaheim Union High School District | 30,292 |
| California | Arcadia Unified | 9,357 |
| California | Carmel Unified | 2,467 |
| California | Desert Sands Unified | 28,610 |
| California | Duarte Unified | 3,550 |
| California | Elk Grove Unified | 63,100 |
| California | Evergreen Union Elementary | 1,217 |
| California | Glendale Unified | 25,789 |
| California | Hawthorne School District | 8,072 |
| California | Hemet Unified | 22,025 |
| California | Jefferson Elementary | 5,986 |
| California | Los Angeles Unified School District | 495,255 |
| California | Los Gatos-Saratoga Joint Union High | 3,520 |
| California | Montebello Unified | 25,409 |
| California | Rosemead Elementary | 2,418 |
| California | San Pasqual Valley Unified | 689 |
| California | Travis Unified | 5,495 |
| California | Tustin Unified | 23,768 |
| California | William S. Hart Union High School District | 25,629 |
| Colorado | Adams 12 Five Star Schools | 39,282 |
| Colorado | Alamosa School District RE-11J | 2,333 |
| Colorado | Bayfield School District No. 10Jt-R | 1,371 |
| Colorado | Calhan District No. Rj1 | 467 |
| Colorado | Cheyenne County School District No. Re-5 | 182 |
| Colorado | Cheyenne Mountain School District No. 12 | 5,274 |
| Colorado | Eagle County School District No. Re 50 | 6,874 |
| Colorado | Mapleton Public Schools | 8,934 |
| Colorado | Platte Canyon, School District No. 1 | 917 |
| Colorado | School District 51 Mesa County Valley | 22,082 |
| Colorado | Swink, School District No. 33 | 344 |
| Colorado | Weld RE-4 School District | 6,785 |
| Connecticut | Cheshire School District | 4,270 |
| Connecticut | East Granby School District | 848 |
| Connecticut | Easton School District | 897 |
| Connecticut | Fairfield School District | 9,805 |
| Connecticut | Hartford School District | 19,051 |
| Connecticut | Ledyard School District | 2,417 |
| Connecticut | Regional School District 16 | 2,124 |
| Connecticut | Shelton School District | 4,688 |
| Connecticut | Stamford School District | 15,942 |
| Connecticut | Stratford School District | 6,762 |
| Connecticut | Waterbury School District | 18,751 |
| Connecticut | Wethersfield School District | 3,587 |
| Connecticut | Woodstock School District | 834 |
| Delaware | Campus Community Charter School | 408 |
| District of Columbia | Center City Public Charter Schools | 1,464 |
| Florida | Broward County School District | 270,978 |
| Florida | Charlotte School District | 16,008 |
| Florida | Charter Schools USA | 11,000 |
| Florida | Duval County Public Schools | 130,229 |
| Florida | Flagler County Public Schools | 12,980 |
| Florida | Hendry School District | 7,266 |
| Florida | Hillsborough County School District | 220,252 |
| Florida | Miami-Dade School District | 350,434 |
| Florida | Pinellas School District | 100,948 |
| Florida | Polk School District | 101,408 |
| Florida | Putnam School District | 10,990 |
| Florida | Sarasota School District | 43,111 |
| Florida | St. Lucie School District | 41,409 |
| Georgia | Atkinson County | 1,693 |
| Georgia | Baldwin County | 5,137 |
| Georgia | Bartow County | 13,432 |
| Georgia | Bibb County School District | 23,877 |
| Georgia | Calhoun City | 4,102 |
| Georgia | Chatham County | 37,576 |
| Georgia | Chickamauga City | 1,315 |
| Georgia | Clarke County | 13,512 |
| Georgia | Clayton County | 54,840 |
| Georgia | Cobb County | 111,854 |
| Georgia | Crisp County | 3,951 |
| Georgia | Dekalb County | 99,166 |
| Georgia | Dooly County | 1,233 |
| Georgia | Effingham County Schools | 12,735 |
| Georgia | Fayette County | 20,315 |
| Georgia | Floyd County | 9,653 |
| Georgia | Forsyth County | 49,346 |
| Georgia | Fulton County | 94,491 |
| Georgia | Gwinnett County | 179,758 |
| Georgia | Hancock County | 838 |
| Georgia | Henry County School District | 42,621 |
| Georgia | Houston County Schools | 29,770 |
| Georgia | Jasper County | 2,380 |
| Georgia | Laurens County | 6,594 |
| Georgia | Lee County | 6,499 |
| Georgia | Lowndes County Schools | 10,657 |
| Georgia | Mcduffie County | 3,810 |
| Georgia | Newton County Schools | 19,734 |
| Georgia | Pierce County | 3,622 |
| Georgia | Richmond County Schools | 30,947 |
| Georgia | Rockdale County Public Schools | 16,775 |
| Georgia | Screven County | 2,307 |
| Georgia | Sumter County Schools | 4,797 |
| Georgia | Talbot County | 449 |
| Georgia | Treutlen County | 1,122 |
| Georgia | Twiggs County | 790 |
| Georgia | Walton County | 14,305 |
| Georgia | Ware County | 6,153 |
| Georgia | Wayne County | 5,378 |
| Georgia | Whitfield County | 12,964 |
| Idaho | Falcon Ridge Charter School | 267 |
| Idaho | Lapwai District | 518 |
| Idaho | Shoshone Joint District | 508 |
| Idaho | South Lemhi District | 100 |
| Illinois | Alsip-Hazlgrn-Oaklwn SD 126 | 1,580 |
| Illinois | Amboy CUSD 272 | 721 |
| Illinois | Belvidere CUSD 100 | 7,843 |
| Illinois | Canton Union SD 66 | 2,389 |
| Illinois | Chester CUSD 139 | 998 |
| Illinois | Chicago Public Schools | 359,476 |
| Illinois | Collinsville CUSD 10 | 6,288 |
| Illinois | County Of Winnebago SD 320 | 926 |
| Illinois | De Witt Livingston Logan Mclean Roe 17 | 213 |
| Illinois | District 50 Schools | 707 |
| Illinois | Elmwood CUSD 322 | 684 |
| Illinois | Fieldcrest CUSD 6 | 947 |
| Illinois | Galatia CUSD 1 | 422 |
| Illinois | Galesburg CUSD 205 | 4,261 |
| Illinois | Genoa Kingston CUSD 424 | 1,641 |
| Illinois | Highland CUSD 5 | 2,870 |
| Illinois | Hoopeston Area CUSD 11 | 1,174 |
| Illinois | Iroquois County CUSD 9 | 957 |
| Illinois | Iroquois West CUSD 10 | 992 |
| Illinois | La Moille CUSD 303 | 214 |
| Illinois | Lake Forest SD 67 | 1,700 |
| Illinois | Lena Winslow CUSD 202 | 840 |
| Illinois | Lyons SD 103 | 2,413 |
| Illinois | Madison CUSD 12 | 674 |
| Illinois | Mazon-Verona-Kinsman ESD 2C | 307 |
| Illinois | Momence CUSD 1 | 1,075 |
| Illinois | Mt Zion CUSD 3 | 2,449 |
| Illinois | North Greene CUSD 3 | 865 |
| Illinois | Northwestern CUSD 2 | 358 |
| Illinois | Oglesby ESD 125 | 535 |
| Illinois | Oregon CUSD 220 | 1,454 |
| Illinois | Peoria SD 150 | 12,846 |
| Illinois | River Bend CUSD 2 | 938 |
| Illinois | Rockford SD 205 | 28,495 |
| Illinois | South Central Cud 401 | 638 |
| Illinois | Thornton Township HSD 205 | 5,140 |
| Illinois | Vandalia CUSD 203 | 1,424 |
| Illinois | Waltonville CUSD 1 | 351 |
| Illinois | Waukegan CUSD 60 | 15,772 |
| Illinois | Westville CUSD 2 | 1,306 |
| Indiana | Anderson Community School Corporation | 6,874 |
| Indiana | Attica Consolidated School Corporation | 671 |
| Indiana | Blue River Valley Schools | 696 |
| Indiana | C A Beard Memorial School Corporation | 1,069 |
| Indiana | Centerville-Abington Community Schools | 1,776 |
| Indiana | Clark-Pleasant Community School Corporation | 6,866 |
| Indiana | Clinton Prairie School Corporation | 1,301 |
| Indiana | Community Schools Of Frankfort | 3,203 |
| Indiana | Covington Community School Corporation | 895 |
| Indiana | Crawford County Community School Corporation | 1,511 |
| Indiana | Crawfordsville Community Schools | 2,597 |
| Indiana | Culver Community School Corporation | 815 |
| Indiana | Delphi Community School Corporation | 1,392 |
| Indiana | East Porter County School Corporation | 2,488 |
| Indiana | Eastern Greene Schools | 1,221 |
| Indiana | Franklin Township Community School Corporation | 9,654 |
| Indiana | Frankton-Lapel Community Schools | 3,182 |
| Indiana | Greater Clark County Schools | 10,360 |
| Indiana | Hanover Community School Corporation | 2,387 |
| Indiana | Indiana Math And Science Academy | 563 |
| Indiana | Lafayette School Corporation | 7,996 |
| Indiana | M S D Of New Durham Township | 891 |
| Indiana | M S D Perry Township | 16,610 |
| Indiana | M S D Warren County | 1,321 |
| Indiana | M S D Wayne Township | 16,484 |
| Indiana | New Albany-Floyd County Consolidated Schools | 11,637 |
| Indiana | New Prairie United School Corporation | 2,972 |
| Indiana | North Adams Community Schools | 1,780 |
| Indiana | Northeast School Corporation | 842 |
| Indiana | Northeastern Wayne Schools | 1,338 |
| Indiana | Richmond Community Schools | 4,859 |
| Indiana | Rising Sun-Ohio County Community Schools | 797 |
| Indiana | Rochester Community School Corporation | 1,775 |
| Indiana | Rush County Schools | 2,065 |
| Indiana | Salem Community Schools | 1,834 |
| Indiana | South Dearborn Community School Corporation | 2,345 |
| Indiana | South Harrison Community Schools | 3,074 |
| Indiana | South Knox School Corporation | 1,249 |
| Indiana | South Montgomery Community School Corporation | 1,716 |
| Indiana | South Ripley Community School Corporation | 1,130 |
| Indiana | Southern Hancock County Community School Corporation | 3,770 |
| Indiana | Spencer-Owen Community Schools | 2,503 |
| Indiana | Tri-County School Corporation | 700 |
| Indiana | Twin Lakes School Corporation | 2,431 |
| Indiana | Union County College Corner Joint School District | 1,294 |
| Indiana | Vigo County School Corporation | 14,722 |
| Indiana | Warrick County School Corporation | 10,242 |
| Indiana | Washington Community Schools | 2,570 |
| Indiana | Wes-Del Community Schools | 877 |
| Iowa | Akron Westfield Comm School District | 639 |
| Iowa | Atlantic Comm School District | 1,480 |
| Iowa | Ballard Comm School District | 1,825 |
| Iowa | Belmond-Klemme Comm School District | 741 |
| Iowa | Bettendorf Comm School District | 4,961 |
| Iowa | Brooklyn-Guernsey-Malcom Comm School District | 592 |
| Iowa | Camanche Comm School District | 982 |
| Iowa | Carroll Comm School District | 1,905 |
| Iowa | Cedar Rapids Comm School District | 16,717 |
| Iowa | Center Point-Urbana Comm School District | 1,578 |
| Iowa | Central Comm School District | 430 |
| Iowa | Clarion-Goldfield Comm School District | 1,004 |
| Iowa | Clarke Comm School District | 1,405 |
| Iowa | Columbus Comm School District | 688 |
| Iowa | Des Moines Public School District | 33,623 |
| Iowa | Dubuque Comm School District | 11,062 |
| Iowa | Earlham Comm School District | 618 |
| Iowa | East Mills Comm School District | 455 |
| Iowa | East Union Comm School District | 526 |
| Iowa | Estherville Lincoln Central Com Sch Dist | 1,323 |
| Iowa | Fort Dodge Comm School District | 3,838 |
| Iowa | Grundy Center Comm School District | 734 |
| Iowa | Guthrie Center Comm School District | 532 |
| Iowa | Hampton-Dumont Comm School District | 1,358 |
| Iowa | Hartley-Melvin-Sanborn Comm School District | 642 |
| Iowa | Hinton Comm School District | 793 |
| Iowa | Humboldt Comm School District | 1,483 |
| Iowa | Interstate 35 Comm School District | 837 |
| Iowa | Le Mars Comm School District | 2,311 |
| Iowa | Linn-Mar Comm School District | 7,805 |
| Iowa | Martensdale-St Marys Comm School District | 559 |
| Iowa | Midland Comm School District | 487 |
| Iowa | Monticello Comm School District | 1,055 |
| Iowa | Moulton-Udell Comm School District | 196 |
| Iowa | Muscatine Comm School District | 5,001 |
| Iowa | Northeast Community School District | 862 |
| Iowa | Panorama Comm School District | 731 |
| Iowa | Pocahontas Area Comm School District | 713 |
| Iowa | River Valley Comm School District | 425 |
| Iowa | Saydel Comm School District | 1,359 |
| Iowa | Schleswig Comm School District | 193 |
| Iowa | Sioux Central Comm School District | 667 |
| Iowa | South Page Comm School District | 131 |
| Iowa | Southwest Valley CSD | 319 |
| Iowa | Sumner Community School District | 864 |
| Iowa | Tri-Center Comm School District | 715 |
| Iowa | Turkey Valley Comm School District | 342 |
| Iowa | Twin Cedars Comm School District | 358 |
| Iowa | Urbandale Comm School District | 4,241 |
| Iowa | Van Meter Comm School District | 868 |
| Iowa | Wapello Comm School District | 602 |
| Iowa | Waterloo Community School District | 11,003 |
| Iowa | West Branch Comm School District | 798 |
| Iowa | Westwood Comm School District | 618 |
| Iowa | Woodbine Comm School District | 505 |
| Kansas | Barnes | 452 |
| Kansas | Blue Valley USD 229 | 22,783 |
| Kansas | Burlingame Public School | 304 |
| Kansas | Caney Valley | 771 |
| Kansas | Central Heights | 530 |
| Kansas | Circle Public Schools | 1,991 |
| Kansas | Durham-Hillsboro-Lehigh | 628 |
| Kansas | Eisenhower Elementary School | 2,154 |
| Kansas | Ellsworth | 640 |
| Kansas | Great Bend | 2,916 |
| Kansas | Humboldt | 955 |
| Kansas | Kiowa County Schools | 469 |
| Kansas | Lyons | 815 |
| Kansas | Marysville | 850 |
| Kansas | Meade | 410 |
| Kansas | Moundridge | 431 |
| Kansas | Ness City | 307 |
| Kansas | Norton Community Schools | 688 |
| Kansas | Phillipsburg | 605 |
| Kansas | Russell Unified School District 407 | 858 |
| Kansas | Shawnee Mission Public Schools | 27,590 |
| Kansas | Skyline Schools | 403 |
| Kansas | Southern Lyon County | 512 |
| Kansas | Spearville | 340 |
| Kansas | Stafford | 274 |
| Kansas | Sublette | 421 |
| Kansas | Tonganoxie | 1,945 |
| Kansas | Waconda | 315 |
| Kansas | Wakeeney | 407 |
| Kansas | Washington Co. Schools | 345 |
| Kansas | Wellington | 1,580 |
| Kentucky | Bardstown Ind | 2,757 |
| Kentucky | Bath County | 1,994 |
| Kentucky | Bell County | 2,728 |
| Kentucky | Boone County School District | 20,750 |
| Kentucky | Boyle County | 2,789 |
| Kentucky | Breathitt County | 1,893 |
| Kentucky | Breckinridge County Schools | 2,731 |
| Kentucky | Bullitt County | 13,160 |
| Kentucky | Campbellsville Independent | 1,156 |
| Kentucky | Clay County | 3,238 |
| Kentucky | Crittenden County | 1,401 |
| Kentucky | Daviess County Public Schools | 11,779 |
| Kentucky | Fayette County | 41,987 |
| Kentucky | Fulton County District | 622 |
| Kentucky | Grant County | 3,639 |
| Kentucky | Grayson County Schools | 3,989 |
| Kentucky | Greenup County | 2,819 |
| Kentucky | Hardin County | 14,787 |
| Kentucky | Hopkins County Schools | 6,749 |
| Kentucky | Jefferson County Public Schools | 97,936 |
| Kentucky | Jessamine County | 8,418 |
| Kentucky | Laurel County | 9,066 |
| Kentucky | Lee County | 934 |
| Kentucky | Lewis County | 2,247 |
| Kentucky | Madison County School District | 11,816 |
| Kentucky | Mason County | 2,688 |
| Kentucky | Mercer County | 2,825 |
| Kentucky | Murray Independent | 1,736 |
| Kentucky | Ohio County Schools | 4,261 |
| Kentucky | Owsley County | 803 |
| Kentucky | Perry County | 4,003 |
| Kentucky | Scott County | 9,471 |
| Kentucky | Walton Verona Independent | 1,762 |
| Kentucky | Warren County Public Schools | 16,293 |
| Kentucky | Washington County | 1,732 |
| Louisiana | Ascension Parish School District | 22,537 |
| Louisiana | Assumption Parish Schools | 3,354 |
| Louisiana | Bossier Parish School District | 22,589 |
| Louisiana | Calcasieu Parish School District | 31,902 |
| Louisiana | Catahoula Parish School Board | 1,199 |
| Louisiana | Central Community School District | 4,714 |
| Louisiana | City Of Baker School District | 1,319 |
| Louisiana | Claiborne Parish | 1,686 |
| Louisiana | Concordia Parish School Board | 3,331 |
| Louisiana | Delhi Charter School | 888 |
| Louisiana | Grant Parish | 3,021 |
| Louisiana | Iberia Parish | 12,555 |
| Louisiana | Jackson Parish | 2,260 |
| Louisiana | Lafayette Parish School District | 30,897 |
| Louisiana | Lafourche Parish | 14,402 |
| Louisiana | Lasalle Parish | 2,635 |
| Louisiana | Lincoln Parish | 5,486 |
| Louisiana | Livingston Parish School District | 25,520 |
| Louisiana | Orleans Parish | 1,830 |
| Louisiana | Plaquemines Parish | 4,014 |
| Louisiana | St. James Parish | 3,766 |
| Louisiana | St. Mary Parish | 8,427 |
| Louisiana | Tangipahoa Parish School District | 19,294 |
| Louisiana | Terrebonne Parish School District | 17,256 |
| Louisiana | Vermilion Parish | 9,575 |
| Louisiana | West Baton Rouge Parish | 3,802 |
| Louisiana | West Carroll Parish | 1,989 |
| Louisiana | Zachary Community School District | 5,551 |
| Maine | AOS 43 | 453 |
| Maine | Biddeford School Department | 2,439 |
| Maine | Kittery School Department | 990 |
| Maine | Lake Region Schools | 1,707 |
| Maine | Msad 75 | 2,437 |
| Maine | Rsu 25 | 1,095 |
| Maine | RSU 34 | 1,498 |
| Maryland | Allegany County Public Schools | 8,539 |
| Maryland | Anne Arundel County Public Schools | 83,300 |
| Maryland | Baltimore City Public Schools | 79,297 |
| Maryland | Baltimore County Public Schools | 113,814 |
| Maryland | Calvert County Public Schools | 15,936 |
| Maryland | Charles County Public Schools | 27,108 |
| Maryland | Frederick County Public Schools | 42,713 |
| Maryland | Prince George's County Public Schools | 132,657 |
| Maryland | St. Mary's County Public Schools | 17,999 |
| Maryland | Washington County Public Schools | 22,681 |
| Maryland | Wicomico County Public Schools | 14,949 |
| Massachusetts | Andover | 5,957 |
| Massachusetts | Billerica | 4,764 |
| Massachusetts | Brockton School District | 16,349 |
| Massachusetts | Brookline | 7,855 |
| Massachusetts | Dighton-Rehoboth | 2,902 |
| Massachusetts | Easton | 3,632 |
| Massachusetts | Fitchburg | 5,362 |
| Massachusetts | Foxborough | 2,553 |
| Massachusetts | Gill-Montague | 935 |
| Massachusetts | Granby | 727 |
| Massachusetts | Holbrook | 1,259 |
| Massachusetts | Hull | 887 |
| Massachusetts | King Philip | 2,024 |
| Massachusetts | Lawrence Public Schools | 13,658 |
| Massachusetts | Leicester | 1,536 |
| Massachusetts | Lowell Public Schools | 14,548 |
| Massachusetts | Medford Public Schools | 4,232 |
| Massachusetts | Mendon-Upton | 2,302 |
| Massachusetts | Middleborough | 2,976 |
| Massachusetts | North Brookfield | 570 |
| Massachusetts | North Reading | 2,398 |
| Massachusetts | Norwood | 3,422 |
| Massachusetts | Plymouth | 7,394 |
| Massachusetts | Randolph | 2,737 |
| Massachusetts | Saugus | 2,609 |
| Massachusetts | Sharon | 3,588 |
| Massachusetts | Spencer-East Brookfield | 1,379 |
| Massachusetts | Stoughton Public Schools | 3,500 |
| Massachusetts | Taunton | 8,003 |
| Michigan | Beaverton Rural Schools | 991 |
| Michigan | Burr Oak Community Schools | 287 |
| Michigan | Carney-Nadeau Public Schools | 287 |
| Michigan | Cheboygan Area Schools | 1,563 |
| Michigan | Clare Public Schools | 1,614 |
| Michigan | Columbia School District | 1,473 |
| Michigan | Dewitt Public Schools | 3,197 |
| Michigan | Dexter Community Schools | 3,660 |
| Michigan | Durand Area Schools | 1,316 |
| Michigan | Flat Rock Community Schools | 2,044 |
| Michigan | Fulton Schools | 675 |
| Michigan | Garden City School District | 3,649 |
| Michigan | Hesperia Community Schools | 899 |
| Michigan | Hillsdale ISD | 362 |
| Michigan | Holt Public Schools | 5,532 |
| Michigan | Ida Public School District | 1,442 |
| Michigan | Iosco Resa | 155 |
| Michigan | Lake Orion Community Schools | 7,337 |
| Michigan | Lake Shore Public Schools | 3,493 |
| Michigan | Lakeview Public Schools | 4,375 |
| Michigan | Lakeview School District | 4,075 |
| Michigan | Lenawee ISD | 573 |
| Michigan | Marquette Area Public Schools | 3,282 |
| Michigan | Milan Area Schools | 2,173 |
| Michigan | Napoleon Community Schools | 1,314 |
| Michigan | Norway-Vulcan Area Schools | 686 |
| Michigan | Onsted Community Schools | 1,294 |
| Michigan | Ontonagon Area Schools | 275 |
| Michigan | Paw Paw Public School District | 2,155 |
| Michigan | Pennfield Schools | 2,083 |
| Michigan | Portage Public Schools | 8,804 |
| Michigan | Romeo Community Schools | 5,042 |
| Michigan | Royal Oak Schools | 4,992 |
| Michigan | Sandusky Community School District | 1,017 |
| Michigan | Shelby Public Schools | 1,265 |
| Michigan | South Haven Public Schools | 1,987 |
| Michigan | Springport Public Schools | 984 |
| Michigan | St. Charles Community Schools | 912 |
| Michigan | St. Johns Public Schools | 2,799 |
| Michigan | St. Louis Public Schools | 1,043 |
| Michigan | Trenton Public Schools | 2,557 |
| Michigan | Union City Community Schools | 1,040 |
| Michigan | Utica Community Schools | 26,878 |
| Michigan | Washtenaw ISD | 1,201 |
| Michigan | West Ottawa Public School District | 6,712 |
| Michigan | Westwood Community Schools | 1,660 |
| Michigan | Ypsilanti Community Schools | 3,868 |
| Minnesota | Anoka-Hennepin Public School District | 38,802 |
| Minnesota | Battle Lake Public School District | 428 |
| Minnesota | Ellsworth Public School District | 142 |
| Minnesota | Frazee-Vergas Public School District | 904 |
| Minnesota | Fulda Public School District | 346 |
| Minnesota | Hawley Public School District | 975 |
| Minnesota | Holdingford Public School District | 1,064 |
| Minnesota | Intermediate School District 287 | 1,075 |
| Minnesota | Kingsland Public School District | 554 |
| Minnesota | Kittson Central School District | 230 |
| Minnesota | Mankato Public School District | 8,799 |
| Minnesota | Melrose Public School District | 1,331 |
| Minnesota | New York Mills Public School District | 744 |
| Minnesota | Osseo Area Schools | 21,472 |
| Minnesota | Pelican Rapids Public School District | 890 |
| Minnesota | Pillager Public School District | 1,164 |
| Minnesota | Robbinsdale Public School District | 12,546 |
| Minnesota | Saint Paul Public School District | 36,888 |
| Minnesota | St. Clair Public School District | 666 |
| Minnesota | Verndale Public School District | 573 |
| Mississippi | Alcorn School District | 3,220 |
| Mississippi | Amite County School District | 908 |
| Mississippi | Amory School District | 1,635 |
| Mississippi | Attala County School District | 1,027 |
| Mississippi | Brookhaven School Dist | 2,824 |
| Mississippi | Claiborne County School District | 1,382 |
| Mississippi | Clarksdale Municipal School District | 2,342 |
| Mississippi | Cleveland School District | 3,399 |
| Mississippi | Coahoma County School District | 1,326 |
| Mississippi | Columbia School District | 1,644 |
| Mississippi | Corinth School District | 2,645 |
| Mississippi | Desoto County School District | 34,392 |
| Mississippi | Forest Municipal School District | 1,682 |
| Mississippi | Forrest County School District | 2,245 |
| Mississippi | George County School District | 4,116 |
| Mississippi | Greene County School District | 1,875 |
| Mississippi | Greenville Public Schools | 4,480 |
| Mississippi | Grenada School District | 4,062 |
| Mississippi | Gulfport School District | 6,487 |
| Mississippi | Hancock County School District | 4,416 |
| Mississippi | Harrison County School District | 15,010 |
| Mississippi | Hattiesburg Public School District | 3,953 |
| Mississippi | Hinds County School District | 5,619 |
| Mississippi | Humphreys County School District | 1,580 |
| Mississippi | Itawamba County School District | 3,500 |
| Mississippi | Jackson County School District | 9,209 |
| Mississippi | Jackson Public School District | 23,935 |
| Mississippi | Jefferson County School District | 1,159 |
| Mississippi | Jones County School District | 8,701 |
| Mississippi | Lafayette County School District | 2,889 |
| Mississippi | Lamar County School District | 10,624 |
| Mississippi | Lauderdale County School District | 6,283 |
| Mississippi | Laurel School District | 3,171 |
| Mississippi | Lawrence County School District | 2,082 |
| Mississippi | Leake County School District | 2,845 |
| Mississippi | Lincoln County School District | 3,054 |
| Mississippi | Lowndes County School District | 5,452 |
| Mississippi | Madison County School District | 13,302 |
| Mississippi | Marshall County School District | 2,988 |
| Mississippi | McComb School District | 2,508 |
| Mississippi | Monroe Co School District | 2,276 |
| Mississippi | Moss Point Separate School District | 1,810 |
| Mississippi | Newton County School District | 1,778 |
| Mississippi | North Panola Schools | 1,393 |
| Mississippi | North Pike School District | 2,440 |
| Mississippi | Ocean Springs School District | 5,936 |
| Mississippi | Okolona Separate School Dist | 578 |
| Mississippi | Pearl Public School District | 4,257 |
| Mississippi | Picayune School District | 3,489 |
| Mississippi | Prentiss County School District | 2,416 |
| Mississippi | Quitman School District | 1,783 |
| Mississippi | Rankin County School District | 19,206 |
| Mississippi | Richton School Dist | 677 |
| Mississippi | Scott County School District | 4,095 |
| Mississippi | Senatobia Municipal School Dist | 1,644 |
| Mississippi | Simpson County School District | 3,607 |
| Mississippi | Smith County School District | 2,664 |
| Mississippi | Starkville Oktibbeha School District | 5,078 |
| Mississippi | Stone County School District | 2,537 |
| Mississippi | Sunflower County Consolidated School District | 3,569 |
| Mississippi | Tate County School District | 2,351 |
| Mississippi | Tishomingo County School District | 3,036 |
| Mississippi | Tunica County School District | 1,975 |
| Mississippi | Vicksburg Warren School District | 7,775 |
| Mississippi | Wayne County School District | 3,326 |
| Mississippi | Webster Co School District | 1,795 |
| Mississippi | West Bolivar Consolidated School District | 930 |
| Mississippi | West Point School District | 3,000 |
| Mississippi | West Tallahatchie School District | 695 |
| Mississippi | Western Line School District | 1,965 |
| Mississippi | Yazoo City Municipal School District | 2,422 |
| Mississippi | Yazoo County School District | 1,495 |
| Missouri | Advance R-Iv | 462 |
| Missouri | Albany School District R3 | 444 |
| Missouri | Alton R-Iv | 723 |
| Missouri | Ava R-I | 1,359 |
| Missouri | Brentwood | 787 |
| Missouri | Community R-Vi | 311 |
| Missouri | Desoto 73 | 2,845 |
| Missouri | Dora R-Iii | 290 |
| Missouri | Drexel R-Iv | 312 |
| Missouri | Eminence R-I | 287 |
| Missouri | Fayette R-Iii | 615 |
| Missouri | Ferguson-Florissant R-Ii | 10,365 |
| Missouri | Fordland R-Iii | 567 |
| Missouri | Forsyth R-III | 1,160 |
| Missouri | Fox C-6 | 11,382 |
| Missouri | Gideon 37 | 261 |
| Missouri | Greenfield R-Iv | 407 |
| Missouri | Hardin-Central C-2 | 239 |
| Missouri | Hazelwood School District | 17,418 |
| Missouri | Henry Co. R-I | 720 |
| Missouri | Hickman Mills C-1 | 5,830 |
| Missouri | Holden R-Iii | 1,188 |
| Missouri | Houston R-I | 1,080 |
| Missouri | Humansville R-Iv | 346 |
| Missouri | Independence 30 | 14,644 |
| Missouri | Jennings | 2,511 |
| Missouri | Laclede Co. R-I | 799 |
| Missouri | Lawson R-Xiv | 1,113 |
| Missouri | Lebanon R-Iii | 4,582 |
| Missouri | Lewis Co. C-1 | 876 |
| Missouri | Liberal R-Ii | 390 |
| Missouri | Licking R-VIII | 860 |
| Missouri | Macon Co. R-Iv | 111 |
| Missouri | Marion C. Early R-V | 565 |
| Missouri | Marshall | 2,575 |
| Missouri | Mehlville R-IX School District | 10,308 |
| Missouri | Monett R-I | 2,429 |
| Missouri | New Haven | 518 |
| Missouri | Newburg R-Ii | 429 |
| Missouri | North Andrew Co. R-Vi | 352 |
| Missouri | North Nodaway Co. R-Vi | 222 |
| Missouri | North Platte Co. R-I | 641 |
| Missouri | Northeast Vernon Co. R-I | 224 |
| Missouri | Osage Co. R-I | 176 |
| Missouri | Osborn R-O | 105 |
| Missouri | Parkway Schools | 17,976 |
| Missouri | Pleasant Hope R-Vi | 803 |
| Missouri | Portageville | 734 |
| Missouri | Puxico R-Viii | 836 |
| Missouri | Reeds Spring R-Iv | 1,811 |
| Missouri | Rich Hill R-Iv | 337 |
| Missouri | Richland R-I | 278 |
| Missouri | Sheldon R-Viii | 191 |
| Missouri | Smithville R-Ii | 2,637 |
| Missouri | South Callaway Co. R-Ii | 782 |
| Missouri | South Iron Co. R-I | 276 |
| Missouri | South Pemiscot Co. R-V | 600 |
| Missouri | Southern Reynolds Co. R-Ii | 499 |
| Missouri | Steelville R-Iii | 1,008 |
| Missouri | Strafford R-Vi | 1,247 |
| Missouri | Twin Rivers R-X | 882 |
| Missouri | Van Buren R-I | 504 |
| Missouri | Wellington-Napoleon R-Ix | 411 |
| Missouri | West Nodaway Co. R-I | 254 |
| Montana | Butte Public Schools | 3,018 |
| Montana | Elysian School District 23 | 387 |
| Montana | Hardin School District 17 | 1,410 |
| Montana | Helena Public Schools | 5,277 |
| Montana | Libby K-12 Schools | 1,180 |
| Montana | Lincoln K-12 Schools | 149 |
| Montana | Scobey K-12 Schools | 279 |
| Montana | Stanford K-12 Schools | 136 |
| Montana | Sunburst K-12 Schools | 177 |
| Montana | Terry K-12 Schools | 134 |
| Montana | Whitefish School District 44 | 1,303 |
| Montana | Winifred K-12 Schools | 109 |
| Nebraska | Adams Central Public Schools | 1,005 |
| Nebraska | Arapahoe Public Schools | 357 |
| Nebraska | Ashland-Greenwood Public Schools | 964 |
| Nebraska | Auburn Public Schools | 937 |
| Nebraska | Beatrice Public Schools | 2,151 |
| Nebraska | Bennington Public Schools | 2,931 |
| Nebraska | Clarkson Public Schools | 211 |
| Nebraska | Conestoga Public Schools | 718 |
| Nebraska | Cozad City Schools | 950 |
| Nebraska | Crofton Community Schools | 314 |
| Nebraska | Doniphan-Trumbull Public Schools | 473 |
| Nebraska | Douglas Co West Community Schools | 970 |
| Nebraska | Elkhorn Valley Schools | 406 |
| Nebraska | Elmwood-Murdock Public Schools | 471 |
| Nebraska | Ewing Public Schools | 137 |
| Nebraska | Fairbury Public Schools | 899 |
| Nebraska | Fort Calhoun Community Schools | 719 |
| Nebraska | Fremont Public Schools | 4,732 |
| Nebraska | Giltner Public Schools | 209 |
| Nebraska | Grand Island Public Schools | 9,883 |
| Nebraska | Hampton Public Schools | 159 |
| Nebraska | Hay Springs Public Schools | 204 |
| Nebraska | Holdrege Public Schools | 1,101 |
| Nebraska | Kearney Public Schools | 5,905 |
| Nebraska | Lincoln Public Schools | 42,020 |
| Nebraska | Litchfield Public Schools | 121 |
| Nebraska | Millard Public Schools | 24,104 |
| Nebraska | Minatare Public Schools | 198 |
| Nebraska | Mullen Public Schools | 159 |
| Nebraska | Norfolk Public Schools | 4,446 |
| Nebraska | Northwest Public Schools | 1,546 |
| Nebraska | Omaha Public Schools | 53,194 |
| Nebraska | Palmer Public Schools | 321 |
| Nebraska | Raymond Central Public Schools | 685 |
| Nebraska | Sargent Public Schools | 170 |
| Nebraska | Schuyler Community Schools | 2,034 |
| Nebraska | Seward Public Schools | 1,471 |
| Nebraska | Shelby Public Schools (NE) | 408 |
| Nebraska | Shickley Public Schools | 163 |
| Nebraska | Sidney Public Schools | 1,312 |
| Nebraska | St Edward Public Schools | 183 |
| Nebraska | St Paul Public Schools | 680 |
| Nebraska | Sutton Public Schools | 410 |
| Nebraska | Syracuse-Dunbar-Avoca Schools | 756 |
| Nebraska | Wahoo Public Schools | 1,043 |
| Nebraska | Yutan Public Schools | 457 |
| Nevada | Carson City School District | 8,131 |
| Nevada | Clark County School District | 330,225 |
| Nevada | Eureka County School District | 321 |
| Nevada | Storey County School District | 460 |
| New Brunswick | Anglophone School District South | 24,903 |
| New Brunswick | Anglophone School District West | 30,463 |
| New Hampshire | Concord School District | 4,440 |
| New Hampshire | Hampstead School District | 856 |
| New Hampshire | Inter-Lakes School District | 1,027 |
| New Hampshire | Manchester School District | 13,522 |
| New Hampshire | Raymond School District (NH) | 1,248 |
| New Hampshire | SAU 15 | 626 |
| New Hampshire | White Mountain Regional School District/SAU 36 | 1,108 |
| New Hampshire | Windham School District | 2,965 |
| New Jersey | Bayonne | 9,853 |
| New Jersey | Brick Township | 8,651 |
| New Jersey | Buena Regional | 1,707 |
| New Jersey | Cherry Hill Township | 10,928 |
| New Jersey | Cinnaminson Township | 2,579 |
| New Jersey | Delanco Township | 424 |
| New Jersey | Delsea Regional High School | 1,661 |
| New Jersey | East Orange Public Schools | 10,072 |
| New Jersey | Farmingdale Borough | 155 |
| New Jersey | Franklin Township | 7,150 |
| New Jersey | Gray Charter School | 352 |
| New Jersey | Jackson Township | 8,304 |
| New Jersey | Knowlton Township | 174 |
| New Jersey | Lyndhurst Township | 2,525 |
| New Jersey | Merchantville | 433 |
| New Jersey | Montclair Public Schools | 6,767 |
| New Jersey | Newark Public Schools | 40,448 |
| New Jersey | North Arlington | 1,869 |
| New Jersey | North Bergen School District | 7,576 |
| New Jersey | Oakland | 1,362 |
| New Jersey | Ocean Township | 3,458 |
| New Jersey | Orange Public Schools | 5,579 |
| New Jersey | Paramus | 3,811 |
| New Jersey | Pemberton Township | 4,880 |
| New Jersey | Pine Hill Borough | 1,899 |
| New Jersey | Pohatcong Township | 304 |
| New Jersey | Randolph Township | 4,641 |
| New Jersey | Robbinsville Schools | 3,164 |
| New Jersey | Rockaway Borough | 556 |
| New Jersey | Toms River Regional School District | 15,472 |
| New Jersey | Upper Freehold Regional | 2,257 |
| New Jersey | Vineland City | 10,704 |
| New Jersey | Waldwick | 1,633 |
| New Jersey | West Orange Public Schools | 6,696 |
| New Jersey | Woodbridge Township | 13,888 |
| New Mexico | Las Vegas City Public Schools | 1,512 |
| New Mexico | Mora Independent Schools | 399 |
| New York | Albion Central School District | 1,880 |
| New York | Alexander Central School District | 837 |
| New York | Ardsley Union Free School District | 2,261 |
| New York | Brookhaven-Comsewogue Union Free School District | 3,770 |
| New York | East Hampton Union Free School District | 1,850 |
| New York | Frankfort-Schuyler Central School District | 941 |
| New York | Geneva City School District | 2,265 |
| New York | Glens Falls City School District | 2,113 |
| New York | Greece Central School District | 10,911 |
| New York | Green Island Union Free School District | 271 |
| New York | Greenville Central School District | 1,118 |
| New York | Hinsdale Central School District | 443 |
| New York | Hyde Park Central School District | 3,678 |
| New York | Keene Central School District | 160 |
| New York | Lafayette Central School District | 862 |
| New York | Livingston Manor Central School District | 458 |
| New York | Lockport City School District | 4,574 |
| New York | Margaretville Central School District | 360 |
| New York | Mexico Central School District | 2,067 |
| New York | Moravia Central School District | 997 |
| New York | Naples Central School District | 686 |
| New York | North Collins Central School District | 615 |
| New York | NYCDOE - Brooklyn North High Schools | 26,000 |
| New York | NYCDOE - District 14 | 19,814 |
| New York | NYCDOE - District 21 | 34,428 |
| New York | NYCDOE - District 22 | 34,798 |
| New York | NYCDOE - District 26 | 31,744 |
| New York | NYCDOE - District 3 | 22,548 |
| New York | NYCDOE - District 9 | 36,061 |
| New York | Onondaga Central School District | 882 |
| New York | Ossining Union Free School District | 5,068 |
| New York | Queensbury Union Free School District | 3,212 |
| New York | Royalton-Hartland Central School District | 1,334 |
| New York | Shelter Island Union Free School District | 215 |
| New York | Shenendehowa Central School District | 9,761 |
| New York | South Huntington Union Free School District | 5,819 |
| New York | Southold Union Free School District | 778 |
| New York | Thousand Islands Central School District | 893 |
| New York | Wallkill Central School District | 2,900 |
| New York | Washingtonville Central School District | 4,059 |
| New York | Yorktown Central School District | 3,438 |
| North Carolina | Alamance-Burlington Schools | 23,076 |
| North Carolina | Alexander County Schools | 4,865 |
| North Carolina | Artspace Charter | 387 |
| North Carolina | Asheboro City Schools | 4,485 |
| North Carolina | Beaufort County Schools | 6,605 |
| North Carolina | Buncombe County Schools | 23,677 |
| North Carolina | Burke County Schools | 12,230 |
| North Carolina | Cabarrus County Schools | 33,089 |
| North Carolina | Caldwell County Schools | 11,621 |
| North Carolina | Carolina International | 856 |
| North Carolina | Caswell County Schools | 2,530 |
| North Carolina | Catawba County Schools | 16,054 |
| North Carolina | Chapel Hill-Carrboro Schools | 12,422 |
| North Carolina | Charlotte-Mecklenburg Schools | 147,638 |
| North Carolina | Chatham County Schools | 9,078 |
| North Carolina | Cherokee County Schools | 3,274 |
| North Carolina | Cleveland County Schools | 14,796 |
| North Carolina | Columbus County Schools | 5,757 |
| North Carolina | Craven County Schools | 13,719 |
| North Carolina | Cumberland County Schools | 50,879 |
| North Carolina | Dare County Schools | 5,285 |
| North Carolina | Davidson County Schools | 18,974 |
| North Carolina | Davie County Schools | 6,108 |
| North Carolina | Duplin County Schools | 9,607 |
| North Carolina | Franklin County Schools | 8,211 |
| North Carolina | Gaston County Schools | 31,487 |
| North Carolina | Guilford County Schools | 72,950 |
| North Carolina | Haywood County Schools | 7,226 |
| North Carolina | Henderson County Schools | 13,378 |
| North Carolina | Hertford County Schools | 2,865 |
| North Carolina | Hoke County Schools | 9,026 |
| North Carolina | Iredell-Statesville Schools | 20,433 |
| North Carolina | Jones County Schools | 1,122 |
| North Carolina | Kannapolis City Schools | 5,502 |
| North Carolina | Lincoln County Schools | 11,588 |
| North Carolina | Montgomery County Schools | 3,955 |
| North Carolina | Mount Airy City Schools | 1,659 |
| North Carolina | Nash County Schools | 15,061 |
| North Carolina | Newton Conover City Schools | 3,021 |
| North Carolina | Northampton County Schools | 1,589 |
| North Carolina | Onslow County Schools | 26,864 |
| North Carolina | Pender County Schools | 9,430 |
| North Carolina | Piedmont Community Charter | 1,879 |
| North Carolina | Quality Education Academy | 623 |
| North Carolina | Randolph County Schools | 16,088 |
| North Carolina | Richmond County Schools | 7,239 |
| North Carolina | Robeson County Schools | 22,044 |
| North Carolina | Rockingham County Schools | 11,691 |
| North Carolina | Rowan-Salisbury Schools | 18,976 |
| North Carolina | Roxboro Community | 703 |
| North Carolina | Rutherford County Schools | 8,063 |
| North Carolina | Stanly County Schools | 8,445 |
| North Carolina | Sugar Creek Charter | 1,600 |
| North Carolina | Transylvania County Schools | 3,390 |
| North Carolina | Wake County Schools | 161,784 |
| North Carolina | Weldon City Schools | 841 |
| North Carolina | Whiteville City Schools | 2,286 |
| North Carolina | Wilson County Schools | 11,146 |
| North Carolina | Winston-Salem/Forsyth County Schools | 54,707 |
| North Dakota | Beulah 27 | 737 |
| North Dakota | Bismarck 1 | 13,209 |
| North Dakota | Elgin-New Leipzig 49 | 160 |
| North Dakota | Lamoure 8 | 306 |
| North Dakota | Lidgerwood 28 | 181 |
| North Dakota | Solen 3 | 211 |
| North Dakota | Wyndmere 42 | 253 |
| Ohio | Adams County/Ohio Valley Local | 3,725 |
| Ohio | Adena Local | 1,232 |
| Ohio | Akron Public School District | 21,223 |
| Ohio | Ansonia Local | 793 |
| Ohio | Anthony Wayne Local | 4,282 |
| Ohio | Berea City | 6,118 |
| Ohio | Berkshire Local | 1,284 |
| Ohio | Bridgeport Exempted Village | 776 |
| Ohio | Buckeye Central Local | 587 |
| Ohio | Buckeye Valley Local | 2,201 |
| Ohio | Canton City School District | 8,422 |
| Ohio | Carey Exempted Village | 859 |
| Ohio | Clark-Shawnee Local | 1,854 |
| Ohio | Clay Local | 703 |
| Ohio | Cleveland Heights-University Heights City | 5,286 |
| Ohio | Copley-Fairlawn City | 2,830 |
| Ohio | Cory-Rawson Local | 526 |
| Ohio | Coshocton City | 1,554 |
| Ohio | Danbury Local | 541 |
| Ohio | East Knox Local | 894 |
| Ohio | Elgin Local | 1,063 |
| Ohio | Fairbanks Local | 1,074 |
| Ohio | Fairlawn Local | 636 |
| Ohio | Fayetteville-Perry Local | 810 |
| Ohio | Franklin City | 2,786 |
| Ohio | Gahanna-Jefferson City | 7,726 |
| Ohio | Graham Local | 1,910 |
| Ohio | Granville Exempted Village | 2,501 |
| Ohio | Greenon Local Schools | 1,499 |
| Ohio | Hubbard Exempted Village | 1,942 |
| Ohio | Huber Heights City | 5,883 |
| Ohio | Independence Local | 1,074 |
| Ohio | Jackson Center Local | 551 |
| Ohio | Jefferson Area Local | 1,655 |
| Ohio | Kent City | 3,423 |
| Ohio | Kings Local | 4,809 |
| Ohio | Lakewood City | 4,924 |
| Ohio | Lima City | 3,653 |
| Ohio | London City | 2,103 |
| Ohio | Lynchburg-Clay Local | 1,134 |
| Ohio | Maumee City | 2,197 |
| Ohio | Mcdonald Local | 786 |
| Ohio | Miamisburg City | 5,275 |
| Ohio | Midview Local | 2,925 |
| Ohio | Miller City-New Cleveland Local | 484 |
| Ohio | Montpelier Exempted Village | 902 |
| Ohio | Mount Vernon City | 3,723 |
| Ohio | New Albany-Plain Local | 5,047 |
| Ohio | Nordonia Hills City | 3,605 |
| Ohio | North Canton City | 4,297 |
| Ohio | North Ridgeville City | 4,393 |
| Ohio | North Royalton City | 4,065 |
| Ohio | Norton City | 2,558 |
| Ohio | Oak Hills Local | 7,657 |
| Ohio | Old Fort Local | 668 |
| Ohio | Pickerington Local | 10,665 |
| Ohio | Portsmouth City | 1,687 |
| Ohio | Ravenna City | 2,288 |
| Ohio | Ripley-Union-Lewis-Huntington Local | 780 |
| Ohio | Rittman Exempted Village | 991 |
| Ohio | River View Local | 1,958 |
| Ohio | Salem City | 2,084 |
| Ohio | Sandusky City Schools | 3,195 |
| Ohio | South-Western City School District | 22,780 |
| Ohio | St Henry Consolidated Local | 996 |
| Ohio | Teays Valley Local | 4,086 |
| Ohio | Twin Valley Community Local | 822 |
| Ohio | Vinton County Local | 1,987 |
| Ohio | Walnut Township Local | 486 |
| Ohio | Warrensville Heights City | 1,704 |
| Ohio | Washington-Nile Local | 1,453 |
| Ohio | Wayne Local | 1,478 |
| Ohio | Worthington City | 10,621 |
| Oklahoma | Ardmore | 2,840 |
| Oklahoma | Bennington | 344 |
| Oklahoma | Broken Arrow School District | 19,070 |
| Oklahoma | Carney | 253 |
| Oklahoma | Choctaw/Nicoma Park | 5,700 |
| Oklahoma | Covington-Douglas | 288 |
| Oklahoma | Deer Creek School District 6 | 6,646 |
| Oklahoma | Durant | 3,746 |
| Oklahoma | Edmond School District | 25,281 |
| Oklahoma | Fort Supply | 130 |
| Oklahoma | Latta | 934 |
| Oklahoma | Maysville | 310 |
| Oklahoma | Mooreland | 528 |
| Oklahoma | Morrison | 597 |
| Oklahoma | Norwood | 130 |
| Oklahoma | Okeene | 346 |
| Oklahoma | Olive | 285 |
| Oklahoma | Putnam City Schools | 19,419 |
| Oklahoma | Savanna | 403 |
| Oklahoma | Tulsa Public Schools | 36,512 |
| Oklahoma | Union City | 318 |
| Oklahoma | Wister | 491 |
| Oklahoma | Yukon School District I-27 | 8,886 |
| Ontario | Niagara Catholic District School Board | 23,908 |
| Ontario | Ottawa Catholic School Board | 39,314 |
| Oregon | Gervais SD 1 | 1,291 |
| Oregon | Gresham-Barlow SD 10J | 11,967 |
| Oregon | John Day SD 3 | 588 |
| Oregon | Klamath Falls City Schools | 2,970 |
| Oregon | Lake Oswego SD 7J | 7,066 |
| Oregon | Mapleton SD 32 | 158 |
| Pennsylvania | Ambridge Area SD | 2,397 |
| Pennsylvania | Bald Eagle Area SD | 1,580 |
| Pennsylvania | Baldwin-Whitehall SD | 4,364 |
| Pennsylvania | Beaver Area SD | 2,005 |
| Pennsylvania | Bentworth SD | 1,138 |
| Pennsylvania | Bermudian Springs SD | 1,921 |
| Pennsylvania | Bethel Park SD | 4,065 |
| Pennsylvania | Blue Mountain SD | 2,585 |
| Pennsylvania | Blue Ridge SD | 958 |
| Pennsylvania | Bristol Borough SD | 1,225 |
| Pennsylvania | Brookville Area SD | 1,500 |
| Pennsylvania | Brownsville Area SD | 1,579 |
| Pennsylvania | Burgettstown Area SD | 1,066 |
| Pennsylvania | Butler Area SD | 6,291 |
| Pennsylvania | Camp Hill SD | 1,335 |
| Pennsylvania | Canon-Mcmillan SD | 5,341 |
| Pennsylvania | Catasauqua Area SD | 1,482 |
| Pennsylvania | Central Cambria SD | 1,612 |
| Pennsylvania | Central Dauphin SD | 11,996 |
| Pennsylvania | Clarion Area SD | 781 |
| Pennsylvania | Cranberry Area SD | 1,130 |
| Pennsylvania | Cumberland Valley SD | 9,151 |
| Pennsylvania | Deer Lakes SD | 1,891 |
| Pennsylvania | East Penn SD | 8,242 |
| Pennsylvania | Fort Cherry SD | 996 |
| Pennsylvania | Freeport Area SD | 1,859 |
| Pennsylvania | Garnet Valley SD | 4,750 |
| Pennsylvania | Glendale SD | 765 |
| Pennsylvania | Greater Latrobe SD | 3,719 |
| Pennsylvania | Haverford Township SD | 6,424 |
| Pennsylvania | Highlands SD | 2,520 |
| Pennsylvania | Homer-Center SD | 847 |
| Pennsylvania | Hopewell Area SD | 2,109 |
| Pennsylvania | Jefferson-Morgan SD | 729 |
| Pennsylvania | Jersey Shore Area SD | 2,321 |
| Pennsylvania | Johnsonburg Area SD | 582 |
| Pennsylvania | Kennett Consolidated SD | 4,145 |
| Pennsylvania | Keystone Oaks SD | 1,908 |
| Pennsylvania | Kiski Area SD | 3,634 |
| Pennsylvania | Lake-Lehman SD | 1,752 |
| Pennsylvania | Lakeland SD | 1,449 |
| Pennsylvania | Laurel Highlands SD | 2,928 |
| Pennsylvania | Lower Moreland Township SD | 2,322 |
| Pennsylvania | Loyalsock Township SD | 1,544 |
| Pennsylvania | Maritime Academy Charter School | 819 |
| Pennsylvania | Minersville Area SD | 1,128 |
| Pennsylvania | Mohawk Area SD | 1,437 |
| Pennsylvania | Montour SD | 2,884 |
| Pennsylvania | Moon Area SD | 3,851 |
| Pennsylvania | Mount Pleasant Area SD | 2,005 |
| Pennsylvania | New Castle Area SD | 3,141 |
| Pennsylvania | New Foundations Cs | 1,481 |
| Pennsylvania | Norristown Area SD | 7,491 |
| Pennsylvania | North Allegheny SD | 8,493 |
| Pennsylvania | North Penn SD | 12,718 |
| Pennsylvania | Northampton Area SD | 5,544 |
| Pennsylvania | Northeastern York SD | 3,881 |
| Pennsylvania | Northgate SD | 1,073 |
| Pennsylvania | Octorara Area SD | 2,258 |
| Pennsylvania | Oil City Area SD | 1,878 |
| Pennsylvania | Otto-Eldred SD | 624 |
| Pennsylvania | Pen Argyl Area SD | 1,568 |
| Pennsylvania | Penn Cambria SD | 1,658 |
| Pennsylvania | Penn Hills SD | 3,360 |
| Pennsylvania | Pine Grove Area SD | 1,593 |
| Pennsylvania | Pittsburgh SD | 22,934 |
| Pennsylvania | Pittston Area SD | 3,258 |
| Pennsylvania | Plum Borough SD | 3,648 |
| Pennsylvania | Port Allegany SD | 890 |
| Pennsylvania | Purchase Line SD | 812 |
| Pennsylvania | Radnor Township SD | 3,682 |
| Pennsylvania | Riverside SD | 1,533 |
| Pennsylvania | Rockwood Area SD | 692 |
| Pennsylvania | Schuylkill Haven Area SD | 1,194 |
| Pennsylvania | Shenango Area SD | 1,106 |
| Pennsylvania | South Allegheny SD | 1,531 |
| Pennsylvania | Springfield Township SD | 2,564 |
| Pennsylvania | Tussey Mountain SD | 891 |
| Pennsylvania | Tyrone Area SD | 1,885 |
| Pennsylvania | Union City Area SD | 1,097 |
| Pennsylvania | Union SD | 553 |
| Pennsylvania | Uniontown Area SD | 2,721 |
| Pennsylvania | Upper Saint Clair SD | 4,055 |
| Pennsylvania | Wallingford-Swarthmore SD | 3,644 |
| Pennsylvania | Warren County SD | 3,947 |
| Pennsylvania | Wattsburg Area SD | 1,336 |
| Pennsylvania | West Greene SD | 649 |
| Pennsylvania | West Mifflin Area SD | 2,760 |
| Pennsylvania | Western Beaver County SD | 757 |
| Pennsylvania | York Suburban SD | 3,027 |
| Pennsylvania | Yough SD | 1,914 |
| Rhode Island | Cranston Public Schools | 10,479 |
| Rhode Island | Davies Career And Tech | 868 |
| Rhode Island | East Greenwich | 2,535 |
| Rhode Island | North Providence | 3,565 |
| Rhode Island | South Kingstown | 2,978 |
| Rhode Island | Warwick School District | 8,800 |
| Rhode Island | West Warwick | 3,579 |
| South Carolina | Aiken 01 School District | 24,135 |
| South Carolina | Anderson 05 | 13,227 |
| South Carolina | Bamberg County Schools | 1,299 |
| South Carolina | Beaufort 01 School District | 22,235 |
| South Carolina | Berkeley 01 School District | 36,135 |
| South Carolina | Charleston 01 School District | 49,769 |
| South Carolina | Cherokee 01 | 8,756 |
| South Carolina | Chester 01 | 5,168 |
| South Carolina | Chesterfield 01 | 6,955 |
| South Carolina | Clarendon County School District | 753 |
| South Carolina | Darlington 01 | 9,972 |
| South Carolina | Dorchester 02 School District | 26,217 |
| South Carolina | Fairfield 01 | 2,632 |
| South Carolina | Florence 01 School District | 16,153 |
| South Carolina | Florence 02 | 1,155 |
| South Carolina | Georgetown 01 | 9,315 |
| South Carolina | Greenville 01 School District | 76,158 |
| South Carolina | Hampton 01 | 2,205 |
| South Carolina | Horry 01 School District | 44,931 |
| South Carolina | Lancaster 01 | 13,532 |
| South Carolina | Lexington 01 School District | 26,737 |
| South Carolina | Lexington 05 School District | 17,409 |
| South Carolina | Orangeburg County School District | 2,636 |
| South Carolina | Richland 01 School District | 23,711 |
| South Carolina | Richland 02 School District | 28,394 |
| South Carolina | Sumter School District | 16,584 |
| South Carolina | York 01 | 5,245 |
| South Carolina | York 04 | 16,081 |
| South Dakota | Haakon School District 27-1 | 310 |
| South Dakota | Harrisburg School District 41-2 | 4,841 |
| South Dakota | Howard School District 48-3 | 362 |
| South Dakota | Rapid City Area School District 51-4 | 13,832 |
| South Dakota | Sioux Falls School District 49-5 | 25,018 |
| Tennessee | Anderson County School Distrct | 6,481 |
| Tennessee | Bradley County School District | 10,325 |
| Tennessee | Cheatham County School Distrct | 6,054 |
| Tennessee | Clarksville-Montgomery County Schools | 35,366 |
| Tennessee | Cleveland City School District | 5,762 |
| Tennessee | Fentress County School Distrct | 2,263 |
| Tennessee | Hamilton County School District | 45,052 |
| Tennessee | Lawrence County School District | 6,969 |
| Tennessee | Lebanon City Elementary School District | 3,892 |
| Tennessee | Marshall County School Distrct | 5,450 |
| Tennessee | Memphis Business Academy SD | 1,486 |
| Tennessee | Moore County School District | 882 |
| Tennessee | Morgan County School District | 2,898 |
| Tennessee | Rutherford County School Dist | 46,303 |
| Tennessee | Washington County School Dist | 8,431 |
| Texas | Aldine ISD | 66,854 |
| Texas | Amarillo ISD | 32,829 |
| Texas | Anahuac ISD | 1,325 |
| Texas | Anson ISD | 749 |
| Texas | Arlington ISD | 59,900 |
| Texas | Beaumont ISD | 18,470 |
| Texas | Blanco ISD | 1,011 |
| Texas | Bonham ISD | 1,887 |
| Texas | Brooks Academy Of Science And Engineering | 3,322 |
| Texas | Brownsville ISD | 44,402 |
| Texas | Canutillo ISD | 6,246 |
| Texas | Cedar Hill ISD | 7,790 |
| Texas | Clear Creek ISD | 42,205 |
| Texas | Cleveland ISD | 6,584 |
| Texas | Community ISD | 2,385 |
| Texas | Crandall ISD | 4,420 |
| Texas | Crowley ISD | 15,728 |
| Texas | Cumby ISD | 386 |
| Texas | Dallas ISD | 155,119 |
| Texas | Deweyville ISD | 579 |
| Texas | Elysian Fields ISD | 916 |
| Texas | Fort Worth ISD | 84,510 |
| Texas | Frisco ISD | 60,182 |
| Texas | Granbury ISD | 7,346 |
| Texas | Hearne ISD | 821 |
| Texas | Houston ISD | 209,772 |
| Texas | Hurst-Euless-Bedford ISD | 23,686 |
| Texas | Hutto ISD | 8,960 |
| Texas | Ira ISD | 267 |
| Texas | Irving ISD | 33,464 |
| Texas | Krum ISD | 2,049 |
| Texas | Lancaster ISD | 7,348 |
| Texas | Lewisville ISD | 52,218 |
| Texas | Lipan ISD | 436 |
| Texas | Lorena ISD | 1,728 |
| Texas | Los Fresnos CISD | 10,739 |
| Texas | Magnolia ISD | 13,264 |
| Texas | Mesquite ISD | 40,379 |
| Texas | Midland ISD | 26,183 |
| Texas | New Caney ISD | 15,381 |
| Texas | Northwest ISD | 24,141 |
| Texas | Panhandle ISD | 702 |
| Texas | Randolph Field ISD | 1,468 |
| Texas | Richardson ISD | 39,108 |
| Texas | Rockwall ISD | 16,587 |
| Texas | Roma ISD | 6,238 |
| Texas | San Felipe Del Rio CISD | 10,437 |
| Texas | Slidell ISD | 271 |
| Texas | Spring ISD | 35,385 |
| Texas | Stanton ISD | 1,098 |
| Texas | Terrell ISD | 4,711 |
| Texas | Tomball ISD | 16,962 |
| Texas | Van ISD | 2,420 |
| Texas | Venus ISD | 2,203 |
| Texas | Wellington ISD | 586 |
| Texas | West Oso ISD | 2,095 |
| Texas | White Deer ISD | 352 |
| Utah | Daggett District | 206 |
| Utah | Granite District | 66,767 |
| Utah | Kane District | 1,358 |
| Utah | Merit College Preparatory Academy | 445 |
| Virginia | Accomack Co Public Schools | 5,115 |
| Virginia | Alexandria City Public Schools | 15,966 |
| Virginia | Arlington County Public Schools | 27,434 |
| Virginia | Bedford Co Public Schools | 9,632 |
| Virginia | Buchanan Co Public Schools | 2,758 |
| Virginia | Campbell Co Public Schools | 7,890 |
| Virginia | Carroll County Public Schools | 3,762 |
| Virginia | Charlottesville Cty Public Schools | 4,559 |
| Virginia | Chesapeake City Public Schools | 40,879 |
| Virginia | Chesterfield County Public Schools | 61,552 |
| Virginia | Craig Co Public Schools | 602 |
| Virginia | Culpeper Co Public Schools | 8,235 |
| Virginia | Franklin City Public Schools | 1,075 |
| Virginia | Frederick County Public Schools | 13,627 |
| Virginia | Halifax Co Public Schools | 4,960 |
| Virginia | Hampton City Public Schools | 19,589 |
| Virginia | Hanover County Public Schools | 17,726 |
| Virginia | Henrico County Public Schools | 51,523 |
| Virginia | Hopewell City Public Schools | 4,372 |
| Virginia | Loudoun County Public Schools | 81,906 |
| Virginia | Louisa Co Public Schools | 4,906 |
| Virginia | Lynchburg City Public Schools | 8,263 |
| Virginia | Madison Co Public Schools | 1,690 |
| Virginia | Mecklenburg Co Public Schools | 4,215 |
| Virginia | Montgomery County Public Schools | 9,924 |
| Virginia | New Kent Co Public Schools | 3,306 |
| Virginia | Norfolk City Public Schools | 30,087 |
| Virginia | Nottoway Co Public Schools | 2,043 |
| Virginia | Petersburg City Public Schools | 4,194 |
| Virginia | Pittsylvania Co Public Schools | 8,845 |
| Virginia | Portsmouth City Public Schools | 14,006 |
| Virginia | Prince William County Public Schools | 90,843 |
| Virginia | Richmond City Public Schools | 24,763 |
| Virginia | Roanoke City Public Schools | 13,685 |
| Virginia | Roanoke County Public Schools | 14,121 |
| Virginia | Rockingham Co Public Schools | 11,913 |
| Virginia | Russell Co Public Schools | 3,785 |
| Virginia | Shenandoah Co Public Schools | 6,030 |
| Virginia | Smyth Co Public Schools | 4,332 |
| Virginia | Spotsylvania Co Public Schools | 23,668 |
| Virginia | Stafford Co Public Schools | 29,270 |
| Virginia | Suffolk City Public Schools | 14,265 |
| Virginia | Sussex Co Public Schools | 1,074 |
| Virginia | Tazewell Co Public Schools | 5,653 |
| Virginia | Virginia Beach City Public Schools | 68,624 |
| Virginia | Warren Co Public Schools | 5,298 |
| Virginia | Washington County Public Schools | 7,090 |
| Virginia | Williamsburg-James City Public Schools | 11,666 |
| Virginia | York Co Public Schools | 12,750 |
| Washington | Bethel School District | 20,130 |
| Washington | Burlington-Edison School District | 3,559 |
| Washington | Carbonado School District | 195 |
| Washington | Eatonville School District | 1,979 |
| Washington | Enumclaw School District | 4,183 |
| Washington | Everett Public Schools | 20,863 |
| Washington | Finley School District | 885 |
| Washington | Grand Coulee Dam School District | 770 |
| Washington | Lake Stevens School District | 9,192 |
| Washington | Marysville School District | 11,196 |
| Washington | Montesano School District | 1,439 |
| Washington | Naches Valley School District | 1,275 |
| Washington | Nespelem School District | 160 |
| Washington | Oakville School District | 223 |
| Washington | Puyallup School District | 23,222 |
| Washington | Reardan-Edwall School District | 619 |
| Washington | Riverview School District | 3,199 |
| Washington | Selkirk School District | 287 |
| Washington | South Kitsap School District | 9,811 |
| Washington | Spokane Public Schools | 30,231 |
| Washington | Tenino School District | 1,314 |
| Washington | Tukwila School District | 3,046 |
| Washington | Vancouver Public Schools | 23,408 |
| Washington | Wahluke School District | 2,563 |
| West Virginia | Cabell County Schools | 12,517 |
| West Virginia | Doddridge County Schools | 1,124 |
| West Virginia | Grant County Schools | 1,653 |
| West Virginia | Greenbrier County Schools | 4,868 |
| West Virginia | Hampshire County Schools | 3,024 |
| West Virginia | Institutional Educational Programs | 626 |
| West Virginia | Marshall County Schools | 4,647 |
| West Virginia | Mercer County Schools | 9,004 |
| West Virginia | Monongalia County Schools | 11,679 |
| West Virginia | Ohio County Schools | 5,278 |
| West Virginia | Taylor County Schools | 2,435 |
| West Virginia | Wayne County Schools | 6,766 |
| West Virginia | Wetzel County Schools | 2,511 |
| West Virginia | Wood County Schools | 12,423 |
| Wisconsin | Athens School District | 415 |
| Wisconsin | Baraboo School District | 2,972 |
| Wisconsin | Belleville School District | 887 |
| Wisconsin | De Forest Area School District | 3,828 |
| Wisconsin | Denmark School District | 1,560 |
| Wisconsin | Mount Horeb Area School District | 2,522 |
| Wisconsin | Racine Unified School District | 17,862 |
| Wisconsin | Ripon Area School District | 1,600 |
| Wisconsin | Stanley-Boyd Area School District | 1,099 |
| Wisconsin | Stevens Point Area School District | 7,144 |
| Wisconsin | Whitehall School District | 768 |
| Wyoming | Park County School District # 1 | 1,848 |
| Wyoming | Platte County School District #1 | 1,014 |
Engaging & Free Whole Child Resources
Hundreds of standards-aligned lessons that grow with your students