How One School District is Transforming Its SEL Efforts
Frisco ISD and the EVERFI Impact Framework
School districts across the country have reached an inflection point regarding critical health, wellness, and safety issues impacting their students: mental health, bullying, and navigating social and online challenges.
Leaders at all levels of educational systems see unprecedented accountability from stakeholders. The expectation: do more and better work to get ahead of these challenges. This rightful call to action underscores the need for system-wide approach to social and emotional learning.
To that end, EVERFI has developed a research-backed, public health framework to drive individual and institutional impact. This approach centers around four critical components of a comprehensive strategy: programming, policies, critical processes, and institutionalization. Viewed as a pyramid, each of these components relies upon the foundational elements below and supports the elements above.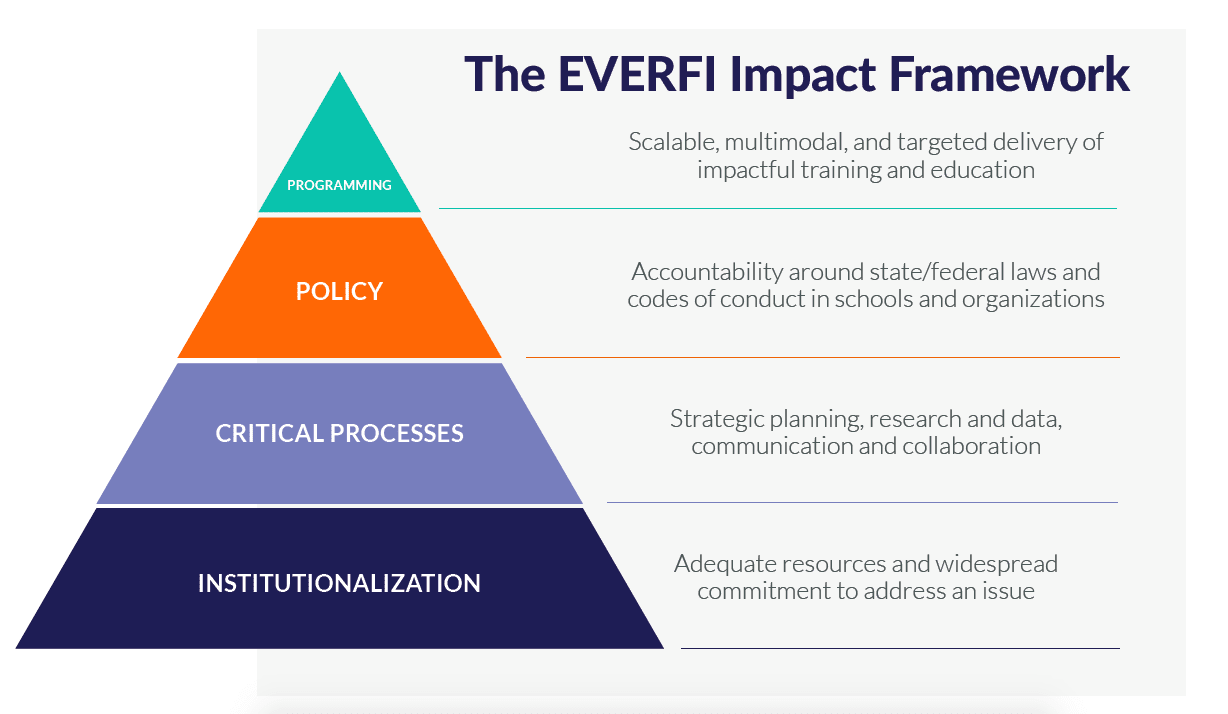 About Frisco Independent School District
The Frisco Independent School District located north of Dallas, TX is a growing district serving more than 60,000 students. Frisco ISD utilizes a student opportunities model that has guided them through three decades of explosive enrollment growth. Frisco ISD currently partners with EVERFI to provide their students with population-level education on the topics of mental health education, character education, and anti-bullying education as part of their broader SEL strategy.
In exploring Frisco ISD's EVERFI course data, EVERFI researchers observed that their students endorsed significantly higher rates of prosocial behavior including healthy attitudes related to mental health, character, and bullying, as well as significantly higher rates of student perceptions that they were a part of a community that cares about them. In pre- to post-course survey responses, Frisco ISD saw increases that were at least double the national average on both mental health and character-building questions.
This case study is presented to highlight their efforts and gain a deeper understanding of the systemic strategies that they are utilizing to support student well-being.