Overview
FREE FOR K-12 TEACHERS, STUDENTS, AND DISTRICTS
SaveUp: Saving Money for the Future
Savings Simulation For Middle School Students
STUDENT LEARNING OBJECTIVES
Setting Smart Financial Goals
Budgeting
Savings
Emergency planning
Banking
Spending
Unexpected Expenses
SAVEUP OVERVIEW
Starting out in life with a strong financial literacy foundation is crucial to students' long-term success. This is why we have created a free interactive, digital course called SaveUp. Through engaging self-paced lessons, middle school students are provided with the knowledge and skills they need to become informed consumers on how to save money, thus prompting them to begin saving as early as possible. In this course, students will learn why saving is important, how to budget and spend wisely, how to build an emergency savings, why savings can help reach financial goals, setting short-, mid-, and long-term goals and how to open a savings account.
We know that developing good financial literacy means recognizing the importance of budgeting savings and spending wisely. Help your students thrive by using SaveUp in the classroom today!
[Currently available only to U.S. Schools]
KEY DETAILS
BEST FIT:
Economics, Business or Social Studies, Career Readiness
TIME PER LESSON / TOTAL DURATION:
10 Minutes / 40 Minutes
STANDARDS
Jump$tart Coalition's National Standards for K-12 Personal Finance Education, National Curriculum Standards for Social Studies, State Academic Standards
LANGUAGES
English, Spanish
How can I save money?
Students will recognize the importance of budgeting savings and spending wisely including how to save more, identifying needs vs. wants, reducing expenses, increasing income and what to do when real life / crisis happens.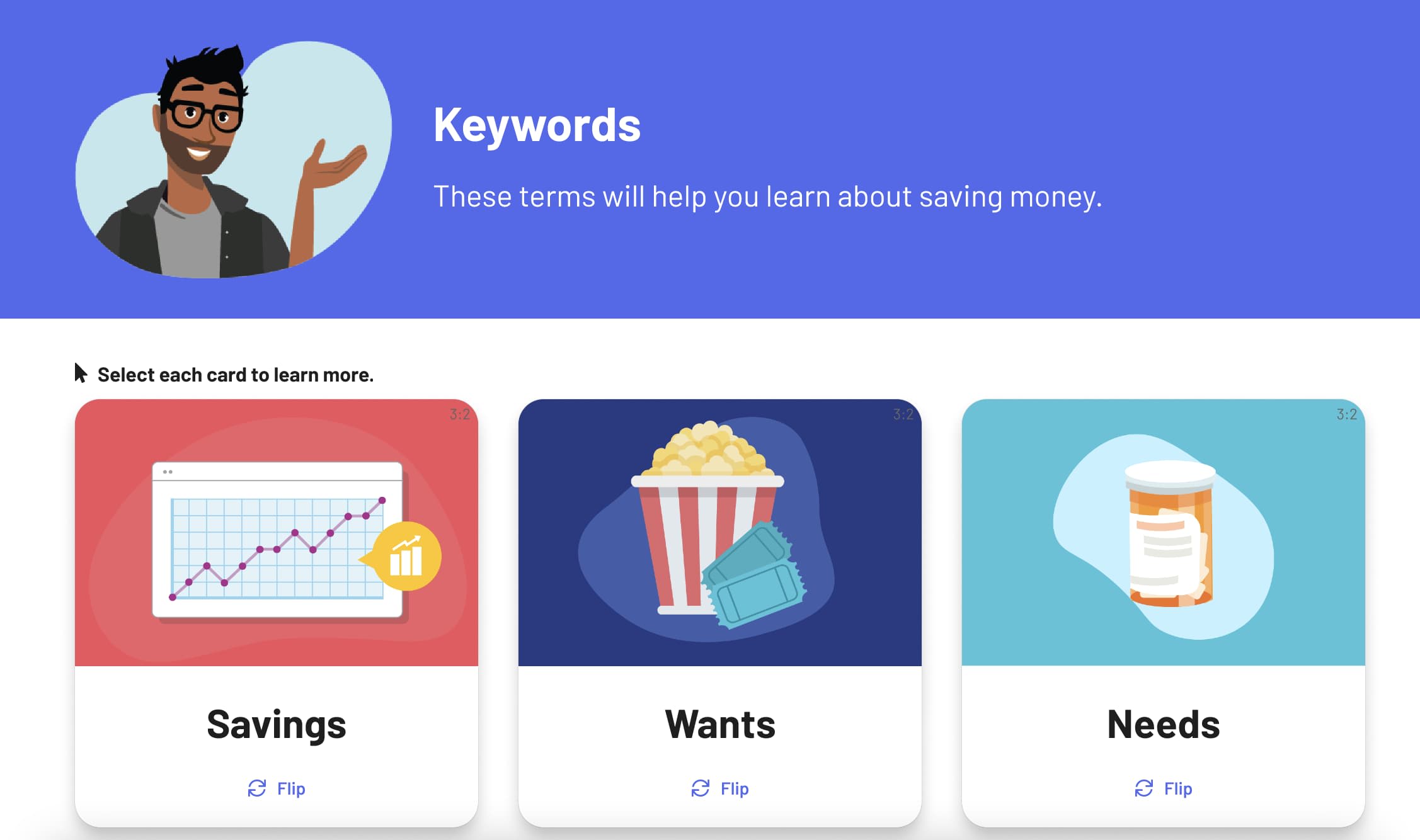 Hear Why Teachers Love Using EVERFI
"I think it is important for students to learn about financial literacy and budgeting because these courses teach students real life skills that they are going to need in their everyday life to be successful and survive in the real world."
Gabriel A.
High School Teacher
Texas
"I liked that is student paced, pre & post-assessments, as well as it gives an opportunity for the students to go back through the course. Content is great!"
Teacher
Southern York County District
Pennsylvania
"This course helps students to learn concepts that have never been introduced in a short span and with meaningful, real-world application."
Teacher
New Jersey
Create Your Teacher Account