Children's Books & Literacy Lessons to Leave a Lasting Impression
Early Literacy | 9 Minute Read
Children's Books & Literacy Lessons to Leave a Lasting Impression
Just in time for Read Across America Day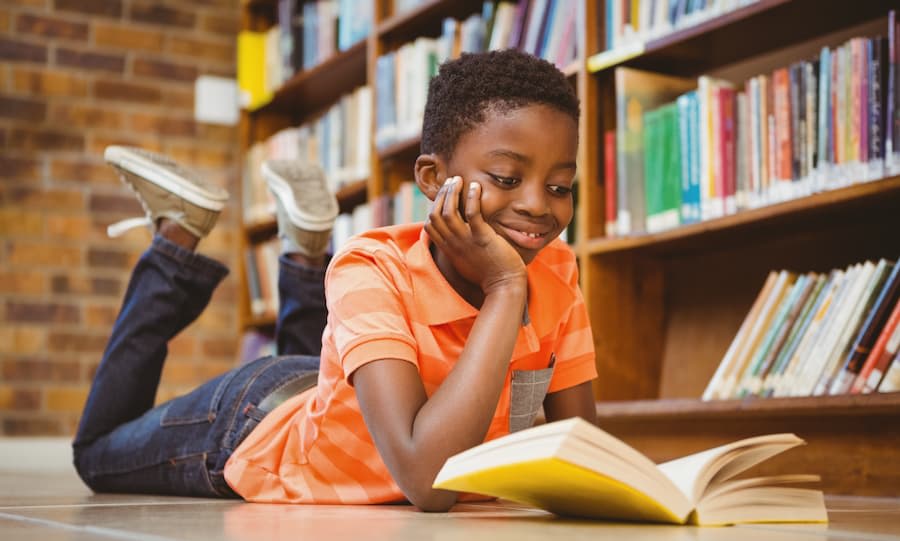 Update: Shortly after this blog was shared, someone in our educator network reached out to help educate us on one of the authors included and his roots in racism. I understand that sometimes the cherished books and authors from our childhood may have a history we are unaware of. We at EVERFI are committed to the work of anti-racism, which means continually learning and educating ourselves in the pursuit of diversity, equity and inclusion. This offered me the opportunity to educate myself and work to share resources, books, and authors that better promote those shared ideals. I have decided to remove those books from this list, in an effort to reduce feelings of harm or exclusion they may have caused. From one lifelong learner to another, I hope you'll be gracious with me as I continue to learn. And to every teacher working to make sure your students feel represented and included in the stories you share, thank you and happy Read Across America Day.
Read Across America Day is around the corner
On March 2nd, schools across the country will pause their usual hustle and bustle of activities, opting instead to fill the day with story time, read-alouds, and literacy-themed fun. This time honored tradition holds fond memories for children and adults alike. For many, it's a day to let your imagination run wild. For teachers, it's a day to help instill a love of reading.
With so many resources out there, I wanted to share the books that left a lasting impression on our team, as well as some of our favorite ready-made literacy activities to help build up students' literacy skills.
Instill the literacy skills students need to fall in love with reading
Providing students with independent practice on the skills that make them strong readers just got easier with WORD Force. Geared toward K-2 students learning to read, these games are filled with unicorns, aliens, and talking plants who help students with their phonemes, rhyming, sight words, vocabulary and reading comprehension.
To help build literary fluency, I recommend adding these interactive games to supplement your existing curriculum or use them as a skill based intervention tool. Getting access is easy—log into your EVERFI teacher account, and find WORD Force, then click Create Class to share with students.
Your students' next literacy adventure awaits. Get free access here.
Find your next read-aloud in these crowd favorites
---
Sheep on a Ship
by Nancy Shaw
I used to read this book to my students and we would all be laughing, slapping knees, and sometimes rolling on the floor after we were finished! It was my favorite for getting students excited about reading and helping with rhyming and letter sounds after it was my own favorite childhood book. When I was young, I would visit my grandmother in Virginia and she would read the book to me. It was such a special part of the trip that I always looked forward to!
Recommended for ages 3-9 years old
-Nichole B.
---
Hatchet
by Gary Paulsen
I read this with my 10 year old son recently. It's about a boy who flies to visit his father. The plain crashes in the wilderness of Canada and the boy has to fend for himself. It's filled with adventure, ingenuity, fear, sadness and determination. The one thing that both my son and I got from this book was that self-pity is ok for a moment but then it's just destructive. Feel sad then start problem solving. Things will get better if you commit to it.
Recommended for ages 10 and up.
-Mike O.
---
Goodnight Moon
by Margaret Wise Brown
Before I was old enough to read on my own, I would beg my mom to read me Goodnight Moon several times, every night [she's a saint!]. I was an anxious child, and still anxious adult, so bedtime routines and calling a close to the day was always tough for me. There was something about the rhythm of the words and smoothing images in the book that would calm me while reminding me that the world is slowing for the night so I should be as well.
Great for emerging readers.
-Alyssa L.
---
Life Doesn't Frighten Me
by Maya Angelou (Author), Jean-Michel Basquiat (Artist)
This book was one of the first to really draw me in as a young child. I have fond memories of sitting in my father's lap reading aloud the beautiful words of the late Maya Angelou(African-American poet) while simultaneously oohing and aahing at and the bold, fierce, and colorful paintings of Jean-Michel Basquiat (Haitian-AmericanArtist). This book made me feel courageous, like I could truly take on the world. As an adult, this book still has the power to move me —  and as a mom, I look forward to the day that I can share it with my little girl Irie.
Recommended for ages 3-7 years old
-Kelly C.
---
Stellaluna
by Janell Cannon
As a child I was captivated by the heartwarming story, Stellaluna. When a baby fruit bat becomes separated from her mother, she finds herself afraid and alone on a tree branch. When all hope seems lost, a mother bird and her chicks adopt Stellaluna. She teaches them how bats live, and they show her their bird ways. As a child, this showed me that there are many types of families– love is the only thing that matters. This story also teaches children that it's okay to be different or do things differently. One sweet moment that illustrates this: Stellaluna sleeps "upside down" from the bird's perspective, but to her, the birds are the ones who are flip-flopped.
Recommended for ages 5-8 years old
-Catherine H.
---
Love you Forever
by Robert Munsch
It is a heartwarming picture book that talks about unconditional love. The concept of unconditional love is a hard one to grasp, but through this book, I think every reader can relate to that feeling. It can also show young readers the importance of empathy and nurturing others.
Recommended for Kindergarten ages: 3 – 5 | Reading Level GRL: I
-Swara N.
---
Rabbit's Gift
by George Shannon
Read this book with both of my sons when they were younger as a bedtime story, particularly during the winter months. It's a great story to teach compassion and the joy that someone feels from sharing with their friends.
Recommended for Preschool – Grade 3

-Greg B.
---
The Polar Express
by Chris Van Allsburg
I used to ask my parents and older brothers to read this book to me as a child every Christmas…and sometimes at other points in the year. Not only did the pictures and artwork really captivate me but the story itself is so wonderful and heartfelt. As a child it showed me that magic exists and Santa can bring so much happiness, love, and hope. As an adult it's a reminder that we do not always have to see something to believe in it. There is so much power in having an imagination and believing that part of the joy of Christmas is just leaning into the spirit of the holidays.
Great for readers of all ages who love holidays and whimsy.
-Cara H.
---
Me First
by Helen Lester
I discovered this book when I was student teaching and made a point to read it to every class I taught after that. This story uses one hilarious misunderstanding and wordplay to make a serious point about the hurt that self-centeredness can cause. It had my students and me cackling year after year. Just be careful anytime you hear someone ask, "Who would care for a sand witch?" You might not realize what you're getting yourself into.
I found it connected best with 3rd-5th graders.
-Tracey B.