5 Things Every K-12 Administrator Should Know About EVERFI
5 Things Every K-12 Administrator Should Know About EVERFI

Our K-12 Team spends time with tens of thousands of educators each year to ensure teachers feel empowered in leveraging our digital learning resources in their classrooms. Just this school year alone, 44,003 teachers committed to learning more about EVERFI and using EVERFI's resources in their classrooms. Because of the thoughtful questions we receive from educators and administrators, we know exceptional programming is top of mind for you. With these considerations in mind, today we're sharing the five things every administrator should know about EVERFI and our platform.
1. What is EVERFI's learning philosophy?
The EVERFI pedagogy blends practical knowledge, personal preparedness, and emotional development into a unique framework we call "Legacy Learning." Each of our resources relies on autonomy, active participation, real-world connections, and ongoing feedback to equip learners with the skills and knowledge they need to advance in school and after. Our pillars for digital learning are connected to a deeper belief that teaching and learning in the 21st century must not stop at traditional core academic skills. While Literacy and Math will always be important, we must educate for the realities beyond K-12 and beyond the school day. To see all the critical skill areas our programs support, head to everfi.com/k-12.
2. What data can you provide my teachers and districts?
All of EVERFI's programs have built-in assessments and optional surveys.
Assessments: The assessments in each of our courses provide teachers with the data that tracks student progress plus their strengths and weaknesses.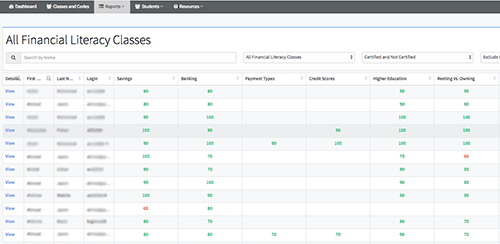 Surveys: Students who are over 13 can take our optional surveys. These surveys exist to accomplish three goals: ensure that the resource content aligns to the social change our courses are designed to provoke, help us better understand the impact our courses have and publish insight reports from our broad dataset (see example here), and provide end-of-year impact reports at the district or state level.
3. Are your resources standards-aligned?
Digital learning is not a replacement for quality in-person instruction, and with this in mind, all EVERFI resources serve as a booster for existing curriculum. Educators are provided state/province and national standard-alignment tools to better pair an EVERFI program with the curriculum they're currently teaching or to support educators looking to fill the gaps.
In our own survey of more than 2,500 teachers, we found that:
88% strongly felt that EVERFI's digital course content enhanced material they were teaching in the classroom.
65% strongly felt that EVERFI's digital course content covered content that their students would not have otherwise seen.
4. How do we ensure a smooth implementation process?
We feel strongly that in order for digital learning and education technology to be successful in helping educators innovate, we must do more than pass on a login. Instead, EVERFI works to serve as a true partner in bringing critical skills learning to your staff and students. Our nationwide implementation team is EVERFI's greatest distinguisher. With more than 80 former educators in the field, EVERFI Schools' Managers live within the communities we serve and can speak to the educational initiatives of your region. This not only allows our team to provide you and your teachers thoughtful and local support relevant to the needs of your school and community but also ensures we're available on your schedule for any professional development and troubleshooting needs.
5. So it's free to our school, but why?
The topic areas that we focus on are some of the most important and critical for students to learn. In order to ensure all students and all schools have access to these resources, EVERFI has built a network of partners and sponsors who fund our programs for your school. EVERFI's partners sign multi-year commitments, giving teachers and administrators the assurance that the programs can be launched at scale to reach all students and even written into the curriculum. Our sole focus is to establish public-private partnerships that enable opportunities for our standards-based critical skills content to be leveraged in schools across North America.
We know quality digital curriculum can bring clarity to difficult-to-teach concepts by representing them in multiple forms, increase engagement by using the same gamification mechanics that are so prevalent in students' lives outside the classroom, and transform static topics into personally meaningful takeaways.
If you're interested in learning more about the resources available to your teachers and students, head to our K-12 page to review resources, learn about our sponsors, and read teacher and student stories.