The Best Pitch Lesson to Introduce Business Plans to Students
The Best Pitch Lesson to Introduce Business Plans to Students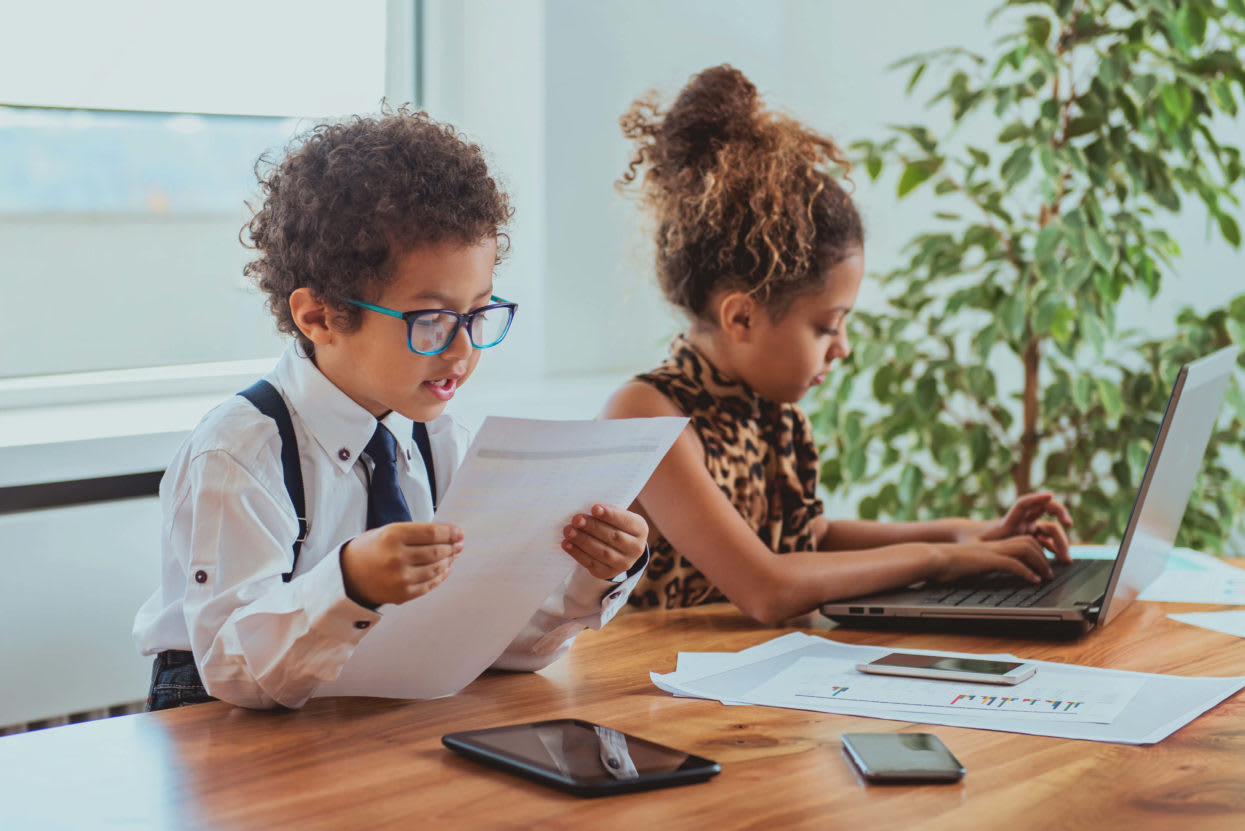 In a classroom in Dallas, Texas, we asked groups of students to identify a problem in their neighborhood and find a creative solution for it. Their empathy and creativity blew me away. They were ready to tackle issues like homelessness, a lack of business attire for low-income areas seeking job mobility, creating healthier and more active communities, replacing toxic products with organic ones, reducing our carbon footprint and more. If these were the types of conversations they were having at ages 10 and 11, I couldn't wait to see what they could accomplish in the future.
The next step was teaching them how to present their ideas in an engaging, succinct way. We encouraged students to be themselves, put their best foot forward, show their passion for their ideas, and to be prepared to present their ideas for no more than 90 seconds. There was excitement in the air on the day of the presentations. For these students, their business pitches were personal, and that seemed to ignite a fire. I could easily picture these passionate students as our future business and community leaders ready to work together and take on difficult problems with creative solutions.
By introducing business and entrepreneurial learning in the elementary classroom, we can support students in developing the skills we so desperately need in our future leaders and citizens — communication, collaboration, and creative problem-solving skills. This activity is a great way to introduce business plans to students and start cultivating those employability skills they will need to be successful.
For this pitch activity, students will have the opportunity to collaborate with each other to problem solve. This is meant to be open-ended so that students come up with an idea that they are not only passionate about but also 'buy in to.' Meant to be engaging for all types of learners (auditory, visual, reading/writing, kinesthetic) this pitch activity encourages students to be creative, explain their thinking, come up with a visual prototype, and practice their oral language skills.
Step 1 – The Set Up: Tell students today is the day they're going to solve a problem and they're then going to convince everyone why it's a great idea. Pair students into groups of 3-4.
Step 2 – The Problem: Give students 5 minutes to brainstorm a problem they might face each day. Consider a classroom set of brainstorming if students are having a hard time and then allowing groups to select from those problems.
EX: they eat breakfast on the way to school and get it all over their clothes, they get sand in their socks during recess, etc.
Step 3 – The Plan: Give students 20 minutes in those same groups to come up with ideas of a solution that would fix their problem. Remind them that this is a brainstorming session so they want to list all ideas and listen to them. They can pick their favorite idea after.
EX: a granola bar that when they unpeel the wrapper, it unwraps into a bowl that collects crumbs, a sock topper that holds their socks up and seals the top so sand doesn't get in.
After the 20 minutes is up, give students another 5 to discuss which solution makes the most sense to develop a product for. They will need to decide as a group which product they will develop a sales pitch for.
Step 4 – The Design: Students will design their product on a poster. Have them list as many adjectives as they can to describe their product to help in their business pitch once they have completed the design on their prototype.
Step 5 – The Pitch: Once students have finished with their posters, explain that they will be giving the class a business pitch to convince them they have the best product in the class. I suggest sharing this video of 10-year-old Jack and his lemonade stand idea as a good pitch example.
Give students this guideline for a 60-second sales pitch
Start with a question.
What is the problem?
What is the name of the solution you came up with?
Why is it a good product?
Who are you selling this to and the cost?
How much money do you want for this idea?
Completing the Lesson
Have students create their business pitch and practice within their pair/group for 10 minutes, then present to the class.
For elementary teachers looking for a free extended learning experience in financial education and business, check out EVERFI's Vault – Understanding Money lessons to navigate the world of income and careers through online games and quizzes.
---