Understanding Gen Z Learning Style
Understanding Gen Z Learning Style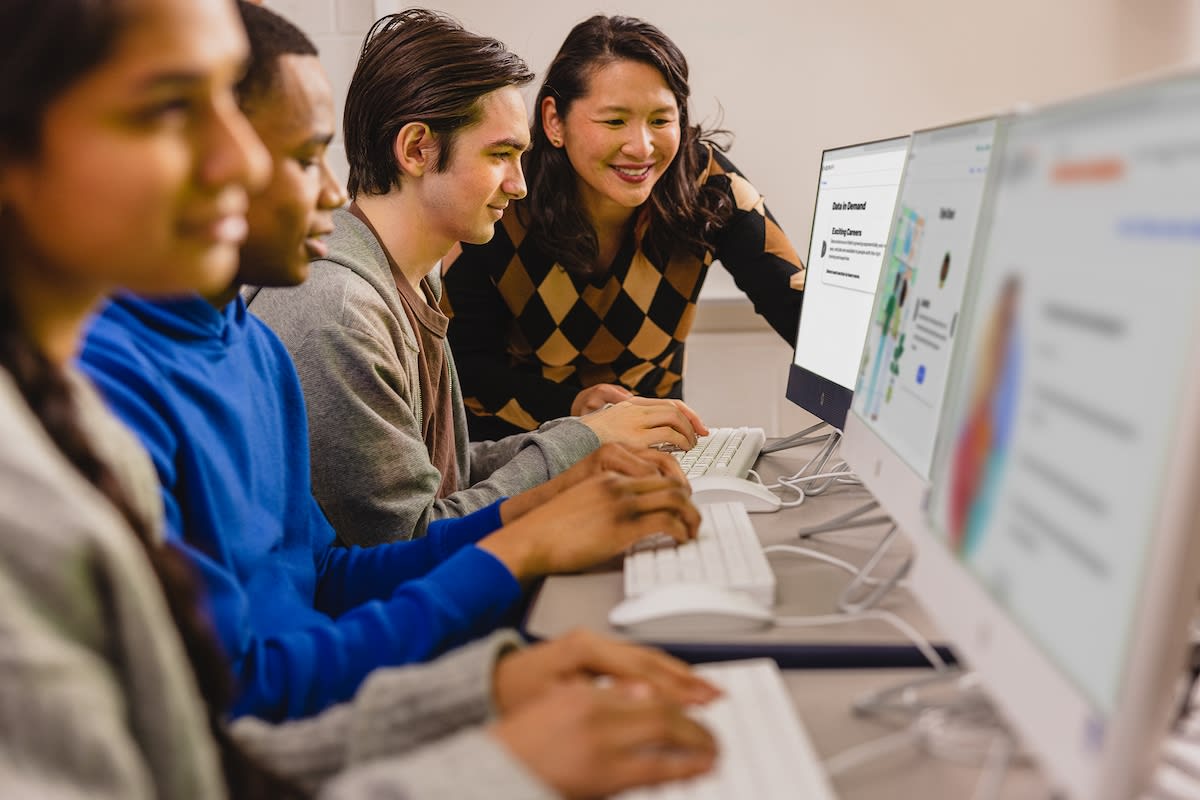 As we think about the students in our classrooms today, "Generation Z," we recognize that the Gen Z learning style may be drastically different from the ways that we learned. Consider your own experiences in school. Was technology available and if so, how was it used for learning? The amount of technology available for use in education today is incredible. Students of all ages are used to having a device and rely on technology for many reasons. It captures their attention, connects them with family and friends, provides entertainment and access to information, and in the past two years, enabled them to continue learning. Even the youngest learners have become quite adept at using digital tools and devices. 
Because of the growing need for technology skills in the world, edtech companies are creating apps and other resources that can be used by early learners and adapt to the newer Gen Z learning style. When it comes to technology, it does not take even the youngest students much time at all to get started and build their skills. 
When I think about my students and compare my own experience as a learner, it's so different. What I've learned over the last couple of years, especially when it comes to Gen Z learning , is how Gen Z needs and wants to be more active in learning. Many students may only be learning passively by sitting and consuming content rather than creating. Digital tools have opened up new ways for students to actively learn, however, it can also negatively impact learning. With access to millions and even billions of resources in less than a second, we have all come to rely on finding answers to our questions immediately. 
While technology enables us to create many beneficial learning experiences, we have to bring it into our classroom with purpose. We also must help students to develop the skills to access, evaluate and process the information they receive. Use of technology has to be about more than just finding answers to questions. We need the right strategies to amplify Gen Z's learning experience and craft learning methods that are more geared towards how Gen Z learns. Strategies that help students to build essential SEL skills, promote student agency and spark curiosity for learning.  How do we best prepare our students for jobs of the future?
Preparing students for the future
As we prepare for our students, finding the methods and tools that will best meet their interests and needs is essential. For many years, I was teaching the way that I had been taught, because it worked for me. However, I noticed that there wasn't a lot of student engagement. Students didn't seem like they were enjoying the class and I didn't feel as though I was connecting with them and them with one another. As a language educator, I know that the content is important, but it is also important weave in methods that will prepare students for whatever lies ahead for them in the future. Building relationships and essential future-focused skills will prepare them.
The world of work is constantly changing and for a long time, we have been focused on the "21st century skills." We need to shift to focusing on social-emotional learning (SEL) and connecting it with how we are preparing our students.  Ask ourselves some questions:
What are the skills they need now and in the future? When we identify these, we can decide on methods to use that will foster the development of those skills.

How can we get students more involved and engaged in learning? 

Why should we bring in new methods and tools and what is the impact?
As we prepare Generation Z, we have to consider the technology, but we also have to help them build a variety of different skills so that in 10, 15, or 20 or more years down the road, they are prepared for whatever the world of work looks like, while focusing on Gen Z learning style. We need students to be future-focused and develop a variety of skill sets.
How do we know what those skill sets are? I recommend looking at resources from the World Economic Forum, which shares the "Job Skills Outlook for 2025." Some of the in demand skills are analytical thinking, collaboration, creativity, innovation, and problem solving. How does Gen Z learn? When it comes to the Gen Z learning style, they are always on the move. Have you noticed how often students are on their devices? Depending on how they are using their technology, they may be seeking acknowledgement, feedback and interactions. With messaging apps and social media, there is constant engagement in some form. Students are actively seeking and sharing information. 
To best prepare students, we have to provide opportunities for students to engage in different learning experiences that foster skills that are transferable to many different areas of life and work. Think about the skills we need as adults in our personal and professional lives. What are the skills we needed during the past two years of experiencing transitions in learning environments and challenges in teaching? These are the same skills that our students need like decision-making, resilience, problem-solving, teamwork and developing empathy. There are very simple ways we can get started with these in our classroom.
Getting Started
First, get to know the students of this new generation. Find out the different ways that they like to learn and what is helpful for them and how. Showing that we value their input and care about them is vital to creating a supportive and engaging learning community in our classrooms. SEL may be something new to some educators and if so, I recommend looking at CASEL for more information and checking out the great resources from EVERFI K-12. We can focus on the five core competencies: Self-awareness, Social-awareness, Self-management, Relationship Building and Responsible Decision-making. Use these as a guide to think about some methods to use for developing these skills and how technology can facilitate those methods.
We know that technology changes so choosing methods that promote more active and student-driven learning will have many benefits. Here are two that have made a big difference in my classroom.
Learning Stations: I felt disconnected from my students as they were lined up in rows. I pushed desks into stations, not totally sure what I was doing, but I knew that it was a step in the right direction. For more support, check out Dr. Catlin Tucker's blog site and book Blended Learning in Action." For stations, think about tools that you use in your classroom. Maybe try hands-on materials and have students make flashcards, create a game, or complete some activities within stations. Add in some digital tools like Blooket, Gimkit or Quizizz or an interactive lesson using Nearpod for example. 
There are many options available, with or without technology, but using a method like stations helps students to not only build content area skills, but to develop SEL skills, all while embodying Gen Z learning style. They develop social awareness as they're working with one another, self-management because the learning activities might be challenging and require goal-setting. They build relationships in the process. However in my class, I could see the benefits when each student had a chance to interact with classmates and engage in learning in a way that wasn't all at the same time and the same pace. The impact? Students told me how much more they liked class compared to the prior year because they were more in charge of their learning and felt more connected with and supported by classmates.
Project-based learning (PBL): Another method that I was totally wrong about years ago is PBL. I thought that I had been doing PBL with my students but instead, I was having them create projects that were finite learning experiences. Spend time exploring PBL Works and and share with students how PBL is different. The best advice I can offer is helping students understand why we're choosing a certain method or using a different tool and what the benefits are. When I started PBL and if you try it in your classroom, explain the purpose, the elements and how it gives them control in their learning path. 
As I said before, Generation Z needs to have a variety of ways to learn and topics of interest to explore. They need to find ways that are comfortable to them and meet them where they are and that they can then build upon. PBL provided this and so much more that is geared toward Gen Z learning style. Ask students what they are interested in learning about. Build global awareness by bringing in the United Nations Sustainable Development Goals (SDGs) and have students identify global issues and then look at their community for similar challenges. With PBL, students build self-management skills because it can be challenging to design your learning path. They build social awareness and empathy as they learn about the world around them. PBL can be used at any level and even across grade levels. Think about connecting students from second, third and fourth grade to work on PBL together. Explore resources available for getting started with PBL like iBlocks which offers a series of lessons and activities, which are teacher-guided but provide students with opportunities to drive their learning, work with technology and create a Capstone project. Leverage tools like Flip for students to share their learning through video and to provide feedback to one another or use a collaborative space like Wakelet where they can share ideas and work together. 
Once you've decided to try PBL and students start researching and creating a product to share their learning, then find the technology that amplifies and facilitates the learning experiences. When it comes to Generation Z and the Gen Z learning style, they learn differently because we have technology and all of these possibilities. So find a method, what is the purpose, and then find the tool that facilitates it while also promoting the development of essential skills. 
Don't forget as part of the process, focus on reflection for the methods we choose. Involve students in that process, especially during PBL. Asking students for their feedback is important. We need it to continue to grow in our practice and it helps us to be intentional about planning our lessons with each students' interests and needs in mind.
About the Author: 
Rachelle Dené Poth is an edtech consultant, presenter, attorney, author, and teacher. Rachelle teaches Spanish and STEAM: What's nExT in Emerging Technology at Riverview Junior Senior High School in Oakmont, PA. Rachelle has a Juris Doctor degree from Duquesne University School of Law and a Master's in Instructional Technology. She is currently pursuing a second doctorate, focused on Educational Technology.
Rachelle is an ISTE Certified Educator and a Microsoft Innovative Educator Expert. She is a past-president of the ISTE Teacher Education Network and served on the Leadership team of the Mobile Learning Network for five years. She received the ISTE Making IT Happen Award in 2019 and has received several Presidential gold and silver awards for her volunteer service to education.  She was named one of 30 K-12 IT Influencers for 2021. In 2017, Rachelle was selected as the 2017 Outstanding Teacher of the Year by PAECT (the Pennsylvania Association for Educational Communications in Technology, the PA affiliate of ISTE) and by the NSBA as one of the "20 to Watch" educators.
Since 2019, Rachelle has written seven books. 'Her newest book "Things I Wish […] Knew"  includes the voices of 50 educators from around the world. She has also contributed to eight other books related to education. She presents regularly at state, national and international conferences and provides professional development and coaching for educators.
Rachelle is a columnist for Getting Smart and a blogger for Defined Learning and NEO LMS. She has a podcast ThriveinEDU and is the host of a PBL Podcast by Defined Learning on the BAM Radio Network.  Rachelle is also a host of ThriveinEDU Live and leads a community of educators on Facebook.
Follow Rachelle on Twitter @Rdene915 and on Instagram @Rdene915.