Overview
Free for K-12 Teachers, Students, and Districts
FutureSmart
Kickstart Financial Literacy For Middle School Students
Student Learning Objectives
Financial Values & Goal-Setting
Budgeting and Opportunity Costs
Saving and Investing
Payment Types
Banking
Risk vs. Return
Planning for the Future
Career Exploration
OVERVIEW
By the time students reach middle school, they have already developed the capacity to understand complex economic concepts, make financial judgments, and assign value to purchases and brands. Yet the majority of today's students don't have the money management skills they need to navigate the modern financial world. The MassMutual Foundation has partnered with EVERFI to develop the FutureSmart Digital course, which offers critical financial literacy for middle and high school students across the United States, absolutely free of charge.
FutureSmart provides financial literacy for kids in grades 6-8 and empowers them to effectively manage their finances, make sound decisions, and become financially responsible. Through a story-based narrative and interactive exercises, students learn to make real-life decisions about their personal finances, as well as how to achieve important goals around saving money, education and career planning, and budgeting.
Through a recent study, researchers found that middle school students who took FutureSmart increased their financial knowledge by 20% more than a control group of their peers, regardless of student demographics. Additional FutureSmart impact stats are available in our blog article. If you are a teacher looking for financial literacy lesson plans for middle school students, FutureSmart is for you.
[Currently available only to U.S. Schools]
KEY DETAILS
BEST FIT:
Economics, Business or Social Studies, Career Readiness
TIME PER LESSON / TOTAL DURATION:
25 Minutes / 3.5 Hours
STANDARDS
Jump$tart Coalition's National Standards for K-12 Personal Finance Education, National Curriculum Standards for Social Studies, State Academic Standards
LANGUAGES
English, Spanish
Welcome Mayor!
Students are introduced to the course storyline and participate in their mayoral inauguration! Students also take a "Financial Personality Test," and reflect on their own personal financial priorities, habits and mindsets.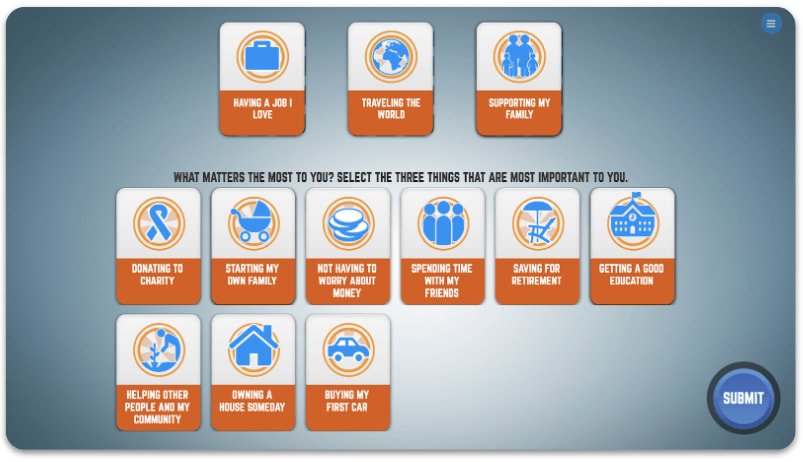 Hear Why Teachers Love This Course
"[FutureSmart] gives the students ownership of their finances and how they choose to spend, and the consequences of their choices."
Teacher
Arizona
"I liked that is student paced, pre & post-assessments, as well as it gives an opportunity for the students to go back through the course. Content is great!"
Teacher
Southern York County District
Pennsylvania
"This course helps students to learn concepts that have never been introduced in a short span and with meaningful, real-world application."
Teacher
New Jersey
Create Your Teacher Account