Overview
FREE FOR K-12 TEACHERS, STUDENTS, AND DISTRICTS
Marketplaces - Investing Basics
Investment Lesson Plans for High School Students
STUDENT LEARNING OBJECTIVES
Financial Markets
Macroeconomics
Company Financing
Personal Investing
OVERVIEW
Marketplaces is a cutting-edge digital learning experience to equip students with an understanding of how the market works and the confidence to participate in it. Through an engaging, gamified learning experience, students blend economic concepts with investing topics to learn how the government, corporations, and individuals come together to participate in the financial marketplace.
KEY DETAILS
BEST FIT:
Economics, Social Science, CTE
TIME PER LESSON / TOTAL DURATION:
20 Minutes / 1.5 Hours
STANDARDS:
Jump$tart's National Standards in K-12 Personal Finance Education, Council of Economic Education's National Standards for Financial Literacy, National Council for the Social Studies C3 Framework, Council of Economic Education's Voluntary National Content Standards in Economics
Marketplaces
Students learn what a financial market is and how their own lives are impacted by the global financial market. They also explore the history of the markets and how stock exchanges have transformed over time. Acting as brokers, students attempt to predict how various industries are impacted by current events.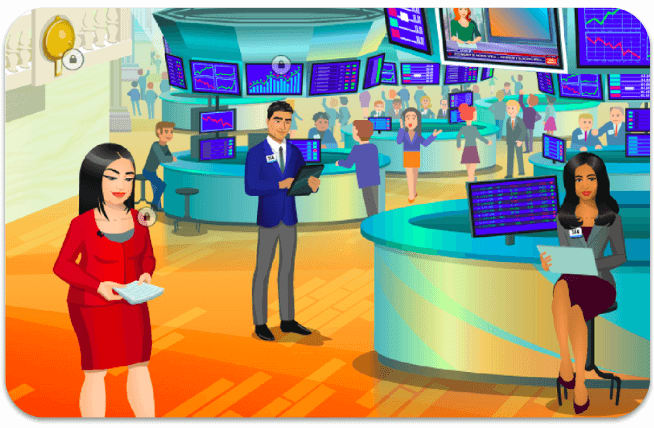 Hear Why Teachers Love This Course
"Great platform for students to become interested in and seeing how investing works in their lives."
Teacher
District ROE 13
Carlyle, IL
"Although more advanced, students have no exposure to this topic in the curriculum and likely not at home either. Very meaningful!"
High School Teacher
Georgia
"Students love it!"
High School Teacher
Gaston County Schools District
North Carolia
Create Your Teacher Account