Overview
FREE FOR K-12 TEACHERS, STUDENTS, AND DISTRICTS
Prescription Drug Safety Course
High School Prescription Drug Education for Misuse Prevention
STUDENT LEARNING OBJECTIVES
Opioids, stimulants, and depressants
Proper prescription drug use, storage, and disposal
Brain and body: the science of substance use disorder
Simulations: refusal and bystander skills
Debunking common myths
PRESCRIPTION DRUG SAFETY COURSE OVERVIEW
Prescription drug misuse is a growing issue, and opioid misuse is now the leading cause of accidental deaths in the U.S. With one in five high school seniors reporting that they have misused prescription drugs, reaching students early with prevention education is now more important than ever.
Prescription Drug Safety is an innovative digital course that focuses on high school prescription drug abuse prevention. It's goal is to arm students with the knowledge and tools to make healthy, informed decisions. By empowering students with substance misuse prevention education at an early age, we can help the next generation stop opioid misuse.
What's in our Prescription Drug Safety course?
Through interactive scenarios and self-guided activities, students learn about a range of topics, including:
the science of substance use disorder
medication safety tips, and
how to intervene when faced with a situation involving drug misuse
These drug abuse prevention lessons can be quickly implemented in your school with the easy to use curriculum guide and lesson plans.
Whether you are currently teaching in-person, remote, or somewhere in between, you can download this
10 Day Learning Plan
to help you easily implement Prescription Drug Safety in your classroom.
[Currently available only to U.S. Schools]
COURSE DETAILS
TIME PER LESSON / TOTAL DURATION:
10-15 Minutes / 1 Hour
STANDARDS
National Health Education Standards (NHES)
Preview the Prescription Drug Course Lessons
The Basics
Students become familiarized with the basics before taking a deep dive into topics, like the science of substance use disorder and refusal strategies. Some of this lesson's topics include the different types of prescription drugs, how they can affect the body, and some of their harmful side effects.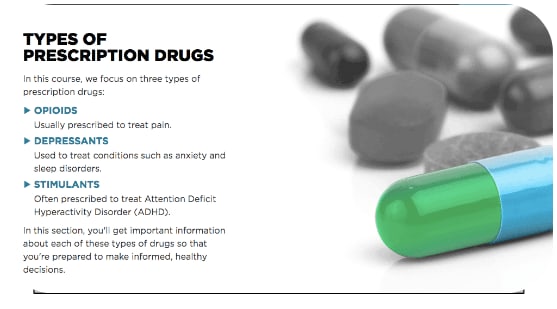 Create Your Teacher Account