Teaching Black History in Schools? Fill These 3 Gaps in 2022
Teaching Black History • 4 Minute Read
Teaching Black History in Schools? Fill These 3 Gaps in 2022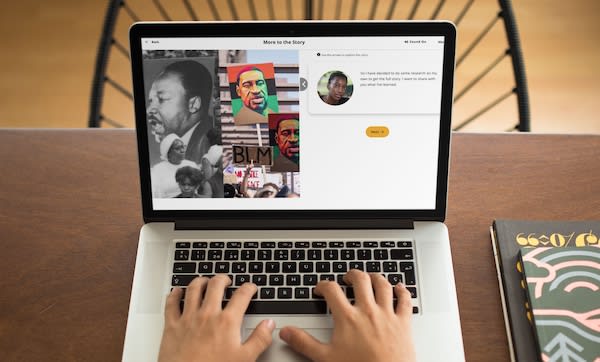 2020 and 2021 have taught us a lot of lessons and one of the biggest has been the need for a critical review of our curriculum. Educators and students all over the country are taking a more thoughtful look at what they are teaching and being taught in schools. As a result, more and more educators are looking for culturally relevant curriculum. As we approach February and Black History Month, let's review three common gaps that occur when teaching Black history in schools and how to avoid them.
1. Don't Forget to Establish the Space While Teaching Black History
I distinctly remember being the only Black girl in my U.S. History class and feeling a pointed discomfort when topics on enslavement and Jim Crow were discussed. It is natural that when talking about the historical oppression and violence that is woven into Black history, there may be some uncomfortable moments with your students. However, there are ways to help ease some of the discomfort that may arise when teaching Black history in schools. Before you dive into these subjects, collaborate with your students to create a set of classroom norms that establish rules and expectations. Encourage students to create a space where everyone is empowered to be brave, ask questions and acknowledge the discomfort in some of the topics you may be discussing.
2. Talk about & Teach Black History All Year
The first common gap when teaching Black history in schools is only teaching Black history during the month of February. While February is officially Black History Month, it is not the only time you can or should teach Black history. Normalize learning about historical figures of color throughout the year and use February to connect it back to what is happening in modern day. Spreading out Black history education can also teach students about intersectionality and how many historical figures and events also "fit" into other heritage and commemorative months like Pride and Women's History Month.
3. Connect the Past to the Present
It is common for students to see black and white photos and assume that what took place in them happened another lifetime ago. 1960 sounds very far away for a student learning history in 2022.
This separation can prevent students from connecting past history to present outcomes. As we know, history repeats itself and many of the central themes and attitudes that are intertwined into Black history repeat themselves over and over again. How can you connect the past to the present while teaching Black history in schools? It can be simple reminders that folks who endured and perpetuated systemic racism in the 1950s and 1960s are often the age of their grandparents and great-grandparents. Or the reminder that historical figures like Emmet Till would've been 79 today, one year younger than notable figures like Chuck Norris, Nancy Pelosi, and Al Pacino. It is important to bridge these gaps, because when students can see how recent black and white history really was, they can better understand connections to modern Black history and the challenges the Black community still faces.
_________________________________________
Caitlin Gayles | Manager of DEI Programs, EVERFI
Caitlin Gayles is the Manager of DEI Programs at EVERFI. Everyday, Caitlin has the opportunity to create a more inclusive and equitable workplace for her EVERFI colleagues. Equity and inclusion is the common thread throughout Caitlin's career. Prior to EVERFI, Caitlin was a manager at the U.S. Chamber of Commerce's Institute for Organization Management where she worked with subject matter experts to develop a course on the impact of DEI in the business world. Caitlin graduated from The George Washington University with a Master's Degree in Education and Human Development and from Christopher Newport University with a degree in Communication Studies. Regardless of the space, Caitlin believes in advancing equity and access and creating inclusive spaces for all.