Overview
FREE FOR K-12 TEACHERS, STUDENTS, AND DISTRICTS
306: Continuing the Story - Black History Curriculum
Inspire Today's Students with History
STUDENT LEARNING OBJECTIVES
Counter Storytelling
Untold Stories
Black Business Titans
Black Contributions to Medicine
OVERVIEW
306: Continuing the Story extends the lessons of the original 306: African American History course, teaching students about events in U.S. history from both before and after the Civil Rights Era that have shaped the experience of many Black people in the United States. This African American History curriculum celebrates exceptional achievements made by Black leaders, trailblazers, and communities, despite an undeniable context of racism, trauma, and dehumanization. Students will draw connections from past and present events to recognize and empathize with the ongoing challenges Black people continue to face in the United States.
EVERFI offers two digital programs, 306: African American History and 306: Continuing the Story, that bring to life a number of the influential leaders and events whose impact changed the fabric of American life. These courses can be used alone or paired for a more comprehensive student experience.
KEY DETAILS
BEST FIT:
Cultural Arts, Civics, Advisory, Social Studies
TIME PER LESSON / TOTAL DURATION:
10-15 Minutes / 1 Hour
STANDARDS:
Common Core State Standards for English Language Arts and College and Career Readiness, C3 Stocial Studies Standards,
Preview the Lessons in 306: Continuing the Story
Introduction
In this lesson, students learn the definition of counter storytelling and racism. Students are also introduced to Patrice McLaurin, author, image activist, and advocate for Black youth who helped develop the curriculum.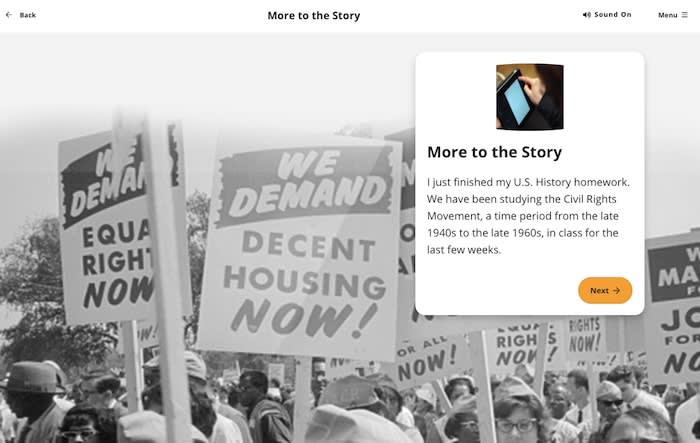 Create Your Teacher Account