7 Best Practices for Strengthening African American History Education
7 Best Practices for Strengthening African American History Education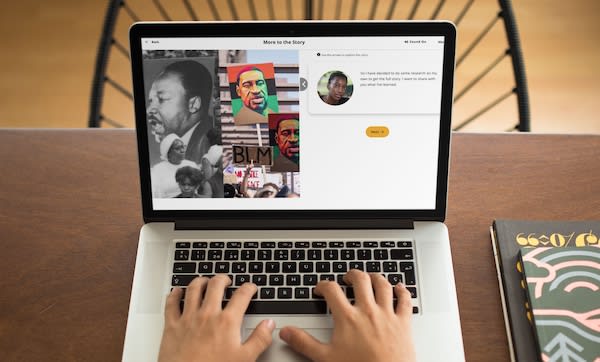 Educators across the country are working diligently to ensure that students are receiving an education that is authentic, immersive, and representative of the lives of their students. Their efforts to provide a culturally responsive curriculum increases student engagement, learning and self-esteem. In the spirit of sharing best practices with its network of educators, EVERFI brought together Dr. Bernadette Kelly-Brown from Florida's African American History Task Force and Brian Knowles from the School District of Palm Beach County to discuss best practices, common challenges, and the selection of quality resources. This blog is the first of a three-part series that breaks down the most important points of the webinar with added insight from guest writer, Samantha Utley, Coordinator for Equity, Inclusion, & Justice at the Falk Laboratory School of the University of Pittsburgh.
The Best Practices for Strengthening African American History in Your District
By providing students with an in-depth and inclusive analysis of African American history, we empower all students with examples and insights that students can draw upon as they continue to form their own identity and what it means to be an American.
Reflective and Intentional Planning
We currently exist in an educational space where schools and districts are working towards being reflective and intentional in the programs and materials they implement within their buildings. Specifically, African American history is a topic that needs to be included or definitely presented where distortions or incomplete stories are utilized to teach lessons.
Below are best practices designed to guide schools and districts in presenting African American history in celebratory and balanced approaches. Before reviewing the practices; Brian Knowles, Manager of African American, Latino, Holocaust, & Gender Studies, School District of Palm Beach, states that this work should be centered in a holistic view. Too often, African American history is presented as a monolith without consideration of the diaspora. Centering the community and the students' stories, households, and lived histories yields more engagement.
Select Curriculum Developers
Assessing the curriculum for gaps should be an ongoing and reflective process. It can become habitual to create a curriculum and for it to be seen as the status quo. For materials and curriculum to remain relevant, they must evolve, including up to date knowledge and resources. Selecting a diverse group of educators to assess gaps in content and opportunities for infusion of new content, perspectives, and resources is key to ensuring that curriculum provides a holistic and engaging education. 
Student voice and opinion are vital and sometimes overlooked resources when choosing materials and tools. Students know best what engages them and eliciting their real-time feedback when developing a curriculum amplifies and centers voice.
Embed Standards-Based Content Across the District
The teaching of African American history should not be relegated to one class or subject matter but integrated intentionally throughout practice.

Design a framework that helps maintain accountability
Developing a scope and sequence, pacing calendar, and assessments are best practices to follow.
Align content and resources to state standards 
Ensuring the content has alignment with state standards allows for the intentional integration through multiple content areas such as Language Arts, Reading, Social Studies, etc. 
Incorporate educator voices from across the district
This is integral. There needs to be collective support from administrators and school boards, hearing from the individuals who are responsible for teaching the content.
Professional Development that Engages the Entire Community
When thinking of professional development, it is typically thought of within the typical approach- a session taking place on-site at the school; or an adjacent facility. A trainer is viewed as the holder of knowledge and content; their role is to disperse it to the session attendees. Brian Knowles suggests implementing a strategy of professional development that engages the entire community. By opening forums and events to the stakeholders within the community, it is engaging members in a partnership. Presenting material to those beyond the walls provides an opportunity for those who wish to support programming and initiative insight into what is being offered. An integral part of this work is to partner with student-led organizations to amplify and include voices.
Too often, teachers are seen as the audience in professional development experiences without the participation of other school and district personnel. When developing a plan for professional development, it needs to begin with school and district administrators, followed by curriculum leaders and board members.  All stakeholders should be aware and understand why African American history should be taught in their schools, districts, and support initiatives that further the implementation.  Programs such as these cannot exist in isolation and will not be successful if not embraced fully by all.
Culturally Responsive Pedagogy
There has been a collective shift in engaging in culturally responsive pedagogy. For those unfamiliar with the practice, it is the conscience integration of culture, language, and life experiences and weaving those pillars into educational experiences. Dr. Bernadette Kelly from Florida's African American History Task Force beautifully states that professional development should balance pedagogy and rich cultural experiences. She recommends looking into Gloria Ladson-Billings; who is credited with the development of the term Culturally Relevant Pedagogy and Geneva Gay, who has written books and investigated the importance of culturally responsive teaching. 
When young people see themselves positively represented in lessons, artifacts, and experiences, they are more likely to develop more positive feelings about themselves. Recognizing students' skillsets and strengths to contribute positively to lessons supports the lesson's success while elevating self-efficacy skills and confidence within their classrooms.  This approach begins with connecting with the administrators, curriculum leaders, and school board members and conveying why this research-based approach will benefit the most. 
Utilize Historically Accurate Instructional Materials
Relying on textbooks to present information is often limiting. Some curriculums begin African American history with the middle passage and slave trade, excluding the rich history inhabiting the African continent. By starting the story of African and African American people through a deficit lens, misleading beliefs are perpetuated in the classroom and beyond.
Some good tips to follow when designing thoughtful and engaging curriculum centering African American History:
Use up-to-date and authentic materials
Highlight and celebrate individuals' contributions on a national and global scale
Looking at the significant events that have impacted African Americans and making a point to recognize how resistance and liberation were present during times of adversity and oppression
As a system, we are recognizing the marginalized voices, histories, and experiences that are missing from our books that so pivotally help shape our country. The work is ongoing and requires dedication and is a true investment in helping shape an equitable and inclusive education. 
How EVERFI Helps Schools and Districts Strengthen Black History Education
Free online, standards-aligned resources to teach Black History

The

306 suite

provides teachers with turnkey lessons that build critical thinking skills while connecting the events of today to inspirational leaders and movements throughout history.
A dedicated EVERFI Implementation Specialist is always available to provide free:
Curriculum alignment

Professional developments

Data analysis 

Tech support and more
A professional learning community for district and school administrators
Accelerate

provides leaders with the opportunity to learn from and network with educational leaders on topics like leadership, curriculum, and community engagement.
Learn more about how EVERFI supports districts and schedule a call with your district's dedicated EVERFI Lead at everfi.com/k-12/districts 
---
Samantha serves as the Coordinator for Equity, Inclusion, & Justice, as well as the Director of Student Services for grades K-5 at The Falk Laboratory School of the University of Pittsburgh. Samantha is currently pursuing an Educational Doctorate in Social and Comparative Analysis in Education from the University of Pittsburgh as she works with The Falk Laboratory School's students, faculty, and families to ensure equitable learning opportunities are available to all, as well as cultivate the celebration of all identities. Twitter: @MsUtley86