How to Provide Mental Health and Wellness Education with EVERFI
How to Provide Mental Health and Wellness Education with EVERFI
Over the past few years, we've all gone through a lot. We've had to navigate numerous challenges, unlike anything else before, and figure out how to not only push through it for our own well-being but to be a source of support for others. As educators, we have a great deal of responsibility when it comes to the wellness of others. In our classrooms and in our schools, we are there to provide support for our students and our colleagues, and for those that we lead and learn with. Dealing with challenges can weigh heavy on us emotionally, mentally, and physically. Students can experience many challenges while in school ranging from peer pressure in the classroom, bullying, stress from classes, and other life events. Especially at this time of the year, we may find that with so much going on, it is difficult to take a break, check in on ourselves and others, and seek help when we need it. For this reason, mental health and wellness for teachers is essential, as is mental health for students. 
Being able to understand our emotions, deal with stress, and work through challenges are just a few of the essential social-emotional (SEL) skills we have had to build over these past two years and more than ever before. Also being able to ask for help when we need it, and offering help to others when they need it (even when they don't realize it) are essential skills for all of us. Whether in our personal or professional lives, we can have a potential impact on many other people. This is why starting with our own mental health and wellness education is critical so that we can bring our best selves to everyone that we are connecting with.
Finding the right space 
Knowing how to create experiences and develop mental health projects for our students or provide the right professional learning opportunities for teachers in our schools, is where we need to begin. In a recent survey by the CDC, conducted January – June 2021, 37% of students responded that their mental health suffered as a result of the pandemic. In the survey, poor mental health included stress, anxiety, and depression. We need to have ways for students to learn to deal with stress and build SEL skills. It helps to guide them to become self-aware, develop empathy, and build social awareness through a variety of learning opportunities. When we have resources available, it enables us to design activities for students that help them to focus on their own well-being and that help us to reflect on ourselves as well.
EVERFI has a variety of mental health awareness resources available for K-12 educators to use in the classroom. For anyone looking to support mental health and wellness, there are many options and resources available for free from EVERFI.  
As the school year winds down, it is important that we all take time to rest and to reflect on what we have been through not just this year but in the past two years since the school closures in March of 2020. While not every educator has time to take a break over the summer, it is important that we find ways to build breaks into each day and focus on our self-care and wellness and also helping to promote the well-being of others.
Getting Started with Mental Wellness Education
EVERFI has many basic mental health lessons available that can be used in the classroom to promote social-emotional learning (SEL) and the development of these essential skills for our students. It can help educators to learn more about trauma-informed teaching practices and equity, through interactive lessons used with Pear Deck, there is access to the types of resources that will benefit educators regardless of grade level or content area, or years of experience in education. 
With teacher burnout and student disengagement and families also feeling overwhelmed, focusing on mental health and wellness, especially as we wind down the school year is important. Mental health and wellness should not be thought of as something extra that we have to fit into our work but as something that can easily be embedded into all that we do. With so many resources available to us now, knowing how to choose can be difficult. 
The last month of school brings a lot with it whether due to standardized testing, a calendar full of school events, final exams, many things which can be wonderful but because of the time involved, can also be overwhelming and taxing on us physically, mentally and emotionally. Having a support system in place or a daily routine, will help us to be more mindful of focusing on our mental health and tuning in to the needs of others, even when they are not asking for help. We need to be able to identify signs that someone needs for us to reach out to them and have ready-to-use mental health education resources available to share.
EVERFI has mental health and wellness courses available for K-12 educators to explore that will help with promoting mental health awareness and support. The Compassion Project is available for free to use with elementary students in grades 2-5. Educators have access to outlines of the lessons and interactive online activities for teaching empathy and compassion in the classroom. There are kindness lesson plans provided that help students to develop empathy and build awareness of other cultures and themselves. There are lessons on understanding mental wellness for students in grades 8 through 12. A beneficial course for schools looking for a drug prevention program is Prescription Drug Safety which helps students learn how to make healthy decisions when it comes to drug prevention. This course has six digital lessons with discussion guides, lesson plans, and standards alignment.
With these resources, we can be intentional about focusing on mental health and wellness. The better we prepare our students and ourselves, we can handle the stressors that we experience. Mental health can impact our lives in many different ways. It can result in emotional, mental, and physical effects and this is why it's essential that not only do we practice this, but we model it for our students and we make time for it in our work and in our everyday life. Using the EVERFI resources provides everything that educators from elementary through high school need to get started. 
About the Author: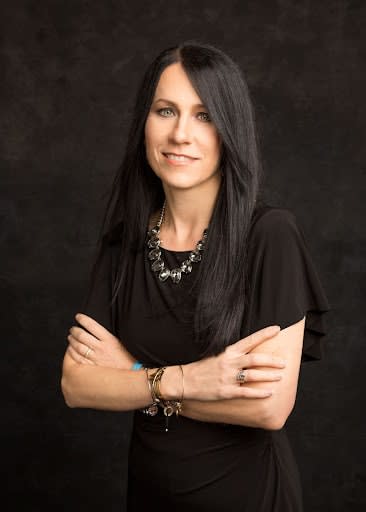 Rachelle Dené Poth is an edtech consultant, presenter, attorney, author, and teacher. Rachelle teaches Spanish and STEAM: What's nExT in Emerging Technology at Riverview Junior Senior High School in Oakmont, PA. Rachelle has a Juris Doctor degree from Duquesne University School of Law and a Master's in Instructional Technology. She is currently pursuing a second doctorate, focused on Educational Technology.
Rachelle is an ISTE Certified Educator and a Microsoft Innovative Educator Expert. She is a past-president of the ISTE Teacher Education Network and served on the Leadership team of the Mobile Learning Network for five years. She received the ISTE Making IT Happen Award in 2019 and has received several Presidential gold and silver awards for her volunteer service to education
She is the author of seven books including 'In Other Words: Quotes That Push Our Thinking," "Unconventional Ways to Thrive in EDU", "The Future is Now: Looking Back to Move Ahead," "Chart A New Course: A Guide to Teaching Essential Skills for Tomorrow's World, "True Story: Lessons That One Kid Taught Us" and her newest book "Things I Wish […] Knew" is now available at bit.ly/thingsiwishedu.
Follow Rachelle on Twitter @Rdene915 and on Instagram @Rdene915. Rachelle has a podcast, ThriveinEDU available at https://anchor.fm/rdene915