May is Mental Health Awareness Month. While the month provides a special opportunity for companies to communicate with employees and promote mental health resources, the best companies understand that employee mental health is a 12-month, 365-days-a-year focus area. 
In 2019, the American Heart Association CEO Roundtable delivered a roadmap to help employers navigate mental health in the workplace. More than 40 CEOs from the world's largest companies, including AT&T, IBM, Nestle, and Bank of America, reported how their companies contribute to mental wellness and signed off on an action plan. 
The following 5 American Heart Association (AHA) members have established themselves as mental health advocates:
1. Dignity Health
It is an overlooked and under-appreciated fact: doctors and nurses need mental health resources, now more than ever. Laboring under long hours and stressful conditions, caregivers are particularly vulnerable to mental health challenges. These challenges have only intensified as hospitals stretch their capacity to accommodate COVID-19 patients. 
As one of the United States' largest healthcare providers, Dignity Health has taken proactive measures to ensure that its doctors and nurses receive the same compassionate care that they provide to patients. 
In 2017, Dignity Health tasked an interdisciplinary steering committee to help employees improve resiliency and individual well-being. The committee partnered with academic and social innovation organizations to develop a toolkit of evidence-based programs. Distributed through apps and online resources, these programs include reflective pauses, peer support, and compassion skills training.
Mindfulness among medical practitioners can make a difference in patient outcomes. Dignity Health's "Reflective Pause" program also encourages nurses to set aside a few minutes each day to reflect and renew. Before shifts, Dignity Health nurses participate in two-minute "mindfulness shift huddles" in which they perform a series of mindfulness exercises. These huddles allow nurses to agree on a phrase they can use throughout the day to reset when needed.

2. AT&T
AT&T unrolled its annual Stamp Out Stigma campaign in 2018. The campaign encouraged employees to take a pledge to reduce stigma around mental health and substance misuse. AT&T captured the pledges on social media platforms and other corporate communications channels to amplify the campaign's message. AT&T collected over 11,000 employee pledges, each of which included donations to a mental health non-profit.  
The campaign provided AT&T supervisors an opportunity to promote the company's employee assistance programs and mental health benefits. AT&T has tabbed vendor partners to expand proactive depression screenings and counseling services. The company's Your Health Matters program places special emphasis on "meeting employees where they are" via text, mobile app, website, and telephone. 
AT&T continues to use the power of media to raise participation in employee assistance programs: AT&T employees have offered video testimonials that detail how they used company resources to find help.

At the local level, AT&T has partnered with organizations like Chicago-based nonprofit Coffee, Hip-Hop & Mental Health to normalize mental health therapy among not only staff but also customers.

3. Humana
Humana applies its actuarial rigor to its 42,000 employees' mental health. In 2014, the health insurance titan pledged to improve the health of every community it served by 20% by the year 2020. The primary measure of this "Bold Goal" was "unhealthy days per month"— a metric developed by the CDC that includes the total of physically and mentally unhealthy days over a 30-day period.

Unhealthy days estimate the number of days over the previous 30 in which individuals feel that their mental or physical health was not good. Respondents answer the following questions:
Would you say in general that your health is excellent, very good, good, or poor?

Physical health includes physical illness and injury. For how many days was your physical health not good in the last 30 days? 

Mental health includes stress, depression, and problems with emotions. For how many days was your mental health not good in the last 30 days?

During the past 30 days, for about how many days did poor physical or mental health keep you from doing your usual activities, such as self-care, work, or recreation? 
According to Humana, employees decreased their average unhealthy days per month from 6.1 to 4.9 between 2012 and 2018. Humana observed that teams who exhibited a high degree of empathy and compassion for each other experienced 6 times fewer mentally unhealthy days.
Humana continues to encourage leaders to track and measure mentally unhealthy days and other emotional well-being outcomes. Humana makes this data available to teams' digital dashboards so that leaders and teams can set improvement goals and understand their mental health status.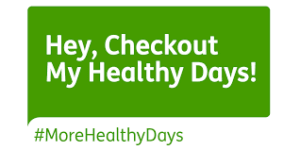 Humana helps teams increase optimism, build resiliency, and reduce stress through company-sponsored conversations, exercises, and interactive activities. The company's employee assistance program also offers webinars, onsite behavioral health workers, and personalized resources. Humana maps these programs to a "well-being model" that addresses four primary life dimensions: purpose, health, belonging, and security. As with Humana's primary business, these programs' inputs and outcomes are meticulously measured. Humana has ranked among the top 10 healthiest employers in America for the last four years according to HealthiestEmployers.com, a health analytics company.
4. Bank of America
Most organizations break wellness into two components: physical and emotional. Bank of America adds a third: financial. This approach makes sense. According to a 2019 PwC survey, 59% of US employees cite financial matters as their top cause of stress.   
Bank of America's (BofA) employee assistance programs recognizes the close relationship between mental health and financial health. BofA offers employees a suite of financial education and planning tools. Employees receive work-life support through tuition reimbursement and complimentary financial counseling.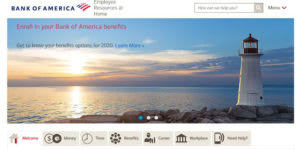 These initiatives run alongside comprehensive employee assistance programs and consistent corporate communication. In-person and telephonic counseling are made available to employees at no cost, and BofA's corporate communications team offers a series of articles and employee events around Mental Health Awareness Month in May. Bank of America employees and leadership also participate in "courageous conversations" designed to destigmatize mental health issues. 
For the second straight year, Bank of America was one of a handful of financial services companies to make the Fortune 100 Best Companies to Work For List. BofA's employee benefits were the most frequently-cited factor among employees who said that BofA was a great workplace.
5. Merck
Mental health is a worldwide issue that demands personalized solutions. Data show that mental health issues present themselves differently across demographics and geography.
Biopharmaceutical giant Merck recognized these facts in April 2016 when it launched Resources for Living, global employee assistance and work-life program for employees and family members. 
Resources for Living has expanded employee assistance program coverage from 15 to 83 countries, offering resources and services in 23 different languages. Services include in-the-moment telephone support and professional counseling services for work and family-related issues, as well as crisis support for unanticipated events. Merck also offers employees a confidential digital self-help resource that addresses sensitive topics, including sleep, LGBTQ+ mental health, opioid management and addiction recovery, and pregnancy and postpartum mental health.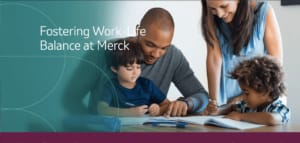 The program fits into Merck's holistic wellness framework, Live It. Live It encompasses four components: Prevent It, Fuel It, Move It, and Balance It. Prevent It includes preventive health measures like vaccinations and screenings. Fuel It addresses proper nutrition, and Move It addresses exercise. Merck's EAP resources fall under Balance It, which addresses mental health and mindfulness alongside financial well-being.   
Merck's US and UK branches have taken special steps to combat stigma around mental health. Merck has made mental health training available to managers as well as to employee ambassadors. These ambassadors have accepted special responsibility to promote company health resources and reject stigmatizing stereotypes. Merck observes that active C-suite leadership has made a meaningful difference in promoting program participation.
Shared Approaches to Mental Health
These companies share several helpful strategies in their approach to mental health. They enlist C-suite leaders to encourage and support mental health resources and conversations, and they involve employees intimately in program development and promote inclusiveness. They also rigorously measure and transparently evaluate program outcomes.
Employees bring a diverse set of experiences, traits, and attitudes into their work. Companies should appreciate the complexity of their employees' lives and adjust their benefits to help care for their diverse employees. They should understand how mental wellness relates to other aspects of wellness, such as physical health, financial security, and healthy relationships. 
C-suite leaders create value for employees and other stakeholders by sharing mental wellness best practices and thought leadership. Organizations like the AHA CEO Roundtable promote exchange and mutual accountability between companies. The Roundtable's collaboration represents another win for the larger workplace mental health movement.