Diversity, Equity and Inclusion Training
Build a sense of belonging in your workplace.
1,200+ companies choose EVERFI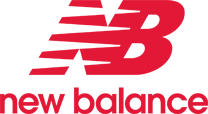 Training that Builds a Culture of Belonging
For every 10% increase in diversity, there is a 0.8% increase in earnings. The relationship between diversity and financial performance is undeniable.
EVERFI's Diversity, Inclusion, and Belonging Suite is built to give employees and managers the skills they need to work together in an increasingly diverse work environment. We embrace evidence-based methodologies, like story-based learning, to delight and engage learners. Plus our 20 years of experience allows us to build a platform that makes delivering this training seamless.
Leadership Training
Explore key concepts of inclusive leadership. Managers and rising leaders will learn to model inclusive behavior and practice being advocates for diversity, equity and inclusion in key talent management moments.
Topics: 
Inclusive Leadership Practices

Building Diverse Teams 

Equity & Talent Management

Bias

Performance Management 

Addressing Microaggressions
What's Included in Diversity, Inclusion, & Belonging Suite
Identity
Define identity and demonstrate appropriate intervention skills to address acts of exclusion. This lesson will focus on the relationship between identity and power dynamics in a workplace.
EVERFI Package Highlights
Built to Fit Your Strategy
Designed to be flexible with your training strategy. You can assign entire courses or individual topics based on your unique strategy. You can even deploy just-in-time training around important milestones like performance reviews or work anniversaries.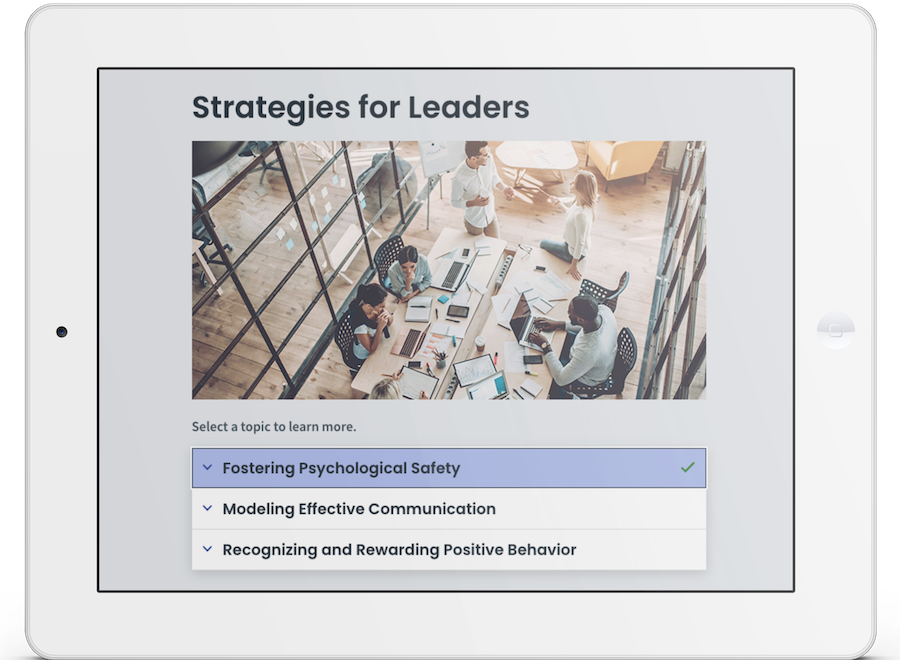 Focus on Skill-Building
Through skill-building scenarios, our course will empower employees with actionable strategies to contribute to a healthy, inclusive and equitable working environment.
Built for Accessibility and WCAG 2.1 Compliance
Accessibility is a critical part of being a truly inclusive workplace. These courses are built toward WCAG 2.1 AA standards and are designed to be mobile first for on the go learning.
Screenshot: Mobile screenshot TBC
Built to Engage
Our interactive, skills-based training is designed to increase learners' confidence to act inclusively, deepen their understanding of topics related to diversity, inclusion and belonging, and cultivate an ally culture across your institution.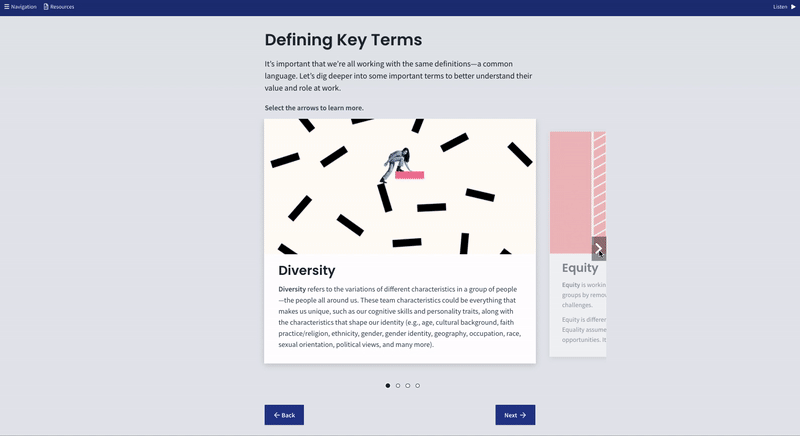 Request a Demo
Get a firsthand look at our diversity and inclusion suite from a product expert. In this meeting you will learn how EVERFI can fit into your DEI strategy and training plan.
Live action videos bring realistic, interactive skill building scenarios to life

Motion graphics help create visual representation of complex, nuanced subjects

Bite-sized content in short sequences to promote learning and reflection

Flexible design allows the right lesson to be delivered at the right time

Completion tracking, benchmarking, and surveys

Interactive "knowledge checks" and quizzes to keep employees engaged
Request a Demo
By clicking "Get Started" you agree to EVERFI's Privacy Policy and to receive communication about additional resources and information we think may interest you.