Workplace Training to Elevate Your Business and Employees
Workplace training up-skills employees to prevent harassment, manage data security and privacy, and create a more inclusive workplace - all while keeping your business compliant.
Request a Demo
1,200+ Companies Choose EVERFI for Online Training
Key Topics in the HR & People Package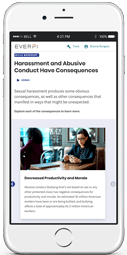 Preventing Harassment & Discrimination
Harassment and discrimination have detrimental effects on organization's productivity, turnover, and even their ability to attract top talent.
Maintaining Data Security & Privacy
Human error is the leading cause of data security breaches and attacks. Employees who are confident in security protocols are less likely to be the cause.
Building Healthy Workplace Cultures
Organizational culture changes with each new hire. Healthy organizations establish expectations through training and set the tone for their culture.
Explore Popular Courses in the HR & People Package
Prevent Harassment & Discrimination
This course frames the relevant skills employees need the to confidently take action when they encounter harassment or discrimination.
Encouraging Reporting
Logging an incident report with human resources can be extremely daunting. Two of the primary reasons employees fear reporting are that they fear retaliation and believe that no action would be taken even if they did log a report.
Data Security & Privacy
Employees are one critical entry point for hackers, and the main point of failure in cyber attacks. Skills like secure password management, phishing identification, and proper encryption methods are critical in protecting from the most likely attacks.
"I'm really excited about the platform that we have to help move the dial and influence the discussion around culture."
Shannon Sorrells
Senior Legal Counsel for Ethics, Compliance, and Employment Law
Teradata
Request a Demo
Get a firsthand look at our effective HR and online compliance training packages with our experts.
Compliant with state and local harassment training mandates, including CA, IL, CT, NY, and NYC.

Customizable training plans by employee role, location, and level.

Built using evidence-based online learning best practices.

Designed for online training and mobile use.

Dedicated customer success manager focused on your goals.

Segmented administration dashboards by employee population.

Automated reminders and notifications.

Implementation specialist to guide you from contract to launch.
Request a Demo
Fill out the form below for your free demo of our HR and compliance training.
By submitting you agree to EVERFI's Policy and to receive communication about additional resources and information we think may interest you.
Resources to Elevate Your HR Practice
Educate yourself on new research and explore resources and templates for making impactful changes to your strategy.