Overview
WORKPLACE TRAINING
Online Leadership Diversity Training for Managers
Diversity and inclusion training for leaders can help your management team build a feeling of belonging in the workplace.
An Overview of Diversity Training for Workplace Leaders
Diversity, equity, and inclusion play a critical role in your workforce. Not only does it impact the health and well-being of your workforce, but the perception of inclusivity (or the lack of it) also impacts productivity. 
Why implement leadership diversity training?
Focusing on managers and rising leaders, this diversity management training course enhances workplace leaders' ability to serve as role models and advocates for workplace diversity, equity, and inclusion in key talent management and organizational processes. By allowing leaders to practice core DEI competencies like intervening when they encounter microaggressions, writing inclusive job descriptions, and spotting bias in decision-making, leaders learn to create more respectful and inclusive teams. This will trickle down through your entire organization's workplace culture.
LEADERSHIP DIVERSITY AND INCLUSION TRAINING COURSE HIGHLIGHTS
Bite-sized, assignable content in short sequences promotes skill-building and reflection
Flexible structure allows the right lesson to be delivered at the right time
Inclusive imagery and design represents all learners
Real-to-life examples features realistic work scenarios
Interactive "knowledge checks" and quizzes to keep employees engaged
Leadership Diversity Training Exercises & Topics:
Allyship
Demonstrate how leaders can address microaggressions, exclusionary behaviors, and bias. 
Inclusive Leadership
Prompt learners to reflect on how to foster an environment of belonging through scenario-based exercises.
Diversity in Hiring
Identify key talent management and operational processes that are influenced by an intentional focus on equity.  
Effective Communication
Introduce the manager's role in creating a team culture of belonging.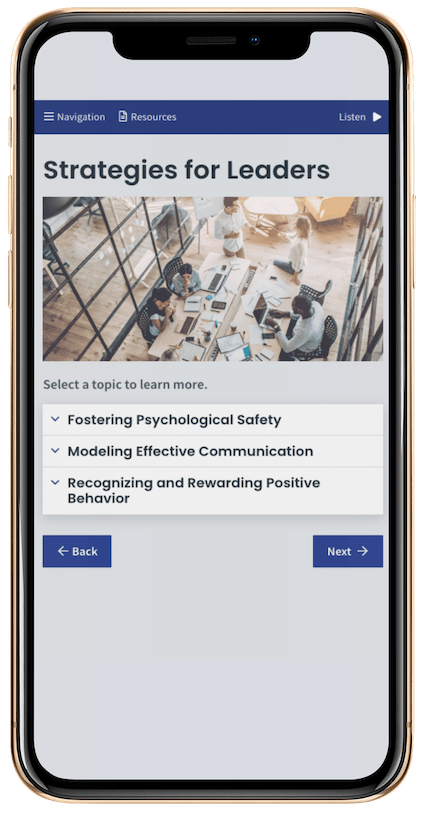 An Evidence-Based Leadership Diversity Training Solution
Easily deploy flexible leadership diversity and inclusion training designed to provide opportunities for your supervisors, managers, and other leaders to practice building an inclusive and diverse culture.
Fresh Approach to Content
Deliver online leadership diversity training on relevant topics on your leaders' schedules. Activate managers with real-to-life training scenarios, not green screens.
Designed by Learning Experts
Make sure supervisors are engaged and build critical skills with courses that use cutting edge design and teaching practices.
Skill-Building Exercises
Check retention and knowledge gain through interactive assessments incorporated throughout the course.
Workplace Insights
Use accurate and real-time data to guide your diversity and inclusion strategy.
Mobile Friendly
Deliver content conveniently via desktop, tablet, or mobile device to offer flexible options for your workforce.
Built For Scale
Take advantage of flexible user assignments, progress tracking, and automated assignments, plus easily monitor completion rates.