The Financial Marketing Funnel: Creating Content for Every Stage of the Consumer Journey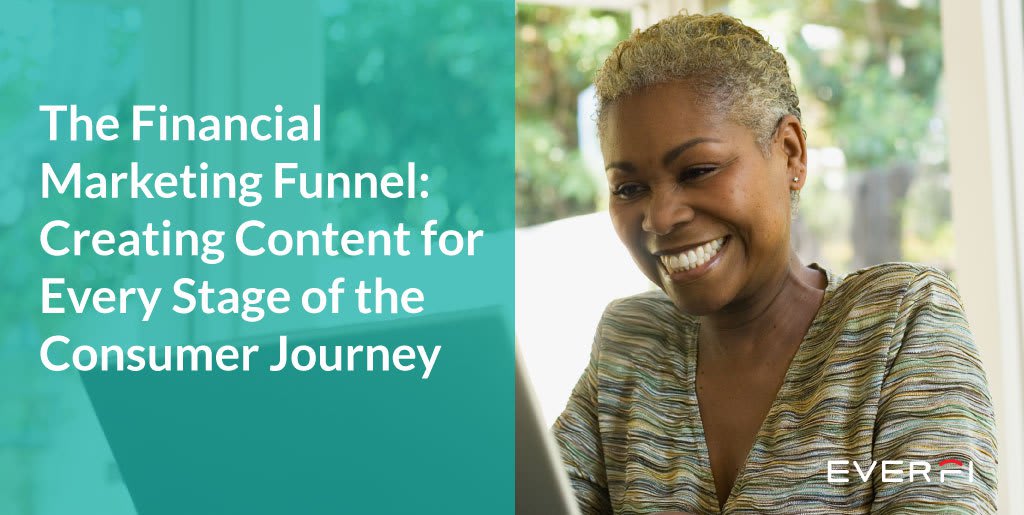 Many financial marketers know that content marketing is a powerful way to reach current and prospective customers. But did you know that certain types of content work better at different stages of the customer journey? Financial marketers who want to maximize their content marketing efforts create content for each stage of that journey. Over two-thirds of this journey is now done via online and mobile. This means you'll need to make sure you're putting your best foot forward, in terms of the content you deliver, how you deliver it, and when you deliver it along the buyer's journey. Here's how:
Awareness Stage
The customer journey starts when someone first learns about your financial institutions brand. The marketing materials they see at this stage shouldn't be salesy. Instead, try to educate, presenting them with valuable advice and interesting trends.
Types of Content:
    Blog Posts
    How-to-Guides
    Calculators
    Editorial Content
Consideration Stage
The customers in this stage are already familiar with your financial brand and should have a positive opinion based on the content from the first stage of content marketing. Longer and heavier content is appropriate at this stage—pieces that will build deeper engagement.
Types of Content:
     Workshops
     eBooks
     Videos
     Interactive Learning
Decision Stage
The final stage of the journey occurs after your consumer has engaged with your content and trust has been built. They are primed to open an account, and your content marketing or offers can start to focus on loans or other products.
Types of content:
     Introductory Rates
     Product Literature
     Institution or Product Comparisons
     Case Studies and Testimonials
Creating financial marketing content for each stage of the customer journey is an effective way to both engage and nudge customers along as they move from awareness to purchase. But content creation is only one step to building an effective financial marketing strategy. Want to learn the other steps? Download our guidebook, The Ultimate Guide to Financial Marketing Success in 2018.