Goals
To achieve the goals highlighted below and comply with legal requirements, they partnered with EVERFI, a Blackbaud company, to implement the Preventing Harassment and Discrimination Suite. Branded internally as the Respect@Work training, this course was launched in late 2022 to a global workforce of approximately 3,000 employees.
Empower employees to identify and deal with disrespectful behavior.
Share company policies and the resources available to employees
Inform employees how they can reach out for assistance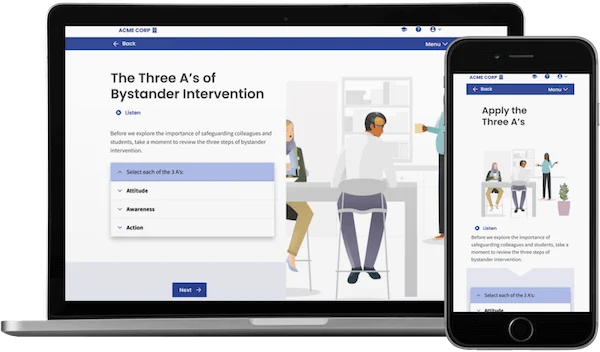 Preventing Harassment and Discrimination Suite
This training engages employees and raises their awareness and bystander intervention skills addressing harassment, discrimination and retaliation.
The course also provides guidance on how to appropriately respond to and report these in the workplace. Employees will learn to apply proactive prevention strategies and will practice bystander intervention techniques and ally behavior.
Meeting Compliance and Legal Requirements

Blackbaud also needed to comply with federal and state laws regarding harassment and discrimination prevention. The company recognized the importance of tailoring the training content to meet the specific legal requirements of different regions and countries. Therefore, adapted versions of the course were available to cater to employees in different locations. This approach ensured that employees received relevant content and up-to-date legal information, regardless of their geographical location.

A Seamless Implementation Process

When implementing the Respect@Work training, Blackbaud had the opportunity to review the course carefully and actively identify areas of the content that required editing or removal to better align with the company's goals. In only a few months from initiating implementation discussions, Blackbaud was ready for a well-prepared launch.
Tammy Baker, HR Director at Blackbaud described the administrative experience as "extremely easy and user friendly" and said, "the back-end process is exceptional, quite frankly".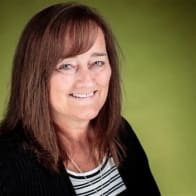 While having encountered systems errors and clunky interfaces that hindered the learning experience with previous providers, Blackbaud had zero systems error in this process. This not only benefited employees but also reduced administrative burdens for the HR team.
Blackbaud achieved an impressive 100% employee participation rate in the rollout of their Respect@Work training. Firstly, communicating the application of this training to real scenarios of employee relations to managers was essential. HR teams across Blackbaud diligently monitored completion rates and shared reports with managers to promote accountability and ensure all employees met the deadline.
Additionally, this would not be possible without strong leadership buy-in and alignment with the company's culture and values. The commitment to preventing harassment and discrimination was also reflected in the company's ESG strategy, underscoring its significance.
Keys to Achieving 100% Participation
Leadership buy-in and commitment
Communicating the real-life applications
Alignment with company values & ESG strategy
Shared accountability with the People and Culture team and managers
The training was not a one-time event, as it continues to be a focal point for new hires and will be revised and relaunched for employees on a recurring basis to meet legal requirements.
Feedback from employees highlighted the impactful nature of the course content. Hearing stories of people's personal experiences was thought-provoking and a powerful driver of behavior change. The real-life scenarios portrayed in videos made the training authentic, staying relevant even for Blackbaud's remote-first workforce. Learners praised the branching video scenarios, allowing them to immerse themselves in the scenes and practice responses to different situations, which bolstered their confidence in handling similar real-life interactions.
The content for the Respect@Work training is some of the best I've experienced in recent years. It's covered several topics that I have not seen addressed in my previous organizations, so I just wanted to share appreciation for the team who helped organize the training!
You have no idea how pleasantly surprised I was. I raved about this training with my managers because we are all hypercritical of most training we attend. Happy to be positively vocal for something this great. The EVERFI team deserves a lot of props for this content.
I love that the course:
included characters with disabilities and neurodiversity in new course scenarios,
added perspective-style videos of people with disabilities sharing their experiences (including how exclusion can make the workplace difficult), and
placed the "Dig Deeper" section links at the end of the course, making it easy for learners to explore the topics that matter most to them.
By deploying the updated course to all Blackbaud employees, we empower our team with relatable, recognizable scenarios designed to build their knowledge, skills, and confidence in creating a harassment-free, ethical workplace and further underscore our commitment to powering social good.
Disclaimer: Blackbaud acquired EVERFI at the start of 2022, adding our workplace culture and community engagement ecosystem to their existing portfolio of fundraising, nonprofit financial management, digital giving, grantmaking, corporate social responsibility, and education management software tools that support millions of people and organizations who change the world.