The MassMutual Foundation's National Commitment to Youth Financial Literacy
2,791,051
Students Reached Since 2015
76

%
Average Knowledge Gain*
44

%
Attend Low-to-Moderate Income Schools*
*Based on FutureSmart course data from the 2020-21 MassMutual Annual Impact Report
Overview
The MassMutual Foundation partnered with EVERFI based on the core belief that financial education is the key to reversing some of the current trends in financial literacy, capability, and wealth distribution seen across the country.
Since 2015, the MassMutual Foundation has worked with EVERFI on their proprietary program, FutureSmartSM, which has brought critical financial education to middle and high school students across the United States.
FutureSmart aims to prepare young people to make informed financial decisions. And it's backed by science. Research into students taking FutureSmart has shown a significant increase in their financial knowledge and intentions to engage with financial products in the future.
"We have partnered with EVERFI to deliver financial skills and education to more than two million middle and high school students across the United States through engaging and evidence-based digital financial literacy programs."
Dennis Duquette, President of the MassMutual Foundation
Growing National Reach
By partnering with EVERFI's extensive network of schools and districts across the United States, the MassMutual Foundation has been able to scale their program and impact into all 50 states and Puerto Rico.
Data according to the 2020-21 MassMutual Annual Impact Report prepared by EVERFI
Why Build a Middle School Program
By the time adolescents reach middle school, they have already developed the capacity to understand complex economic concepts, make financial judgments, and assign value to purchases and brands. Yet the majority of today's schoolchildren are not receiving the personal finance education they need to navigate the modern financial world.
That is where EVERFI and the MassMutual Foundation sought to step in to tackle the broad issue of financial literacy — beginning in our nation's schools. By reaching students at a pivotal developmental stage, the FutureSmart program equips students with important foundational financial knowledge that they may not otherwise receive.
FutureSmart is more than just a digital course or educational curriculum. It is a way of preparing young people to make smart financial choices from today onward.
Average Knowledge Gain among middle school students after taking the FutureSmart course.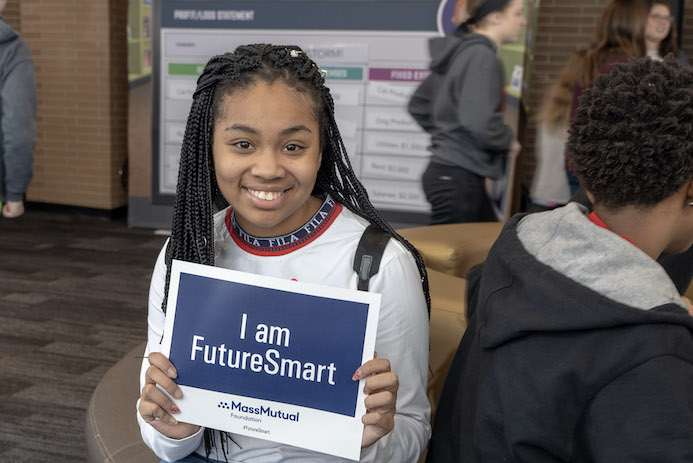 Impacting High-Need Communities
Financial knowledge can mean the difference between getting approved for a low-interest loan and having your utilities turned off unexpectedly. But for families living in many communities across the country, this financial knowledge was not passed down to them by their parents or through their schools.
Over the past 5+ years, the MassMutual Foundation has made a concerted effort to reach high-need communities as part of their work with EVERFI. Since its inception, the program has reached 1,177,539 students in low-to-moderate income schools (where 50% or more of the students are eligible for free or reduced lunch).
*Based on FutureSmart course data from the 2020-21 MassMutual Annual Impact Report
"If I were to just read a book about tips on being wise with money, I would just be very bored with it. I'm definitely not bored on this course, which allows me to focus more. I can have fun and learn at the same time."
Middle School Student, Arkansas
Adult Financial Literacy: Reaching Educators & Families
Because of the proven success of the schools-based program with EVERFI, the MassMutual Foundation sought to extend their financial education program to reach educators and families. By approaching financial literacy through a holistic approach from K to gray, the MassMutual Foundation is able to equip the next generation with the foundational knowledge they need, while also enabling educators and families to make informed financial decisions that impact their daily lives.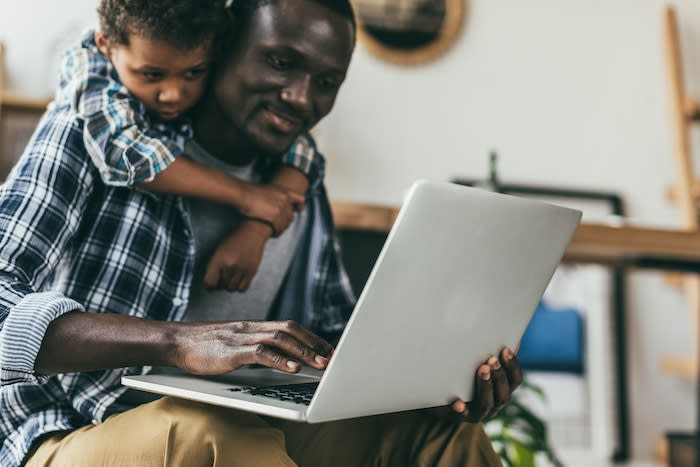 "FutureSmart provides a critical foundation and skillset in financial literacy for students at a pivotal developmental stage. The lessons give students knowledge and resources that support financial planning and sound decision making on their road to independent living."
- Teacher & CTE Specialist, Virginia
"I learned how to shop effectively and what I should think about before purchasing something. Knowing this has changed the way that I shop; before I made no effort to do research before making a purchase, and I mostly bought things that are considered wants, but now I think hard before I commit. Overall, realizing this idea has fundamentally changed the way I shop."
- Student Scholarship Winner, Iowa
"What I liked best was the exposure to budgeting and how your credit score is made up. I'm hopeful my students will make good financial decisions moving forward because of this knowledge."
- Teacher, Maryland
"Even younger students can identify with trying to save money and spend it to get the things they want and need. There are lots of opportunities for teachable moments with this course."
- Teacher, Louisiana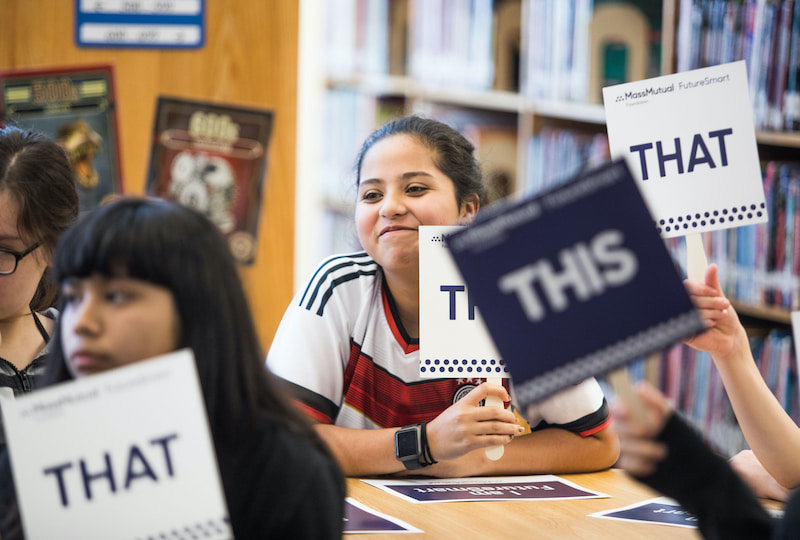 Why the MassMutual Foundation Answered the Call
Institutions like the MassMutual Foundation have partnered with EVERFI to tackle a range of social issues through the transformative power of education. Watch the video to understand why the MassMutual Foundation felt passionate about the issue of financial literacy and to learn how you can get involved with EVERFI.
Get in Touch
Impact social change through the transformative power of education. Learn more about how working with EVERFI can help you drive financial literacy for students, engage adult consumers, and strengthen commercial partnerships.
EVERFI can help you:
Reimagine your approach to CRA compliance with online and in-person K-12 education programs.
Reach, attract, and retain new consumers with branded, online financial education – right from your website.
Expand your workplace banking offering and deliver increased value to your commercial partners.
See why more than 850 financial institutions trust EVERFI's financial education solutions.
By clicking "Request a Demo" you agree to EVERFI's Policy and to receive communication about additional resources and information we think may interest you.