Collected Impact since Fall 2018 | 67,000+ Students | 1,200 Schools
"I wish that I had known this course before when I was struggling at school and didn't know how to cope through it. With this course, I believe I am aware of how to truly deal with strong emotions and help my friends when they are struggling."

– Student | Sugarland, Texas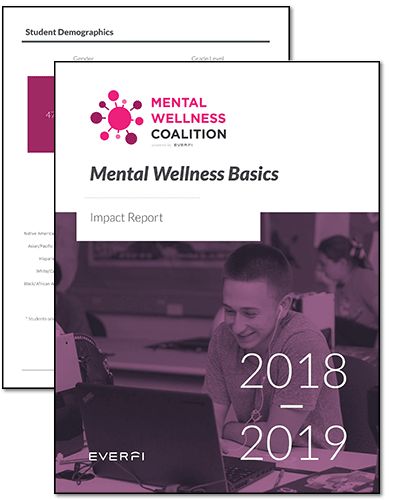 Our Impact
Measuring Impact
EVERFI courses blend evidence-based strategies with innovative instructional design to maximize engagement and impact. Data is collected using pre- and post-assessments for all students who complete the Mental Wellness Basics curriculum to measure how the course impacts student knowledge, attitudes and behaviors regarding mental wellness.
Results from EVERFI's first school year implementing Mental Wellness Basics include:
On average, students across 4 topics earned a 39% knowledge increase from pre- to post-lesson assessments.
24% more students feel that, if they need help with their mental health needs, they would seek help without hesitation (from 57% pre-course to 71% post-course).
65% of students reported that the course helped them be more compassionate towards those with mental health conditions.
30% more students said they know what coping strategies to use when they need to protect their mental health (from 62% pre-course to 81% post-course)
Founding Partner
Developed In Partnership with Pivotal Moments
With the support of Pivotal Moments, EVERFI has developed an evidence-based mental wellness digital curriculum that empowers youth to build critical mental wellness skills.
Connecting Mental Health with Key Education
Substance Misuse:

Youth aged 12-17 who had experienced a major depressive episode are more likely to use illicit drugs

Bullying:

Students who are both targets for and engage bullying are at greater risk for mental health problems.

Financial Wellness:

Perceived social status/socioeconomic status has been found to be correlated with a mental health disorder.

Compassion:

Loneliness, stress, and anxiety can be combated with compassion for self and others. Compassion is a building block for mental wellness.