Corporate Social Responsibility: Why It Matters & How To Do It
Corporate Social Responsibility • 15 Minute Read
Corporate Social Responsibility: Why It Matters & How To Do It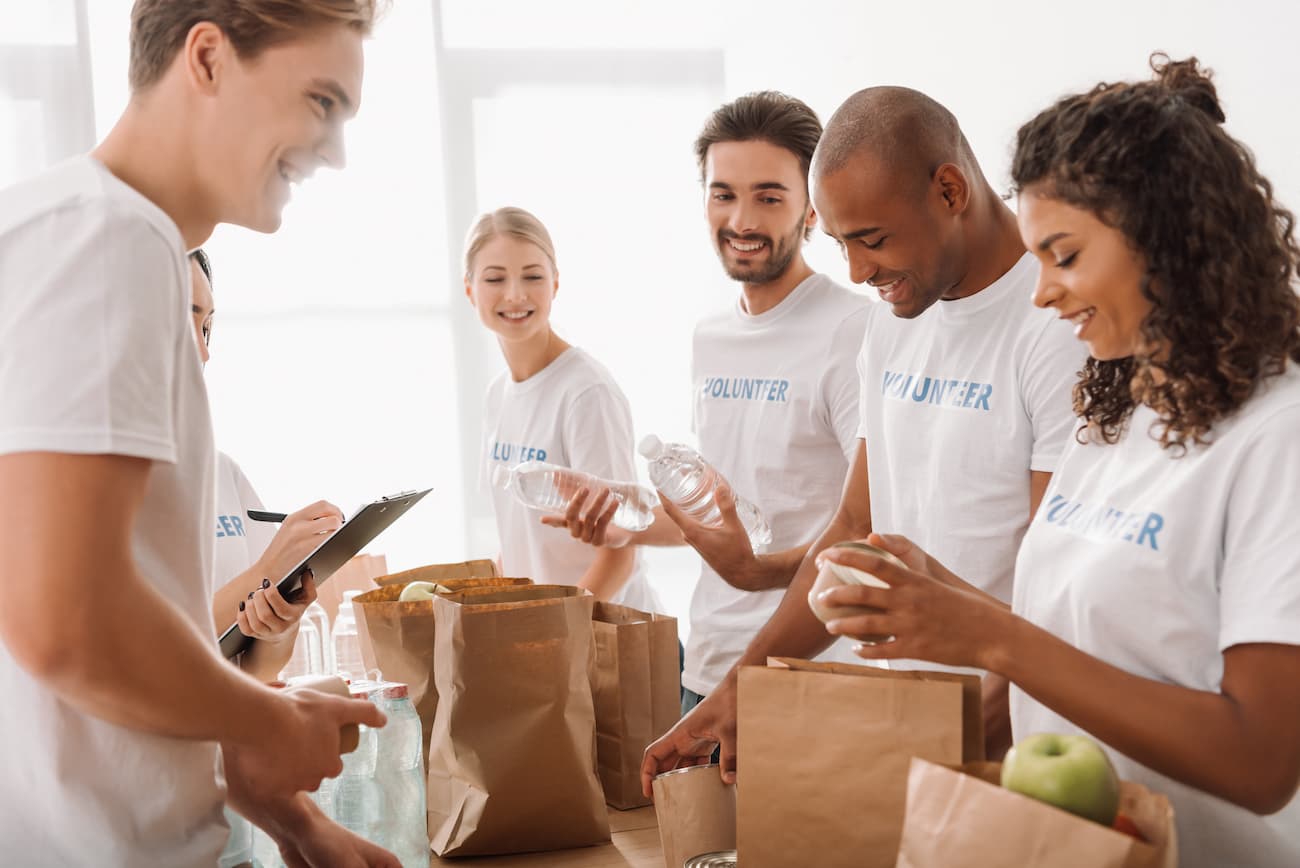 What is Corporate Social Responsibility?
According to UNIDO (United Nations Industrial Development Organization), "Corporate Social Responsibility is a management concept whereby companies integrate social and environmental concerns in their business operations and interactions with their stakeholders." It's a broad definition that may not be helpful in determining how your organization should be strategically incorporating CSR into long term planning.
Creating a Loyal Consumer: The Impact of Corporate Social Responsibility and Education
But first of all, why should you be thinking about CSR?
CSR is a big deal. Fortune Global 500 firms spend roughly $20 billion on corporate social responsibility per year. Massive companies take outspoken positions on diversity, inclusion, education, and the environment. Executives invest corporate dollars in organizations that benefit communities on the other side of the world. 
Leading companies have drawn on CSR principles to inform all manner of organizational decisions. Organizations have closely allied CSR with marketing, public relations, diversity and inclusion, and human resources. CSR plays a leading role in telling brands' stories and attracting top talent. More importantly, brands have leveraged CSR to orient their company's purpose and vision.  
Consumers no longer expect major corporations to keep just their backyards clean. Fortune 500 companies have taken public stances on climate change and have adopted CSR practices that look up and down supply chains. Companies have embraced a globalizing labor market with training and education programs that reach across borders to engage potential employees and younger generations.
The future holds exciting prospects for corporate social responsibility. Today's trends and innovations suggest that CSR will play an increasingly important role in how companies approach business and engage communities.
What's the difference between CSR, Corporate Sustainability, Community Engagement and Impact Investing?
It may be confusing to hear about CSR one day, then a call for community engagement the next, only to hear about impact investing in the new Forbes article. What's the difference between all of these related terms? Some definitions differentiate between them in terms of scale and intent.
Wikipedia defines CSR as tied into the current zeitgeist while corporate sustainability is about long term, generational thinking. Community engagement, on the other hand, is primarily defined by the scope of impact remaining in the communities that it operates. refers to the activities that a company undertakes to enhance its relationships with, and contribute to the well-being of, the communities in which it has a presence or impact.
Examples of CSR, Impact Investing, and Community Engagement
Examples of Corporate Social Responsibility:
Grants

Ethically sourcing goods

Labor fairness

Donations to a charity

Charity organizations

Volunteer work

Direct charity

Not-for-profit products

Community programs

Educational programs
Examples of Impact Investing:
Corporate venture capital

Incubators

Infrastructure investments

Product development

Social funds

Social Lending

Social or public/private partnerships

Supply and value chains

Workforce development

Industry collaborations
Examples of community engagement
Donations to local organizations

Community partnerships

Employee volunteering

Work placements

Benefits of CSR
CSR is now a business imperative. When organizations advocate for a social or environmental cause, it not only shows many benefits of corporate social responsibility to society, but it could benefit their bottom line too – from generating a better brand reputation to greater customer loyalty.
It's a well-known fact that modern consumers are quick to doubt and mistrust and quick to leave a brand. A Harris poll suggests that 84% of millennials don't trust the companies they do business with, with Generation Z scoring even lower. CSR is one way to increase consumer trust.
EVERFI's research shows that 59% of consumers said they would spend more money to patronize a business with good values.
There are also benefits for employees. In one study it was shown that employees at socially responsible companies are engaged with their work up to 60% more than in those showing no social responsibility.
In a recent survey, EVERFI's team found that about three-quarters (76%) of consumers say engagement in the broader community is important to brand reputation and nearly half (46%) of consumers say companies have an obligation to take action to improve societal problems. This clearly speaks to the importance of social responsibility for any strategic manager.
CSR Examples From Top Companies 
BlackRock manages over $6 trillion in assets. That's more than the GDP of the UK and India combined. Larry Fink has led the world's largest asset manager since its founding in 1988.
In his 2020 letter, Fink recognized the consequences of climate change and committed to ambitious sustainability measures. Those measures include exiting investments that present environmental risks and launching investment products that screen fossil fuels. On topics like diversity and inclusion and economic mobility, Fink has put his money where his mouth is. In late 2019, Fink helped launch BlackRock's Emergency Savings Initiative. The $50 million fund will bring together consumer finance nonprofits and companies to develop and scale savings strategies for low-to-moderate-income families.
"A strong sense of purpose and a commitment to stakeholders helps a company connect more deeply to its customers and adjust to the changing demands of society," Fink wrote in his 2020 letter. "Ultimately, purpose is the engine of long-term profitability."
Marc Benioff – Salesforce
Marc Benioff approaches social impact with a swagger uncommon among even the most ambitious Silicon Valley leaders. The Salesforce founder and chief executive embraces the title of "activist CEO."
Benioff's activism includes bold stands on homelessness in San Francisco. He clashed with other Bay Area tech leaders on Proposition C, a 2018 San Francisco ballot measure that would tax the city's largest businesses to support homeless services. 
Benioff sees Salesforce's corporate social responsibility as an expression of its "#1 value": trust. The company reported over 1 million volunteer hours benefiting over 20 thousand organizations in 2019.
"Now being a CEO means that you're taking care of all stakeholders," Benioff told Fast Company in 2019. "That stakeholder return is as much table stakes as shareholder return."
Michele Buck – Hershey's
Milton Hershey baked social impact investing into his company when he founded it in 1894. Ahead of his time on the subject of work-life balance, he designed a park for his company town and made sure that factory families had access to leisure activities. In 1909, Hershey and his wife Catherine established the Milton Hershey School for orphans. The boarding school still serves over 2,000 in-need students across 14 grades tuition-free.
Michele Buck became Hershey's first female CEO in 2017 after joining the company in 2005. Throughout her tenure, she has championed sustainability practices. When Hershey's promoted Buck to lead its corporate social responsibility efforts in 2011, the company did not certify its cocoa as sustainably sourced. According to Buck, she earned the title of "chief provocateur" by pushing Hershey's to commit to 100% sustainable cocoa.
Under Buck's leadership, Hershey's Cocoa for Good initiative has thrived. In 2018, Hershey's pledged half a billion dollars through 2030 toward philanthropic and environmental programs that affect the company's supply chain.
Hershey's provides daily basic nutrition to over 50,000 children living in cocoa-growing communities in Ghana. The company also supports deforestation prevention in the cocoa industry and income-enhancing programs for cocoa-farming families.
Domestically, Buck helped launch the Heartwarming Project. The Heartwarming Project provides grants for school and community-based programs that promote inclusion, empathy and kindness.
Marvin Ellison – Lowe's
One of only four black Fortune 500 CEOs, Ellison has used his platform to advance diversity and inclusion conversations throughout the greater corporate community.
Taking the reins of Lowe's in 2018, Ellison helped launch its Track to the Trades program. The employee-focused initiative provides tuition reimbursement to associates completing apprentice certifications in several skilled trades.
"I challenge people to look at my background and understand that a lot of the success that I've had has been through just hard work, personal development and making sure I took advantage of opportunities," Ellison told The Charlotte Observer in 2018.
In March 2020, Lowe's pledged $105 million to support workers and communities affected by COVID-19.
Chuck Robbins – Cisco Systems
As Forbes noted in 2016, Cisco Systems runs its CSR program "like a business, not a hobby." The company shares transparent program goals and project reports with the public and conducts periodic assessments to optimize social impact investments.
Following Hurricane Katrina in 2005, Cisco converted its military support division into a humanitarian mission. Today, Cisco's full-time Tactical Operations (TacOps) team responds to crisis areas and disaster zones around the world, providing complimentary communications technology to help FEMA, the Red Cross, and other relief organizations save lives.
"If what we're doing or what another company is doing inspires others to contribute, that's good, but increasingly, our investors actually do care," Robbins told CNBC in 2018. "Our customers want to know where we stand on these kinds of issues and what we're doing. Our employees care, and frankly our future employees really care."
Under Robbins, Cisco's CSR efforts span a wide range of topics, including education, environmental sustainability, world hunger, and economic empowerment. Over a million students enroll in Cisco's Networking Academy each year to receive certification in tech skills.

Building a CSR Strategy
Apply Company Core Values to Corporate Social Responsibility Initiatives
Before organizations develop corporate social responsibility initiatives with their communities, it's necessary to determine how the company's core values will impact outreach. This will advise goal-setting.
For example, a priority for Mastercard is to "address the needs of millions of people around the world who remain excluded from the financial mainstream," says Garcia. From that core value, they conceived their Master Your Card community empowerment program, leveraging education and technology to bolster financial inclusion for underserved communities.
Digital gaming company Electronic Arts' (EA) core values include education, diversity, and inclusion. The company knew it wanted to create corporate social responsibility initiatives that encouraged the educational exploration of STEAM (Science, Technology, Engineering, Art, and Math) and that expanded access for EA customers and EA job candidates with differing abilities. "It's important to meet the community where it is and make an impact where community members are," says Wynn.
TIAA demonstrates its commitment to being an industry example of corporate social responsibility by tapping volunteer councils in 18 markets to empower passionate, community-minded employees with the structure and resources to become ambassadors of their social impact initiatives in these communities. "Employees can champion your company's causes and lead events and projects that further your philanthropic goals," Kerekes says, "whether that be through fundraising, or hands-on service engagements, or a speaker series establishing the company as a thought-leader in a particular space as it relates to giving back." TIAA's volunteer councils essentially serve as an extension of their CSR department, which allows the company to scale its staff and have the greatest impact possible.
Here are five CSR strategies that you can consider
Investing in Impact: How to Make CSR a Winning Business Strategy
1. Promoting Healthy and Inclusive Workplace Cultures
Social responsibility starts with workplace culture and your internal community. Organizations who keep this in mind, create environments in which their own employees can thrive and excel.
Diversity training sessions are a step in the right direction, but companies need to go beyond a one-day focus on diversity and inclusion. Organizations must recognize hr or diversity training as just one piece of a larger, ongoing strategy to establish a positive company culture.
Socially responsible companies should require managers to translate the lessons of diversity and inclusion training to small-group and 1-on-1 settings. A robust workplace culture conversation also encompasses topics like physical health and mental wellness.
A strong workplace culture creates positive feedback loops that enhance a company's social responsibility mission. Employees are more likely to do their best work and help their company succeed when they feel seen and heard. A successful and happy company attracts top talent who appreciate the company's culture and positively contribute to the company's culture. Culture-bearing employees are more likely to bring those inclusive values into their families, social circles, and communities and buy-in to company-sponsored corporate social responsibility initiatives.  
2. Designing Goals with Measurable Impact
Socially-responsible companies set measurable goals. Measurable goals keep organizations accountable to themselves and stakeholders.
CSR leaders design goals with multiple priorities in mind. These priorities include community impact, internal business practices, marketing reach, and public and government relations.
Executives should focus first on metrics that relate directly to a CSR program's performance. If, for example, a program targets changes in the firm's supply chain, executives should set clear and objective benchmarks. The firm should evaluate supply chain changes through raw numbers, percent changes, and industry comparables and communicate these changes to internal and external stakeholders.
The time frame is also an important goal-setting consideration. CSR leaders should consider short-term and long-term goals for a program. Some programs demand longer time horizons than others. It is up to the CSR leader to set goals that accurately reflect these time horizons.
Campbell's Soup Company provides an informative and visually-appealing outlook on its CSR metrics 
Once a company establishes core metrics and time frames that relate to their corporate social responsibility initiatives, the company can evaluate metrics that relate to other priorities, such as customer loyalty and improved reputation.
Eighty-six percent of American consumers say that transparency from businesses is more important than ever before. Showcasing these metrics gives your consumers a different view into how your organization is impacting the community.
Socially responsible companies should be able to measure the effectiveness of their corporate social responsibility program and adapt programs accordingly. Armed with an understanding of what success looks like, CSR leaders will have effective leverage to shape their organization's social impact.
3. Aligning Community Impact Goals with Business Practices
How does a company express authenticity in their corporate social responsibility initiatives? Authenticity starts with skin in the game. A company demonstrates skin in the game when it makes material sacrifices or adjustments. Organizations should evaluate their community impact goals alongside their business practices. Executives should work toward alignment between these goals and practices.
It is sometimes too tempting for companies to pursue trendy corporate social responsibility initiatives that do not match their business practices. The term "greenwashing" has recently come into vogue. Greenwashing refers to the corporate practice of misleading consumers that a company's products, services, or operating practices are socially or environmentally responsible. This is why it's so important for a company to remain authentic to what its community impact goals are and how these align back to business practices — otherwise, they may face negative backlash.
4. Socially Responsible Companies Leverage Their Core Capabilities
Companies also achieve authenticity when they play to their strengths. The most impactful socially responsible companies take advantage of their strongest assets.
JetBlue's strongest asset is travel. The airline crafted its Flying It Forward campaign in 2014. The campaign asked a simple question: "If you were given one flight to spread good, where would you go?"
The campaign offered free flights to passengers who pledged their trip toward "making the world a little better." The program flew recipients across the Americas to serve underserved communities and inspire others. Recipients paid their trip forward by choosing the next free flight recipient.
5. Soliciting Feedback and Engagement to Maximize Stakeholder Value
Socially-responsible companies must listen to all of their stakeholders (internal and external communities). The strongest community initiatives incorporate feedback from employees, consumers, and the individuals that the initiative impacts.
According to Glassdoor, 75% of employees and job seekers expect their employer to support local community causes through donations or volunteer efforts. 
Consumer feedback can be more difficult to process than employee feedback, but the former is no less important when it comes to social impact.
The last decade has represented a sea change in consumer activism. Social media has removed barriers between brands and consumers. Over the last decade, individuals and organizations have used social media to protest brand practices and drive change.
In 2010, Nestle came under fire from a Greenpeace-produced viral video about unsustainable palm oil. The food company listened to upset consumers. Since then, Nestle has taken a proactive approach to CSR and has organized stakeholder forums to gather feedback on initiatives related to sustainability, water stewardship, and job creation.
CSR leaders who practice active listening can help their brands take control of the conversation and maximize stakeholder value. When brands make their stakeholders feel heard, everybody wins.
For more inspiration, you can see what 2020 CSR trends are popular right now:
Sustainable Development Goals

Synergistic Approach

Measurement

Corporate Activism

Employee Volunteer Programs
Measuring CSR Impact
Social Return on Investment of Your Corporate Social Responsibility Programs
One of the most significant barriers to CSR implementation and leadership buy-in has been the perceived difficulty answering how to measure the return on investment (ROI) of corporate social responsibility programs.
However, when learning how to measure corporate social responsibility, calculating the social return on investment for corporate social responsibility programs is absolutely possible and may even be similar to the methods you use to measure the effectiveness of marketing campaigns. It is a three-part process:
Set goals – Organizations must make short- and long-term goals to generate benchmarks for success and measurable key performance indicators (KPIs).

Calculate Value – Use a formula to measure the social return on investment, such as the

impact multiple of money

metric, which builds on the concept of social return on investment and breaks down this calculation into six steps.

Track Results – Collect data so you can get insights into whether the program is meeting your CSR objectives, as well as inform your team how to make refinements moving forward.
Evaluate Internal Outcomes, Too
While you're calculating the financial ROI and measuring the community impact of your corporate social responsibility program, don't forget to assess other metrics to success as well, such as employee retention. 
TIAA put a hypothesis into action by taking a look at their employees. TIAA evaluated employees who got involved in their corporate social responsibility and volunteer opportunities versus those who did not and found a meaningful correlation: employees that participated in these initiatives were more likely to stay employed and to recommend TIAA to their friends. "Engaged employees are more productive employees, they're happier, and they want to remain at the company."
Ready to Execute Your Vision? EVERFI Can Help
EVERFI powers corporate social responsibility (CSR) initiatives across the globe through measurable, meaningful education programs that enable organizations and nonprofits to empower their social impact for communities.
What impact will you make?
Targeted Activation
EVERFI's on-the-ground implementation team works directly with educators to drive usage in schools in chosen markets.
Data Driven Results
Comprehensive reporting on your corporate social responsibility program's reach, knowledge, attitudes, and behavior tells a unique and powerful impact story.
Personalized Experiences
Customized branding throughout our digital education platform showcases your investment in critical education and CSR initiatives.
Awareness & Communication
EVERFI's initiatives provide opportunities to engage community members, elected officials, and media around the positive impact of your CSR program.