From Statements to Action: Addressing Racism in Today's Workforce
Workplace Training • 5 Minute Read
From Statements to Action: Addressing Racism in Today's Workforce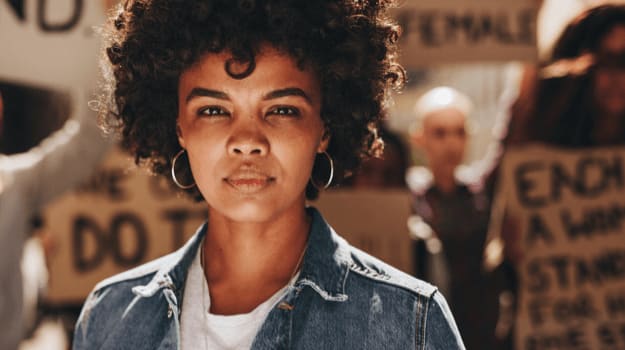 In response to recent events, many companies have made strong public statements condemning inequality and violence in their communities. If you haven't already, now is the time to also set the blueprint for how your organization will continue to address both heinous and subtle acts of racism and the systemic structures of inequity that we are seeing in our country. 
While there are certainly egregious acts of workplace harassment and discrimination, what is much more common, and equally as damaging, are the escalating behaviors of microaggressions and exclusion.  Additionally, leaders are being called to investigate whether policies, procedures, and training line up with their internal and external statements of allyship. 
Promoting Diversity, Equity, and Inclusion in the Workplace
Prior to, but certainly amplified by, nationwide civil unrest over acute and historic racial inequities, is the growing pressure that companies are under for their slow progress to realize the "diversity dividend" and to create environments free from harassment and discrimination. As a part of this evolution, organizations have to answer direct questions about the lack of representation on leadership teams and boards of directors, and how explicit and unconscious bias incidents are handled, not only from their shareholders but also employees who care deeply about the equitable practices of their workplaces. 
This work requires a comprehensive harassment prevention and compliance strategy that is congruent with a robust diversity, equity, and inclusion (DEI) strategy. Any effort to increase diversity must come with a complementary effort to create an environment that embraces difference and promotes a speak up culture in the workplace. Upskilling your teams to work collaboratively across differences can help prevent a backlash effect to an increasingly diverse workforce.
While training alone will not solve systemic racism and bias, and won't result in an inclusive, discrimination- and harassment-free workplace overnight, coordinated educational experiences are a powerful way to drive these strategic efforts.
Improving Diversity, Equity, and Inclusion Training
The disconnect between DEI and harassment and discrimination (H&D) is often seen by the separate training focused on these issues. To bridge the divide between DEI and H&D efforts, a coordinated training approach is needed. 
This involves creating a cohesive learning and development strategy that focuses on using both types of training to broadly reinforce a workplace culture of respect, civility, and belonging, rather than separate vehicles to focus on narrower, distinct, and siloed subtopics. 
For example, most traditional anti-harassment and discrimination training centers on compliance content, and as a result is ineffective at preventing harassing workplace behavior. This approach has prioritized legal definitions of discrimination and how to report harassment over prevention-based topics such as allyship, respectful interactions, effective communication, and organizational values. Meanwhile, some DEI programs raise awareness about stereotypes, biased behavior, or exclusive practices, but don't make the connection between these issues and the company's commitment to anti-harassment and anti-discrimination. Both of these approaches miss the mark by not providing employees with the tools to intervene and prevent issues, such as explicit or unconscious bias, from escalating into harassment or discrimination. 
Training on "culture first" concepts and skill-based techniques are not only viewed as more effective at preventing harassment and discrimination, but are also essential to foster a workplace culture of inclusion.
Effective H&D and DEI Training Strategies 
Align behavioral expectations with a culture of respect, civility, and inclusion

Develop empathy for others and perspective-taking

Recognize microaggressions and unconscious biases, "gray area" behaviors, and other warning signs that can lead to harassment or discrimination 

Equip employees to take action when they witness concerning situations, such as sexual harassment or explicit biases, through bystander intervention techniques

Build conflict management skills for employees

Encourage learners to set personal goals 

Communicate the mission-critical role managers play in modeling equity, inclusion and respect and keeping employees safe

Measure diversity and inclusion efforts to track progress through surveys
Creating a comprehensive, ongoing curriculum centered on DEI, H&D and bias mitigation with mutually reinforcing content that spans throughout the year is the most effective way to build mutual respect into your culture. Approaching training experiences as a consistent opportunity to reinforce your commitment to DEI and H&D creates a shared vocabulary and establishes a unified set of expectations across your organization. These efforts create long standing behavioral changes and drive a positive workplace culture.
Integrating a coordinated approach to workplace training into a cohesive workplace culture strategy will serve as a force multiplier to create healthy and inclusive workplaces where all employees feel psychologically and physically safe; empowered to contribute fully; and committed to the shared values and goals of the organization.