What You Need to Know About Canadian Harassment Laws
Workplace Training • 6 Minute Read
What You Need to Know About Canadian Harassment Laws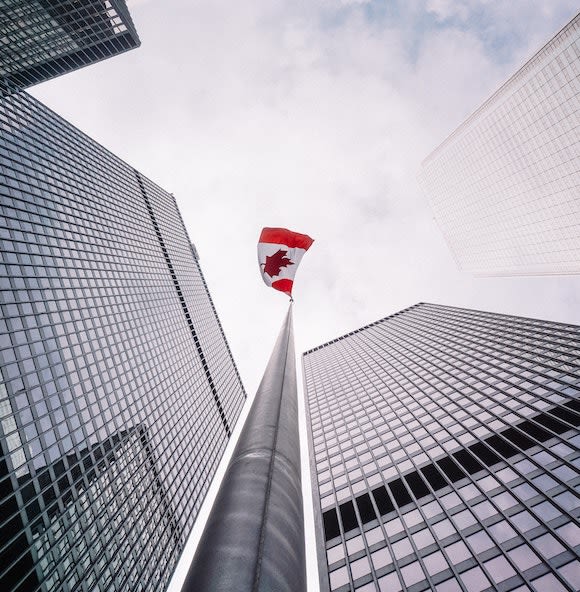 If you operate businesses in Canada or have employees who live and work from there, it's important to understand Canada's harassment training laws. There are some important differences between Canada and the U.S. that should guide how you approach, communicate about, train on, and respond to incidents of harassment.
Understanding Canada's Workplace Compliance Landscape
In Canada, laws are created at both the federal and provincial levels of government (similar to how laws are created at the federal and state level in the United States). A big difference, though, is that in the U.S., most employers fall under both federal and state/local employment laws; while in Canada, employers fall under either federal or provincial/territorial laws, depending on the industry they're in.
What is germane to both countries, though, is that workplace harassment and discrimination are generally prohibited and most employers have an obligation to ensure a safe, healthy, and violence-free environment for employees.
Impact of #MeToo on Canada
Just as in the U.S., Canadian employers—and employees—have been impacted by the #MeToo movement. While the movement got its start in 2006 through American activist Tarana Burke, it rose to international prominence in 2017 when the #MeToo hashtag emerged as women and others united to decry harassment and share their own personal experiences to illustrate just how widespread harassment is. 
According to the Canadian Women's Foundation: "In Canada, the Movement has had implications not only for survivors, but also for support service providers, educators, law enforcement, employers, and the government. As just one example, there has been a sizeable increase in demand on Canada's sexual violence support services; calls to the Ottawa Rape Crisis Centre increased 100% during the last year alone."
While the #MeToo movement was specifically focused on sexual harassment, harassment of any kind can have significant negative impacts in the workplace.
Negative effects of harassment in the workplace
Different industries and workplaces fall under federal, provincial, or territorial laws, so there's no single legal definition of "sexual harassment" for all employers and employees in Canada. However, the definition typically used is as follows: "Sexual harassment is a form of sex discrimination," involving "unwelcome conduct of a sexual nature that detrimentally affects the work environment or leads to adverse job‑related consequences" for the person targeted. (Janzen v. Platy Enterprises.)
Unlike in the U.S., workplace bullying—workplace harassment that's not based on sex or any other ground of discrimination—is illegal in many parts of Canada. Harassment in the workplace can have several negative effects including lost productivity, low engagement, conflict, absenteeism, turnover, and legal risk. These negative effects can be extremely costly for any employer.  
Workplace harassment claims, which often become public, also have the potential to tarnish organizations' brands—an impact that can have long-term repercussions from both a marketing and employer-of-choice perspective.
Canadian Harassment Training Laws
Harassment Training Requirements for Federally regulated industries
Effective January 1, 2021, Canada's Workplace Harassment and Violence Prevention Regulations clarify a federally regulated employer's obligations to provide employee training on workplace harassment and violence. Among other things, the Regulations also require these employers to assess the risk of and develop a policy to prevent workplace harassment and violence. The regulations apply only to federally regulated workplaces, including government, banking, broadcasting, and telecommunications along with interprovincial industries (aviation, rail, shipping, and trucking). About 10% of Canada's workers are subject to federal jurisdiction.
Industry-specific requirements are also in place. 
Additional province-specific laws
Canadian provinces also have laws related to the prevention of harassment and violence in the workplace. For instance, Ontario addresses workplace harassment under its Occupational Health and Safety Act (s. 23 – 32.0.8) and Human Rights Code. Alberta, British Columbia, New Brunswick, and Newfoundland and Labrador have similar legislation. 
It's important for employers, their HR leaders, and managers to understand the laws that impact them.  Equally important is taking steps to create and maintain a safe and respectful work environment that is free from harassment of any kind.
Harassment prevention training is a best practice to do just that.
Harassment Prevention training has the biggest effect
The time to introduce harassment prevention training to your workforce is before issues emerge. Prevention training that clearly outlines the elements of your company's harassment prevention policy, describes the relationship between illegal discrimination and harassment, and teaches employees ways to recognize, minimize, prevent, and respond to workplace harassment is not only a good idea, it's mandated by Canada's Regulations,—and several Canadian provinces with similar training mandates.
In addition to following the guidelines that are applicable to their workplace, it's important for organizations to understand that workplace training should be part of an overall process designed to address harassment in the workplace and not just a once-a-year event. 
Being proactive and communicating regularly about expectations, including through harassment prevention training, are key to protecting employees and others from workplace harassment.
Disclaimer: This information is not intended as legal advice. Please consult with legal counsel to ensure your organization's compliance with applicable legal requirements.