Employee Spotlight- Brixton Millner
Employee Spotlight- Brixton Millner
Meet Brixton Millner!
Brixton is a Sales Development Representative for EVERFI's Workplace Culture Network.  Learn more about Brixton in the Q&A below.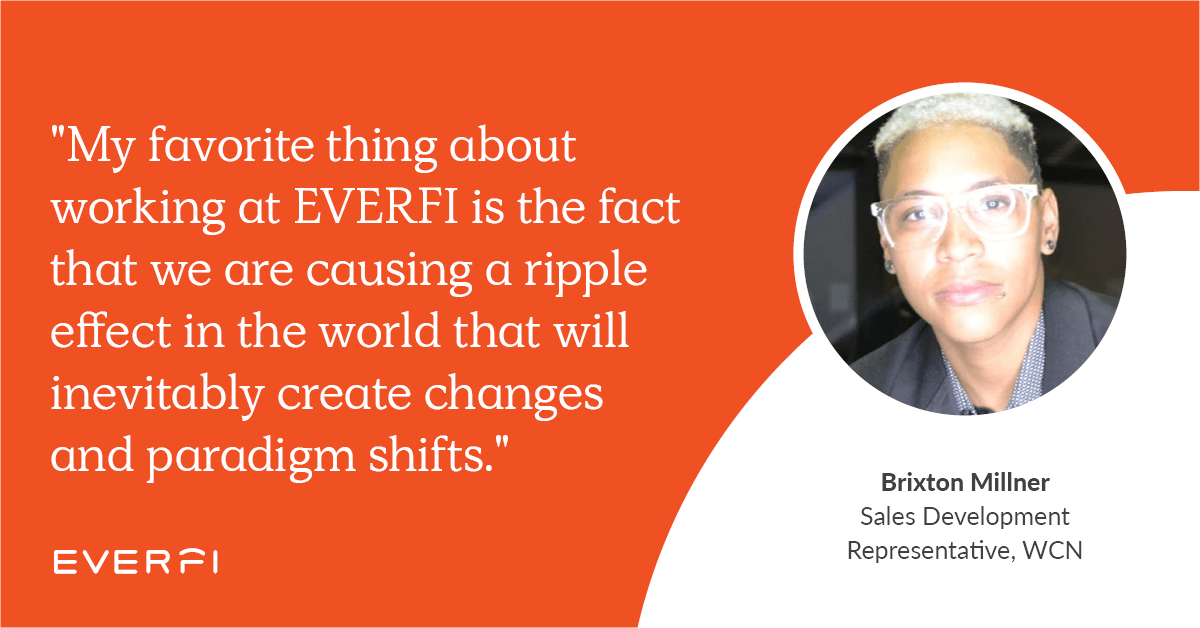 What is your favorite thing about working at EVERFI? The fact that we are causing a ripple effect in the world that will inevitably create changes and paradigm shifts.
How has your career grown since starting at the company? Being so new, my career is only budding but I see a blossoming in the very near future thanks to the team and culture here!
What are 3 words you would use to describe EVERFI? Powerful. Unveiling. Rebuilding.
What gets you most excited to come to work every day? The power that EVERFI gives to those who take it. We give people the tools they need to have the toolkit to drive change. Giving people the fighting chance to be the change they want to see is inspiring!
What about EVERFI's mission and or values gets you fired up to come to work? The fact that we are working towards making a much more inclusive, equitable and safe world for those younger generations. I want the history that we have all learned about to be actual history and not lingering problems that have never been resolved!
If you could travel anywhere in the world with all of the money in the world, where would you go? I would pack up a motorcycle and ride every inch of the world possible and give free haircuts to people. A haircut can mean the world to some folks!
What is one thing you cannot resist? Moving my body (not a dance but just a little jig) whenever I am happy! I've always done it since I was a small child!
Where is your favorite place to be? Beaches, waterfalls or rivers. I absolutely love the water.
Tell us something that might surprise us about you. Despite me being a 3 sport (sometimes 4 when they really needed folks) athlete in high school, I was also a part of band (flute), jazz band (guitar, bass and drums),The Madrigal Choir (Renaissance era music), and show choir. I made the all state chorus and I also performed the Messiah at Carnegie Hall in New York.
If you could choose anyone, who would you choose as your mentor? My grandparents are my absolute role models but for a mentor.. I would love to be mentored by any of the folks who helped create Black Wall St back in the day. For current times, Luvvie Ajayi!
What is something you learned in the last week? That this company is bigger than I could have imagined. Creating bonds and new relationships with folks who genuinely care about Change!
How do you balance your career and family (life)? Balance? Who's that? But really, I'm currently working on finding that balance, because the athlete in me and the work ethic instilled in me, taught me I have to always do extra or keep fighting until my eyes can't stay open. It's a lot of change needed in this world, and we can't save it if our batteries are drained. (Y'all read this, now hold me accountable to the last part!)
What's your favorite indoor/outdoor activity? Riding motorcycles at any point in time!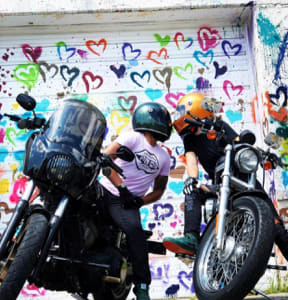 What is your greatest fear? (and backstory if work appropriate) Easy… Heights! I've had the near death experience and was super calm in the moment…. But bring me to something up high where I can see the ground…. And you have a 50/50 chance of me passing out on you!! I found out at Discovery Zone in Baltimore when I was like 10. My mom made me go up with my little brother. We climbed all the way up and at the top, it was a netted mesh that you could see through! At first I was alright… then I looked down, I do believe I passed out because next thing I know someone is on the end trying to coax me over. Thought it was a fluke until senior year of high school when I solidified my fear of heights working for Habitat for Humanity. Will I do things… yes but I am definitely fighting to not pass out!
What is your favorite book? Rubyfruit Jungle by Rita Mae Brown first came to mind but A Tree Grows in Brooklyn by Betty Smith stands strong. Maybe A Streetcar Named Desire by Tennessee Williams…. I'm a libra. Choices are hard!